Pension Ploner - Annex Hotel Central
Pension Ploner - Annex Hotel Central
Room types
double room type A (Lf. Nr. 1, Pension Ploner)
for 2 persons
surface circa 18m²
1 double bed
bathroom with: bath or shower, toilet
tourist tax: for all guests with age up from 15 year circa 2,80 € per person per night (to be paid at resort, obligated)
baby cot: for all guests with age up to 2 (incl.) year (free of charge) (to be mentioned at reservation)
safe available in the room: (free of charge)
wireless internet available in the room: (free of charge)
place in car park: (free of charge)
Family room type D (Lf. Nr. 2, Family Room Pension Ploner)
for 2 till 4 persons
surface circa 23m²
Number of beds: 4
Television
(Living) room(s): sleeps 4
bathroom with: bath or shower, toilet
tourist tax: for all guests with age up from 15 year circa 2,80 € per person per night (to be paid at resort, obligated)
baby cot: for all guests with age up to 2 (incl.) year (free of charge) (to be mentioned at reservation)
safe available in the room: (free of charge)
wireless internet available in the room: (free of charge)
place in car park: (free of charge)
Boardtype
Half-board is served at Hotel Central, which is around 150 meters away. The half-board consists of:
- Full breakfast buffet
- 4-course dinner
19 Jan - 4 Apr

19 Jan - 19 Apr

19 Jan - 19 Apr

22 Jan - 19 Apr
Location and surroundings
distance to Airport Innsbruck approx. 109 kilometres
distance to ski piste distance: approx. 1,5 kilometres
distance to ski bus stop approx. 50 metres
distance to ski lift distance: approx. 1,5 kilometres
nearest (mini) supermarket approx. 600 metres
nearest restaurant approx. 600 metres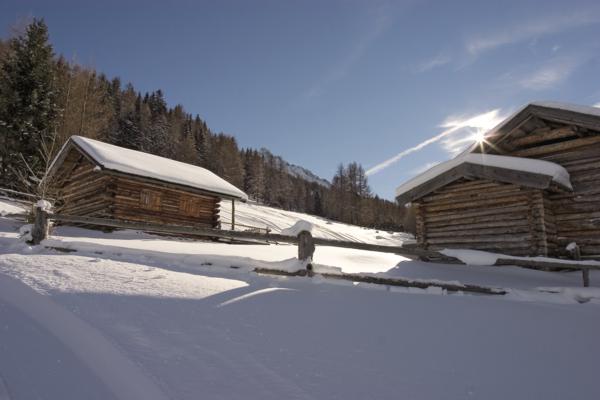 Nauders
Nauders is a charming and lively village located close to the Italian and Swiss border along the Reschenpass. In the historical town centre you will find traditional charming buildings, small alley ways and fountains. Because most of the modern buildings have been built in the outlaying areas, the town centre has managed to retain its traditional character. For good après-ski you are at the right place, head to the lively centre for a choice of many bars or pubs. Of course, there are also plenty of restaurants and shops in the town centre as well. For active visitors there is plenty to keep you busy here. There is a natural ice skating rink in Nauders, as well as several hiking trails and various cross country skiing tracks. Nauders is also a suitable destination for families with children. Due to its high altitude location, Nauders has some of the best snow conditions in Austria. You are bound to have an unforgettable holiday here.
2 Länder ski arena
2 Länder Skiarena is a unique ski area because from this season you can ski in Austria and Italy (around the Reschensee) with one ski pass! The ski pass is valid in these areas (in AT and IT): Nauders, Schöneben-Haideralm, Watles, Trafoi, Sulden. 211 kilometres of fun with versatile pistes and an extensive range of fun & cosy mountain huts!
Location and surroundings
distance to Airport Innsbruck approx. 109 kilometres
distance to ski piste distance: approx. 1,5 kilometres
distance to ski bus stop approx. 50 metres
distance to ski lift distance: approx. 1,5 kilometres
nearest (mini) supermarket approx. 600 metres
nearest restaurant approx. 600 metres
Skiparadies Nauders & Skiarena Vinschgau
After years of disagreement between the two ski areas, there finally is a cross-border lift pass again between North and South Tyrol, starting this winter season! Skiparadies Nauders and Skiarena Vinschau have once again joined hands so that you can enjoy both areas. In total, there are six sub-regions in both Austria and Italy, that participate. This allows you to use 1 lift pass for a total of 211 KM of slopes and runs to enjoy. The ski areas that participate are Nauders, Schöneben, Haider Alm, Watles, Sulden and Trafoi. Together, they for the Skiparadies Nauders and Skiarena Vinschau.
The spacious and versatile Skiparadies Nauders & Skiarena Vinschgau are a breath-taking, large and sunny ski areas with long and quiet runs, where any type of skier can enjoy themselves. There are challenging black runs, beautiful blue ski runs, the nicest children's slopes and for the freestylers there is a fun park.
Especially for children, there is lots to do in this versatile ski area. The children can enjoy themselves all day in Nauderix Kinderland (Nauders) and for the little ones of two years old there is even a day-care. The après ski offers something for everyone. In one of the "stubes" you can enjoy a cup of coffee with pastries and you can still enjoy the other festivities in one of the bars.
Skiparadies Nauders & Skiarena Vinschgau is a wonderful ski region because you can ski in both Austria and Italy with one lift pass from this season onwards (around the Reschensee)! 211 kilometers of snow fun with versatile slopes and a wide range of nice and cozy mountain huts!
Practical information
Capital:
The capital is Vienna.
Language:
The official language is German but English is widely spoken as well.
Time:
There is one hour time difference with the UK (GMT+1).
Money:
The official currency is the Euro.
Tipping:
It is customary in Austria to tip between 5% and 10% in bars and restaurants.
Food & Drink:
Austria is known for its Vienna Schnitzels and Glühwein. Tap water is safe for drinking.
Opening times shops:
Shops are usually open from Monday until Friday from 09.00 AM to 18.00 PM (some shops close during the afternoon). Most shops are closed on Sunday.
Travelling by car:
Snow chains are obligatory in the Alps. You need a toll permit for the motorways in Austria. You can buy the permit at the AA in the UK or in Austria at the major border crossings. The European Commission advises you to wear a safety reflector jacket in the event of a break down or accident. This vest can be purchased from the AA in the UK as well.
Voltage:
The voltage is 230 volt.
Mobile telephone:
UK mobile phones work in Austria as well.
Travel documents:
You need to be in the possession of a valid passport to travel to Austria.
Flight information
Sunweb offers flights and transfers packages to this resort. You can select which airport you wish to travel from in the PRICES AND BOOKING tab above. It is possible to select different flight departure and arrival times in Step 2 of the booking process.
All Sunweb flights are booked with EasyJet. Hold luggage and ski equipment as luggage are NOT included in your package price. This can be added as an extra in Step 2 of the booking process. The price of luggage varies, as per Easyjets policies. All flight bookings include one cabin bag per person (maximum size of 56 x 45 x 25cm; including handles and wheels).
Please read more about the luggage rules and regulations on EasyJet's website. When making a flights booking with Sunweb, you are also agreeing to EasyJet's Terms and Conditions.
Transfers:
Return airport transfers are included in your package price when booking a flight package with Sunweb. These however can be removed in Step 2 of the booking steps if you would like to add in a hire car or seek an alternative travel arrangement. All transfers are shared transfers to and from your accommodation and the airport.
Due to the nature of shared transfers, there may be a wait time at the airport before your departure. This can be up to 1.5 hours. Please note that there will NOT be a Sunweb rep waiting for you at the airport as the transfer is managed by a partner. All information regarding the transfer (meeting point, departure times etc) will be explained on your travel documents that are sent to you 14 days before departure. The transfer will drop you off in the resort area; you may have not be dropped exactly outside your accommodation.
Departure from the UK:
Please ensure that you are not late and have checked in online before arriving at the airport. In addition to checking in online, you will have to enter your passport information. This is called API (advanced passenger information) and you will receive instructions from Sunweb after you have booked the holiday.
Arrival on Resort:
If you are planning on checking in late on your arrival day, it is almost always possible to get into your hotel or apartment. However, it is very important that this is arranged in advance. You will receive your travel documents two weeks before your departure, and this will include instructions on how to arrange your late arrival and collection of the key.
Please Note:
Once you agree to Sunweb's Term's and Conditions you are legally obliged to pay for the holiday and any cancellation fees that may apply.
Lift pass, lessons and material
In the booking process it is indicated for which days the lift pass is valid. If you want to use the ski lift on a different day than indicated in the booking process, please contact our contact centre by telephone. It is not possible to change the days of the lift pass once you have arrived at the destination. If you wish to extend the lift pass, it can often be booked as an extra. The price for extending the lift pass can be found in the booking. If you choose "no lift pass", the discount can also be found in the booking process.
A 6 day lift pass for Nauders is included in the price.
Discounts:
Lift passes for children under 2 years old are free. Children born between 01-01-2000 and 31-12-2012 will get a discount on their lift pass. You can find the discounts in the calculated fares in the step 3 of the booking process.
Above mentioned discount only apply for bookings made with Sunweb. Other rates may apply at the destination.
The lessons cannot be booked in advance. You can arrange this yourself on location.
You can specify that you would like to include ski and snow board rental directly while booking. This can be done in step 2 of the pbboking process.
The following materials can be booked:
Bronze
This material is ideal for beginners and intermediate skiers and snowboarders. This material is particularly agile, so it makes turning and breaking easy. Parallel skiing is also possible with these skis.
Silver
This is ideal material for intermediate skiers and snowboarders. The material is agile, but also suitable to cut corners sharp. Even at high speeds these skis provide great performance.
Gold
These skis and snowboards are made of high quality material, and are perfect for experienced skiers. This comfortable material is suitable on all track types and snow conditions.
Diamond
These are high performance skis and snowboards with the latest technology, and are suitable for the most experienced skiers.
TIP:
Tell our rental partner your exact requirements (eg off piste skiing) so they can help you select the right material.
NOTE:
A helmet is only included in this package for children up to 11 years old. If you are older, you can choose to bring your own, or rent one locally if available.