Résidence L'Aigle Bleu
Résidence l'Aigle Bleu is a neat and comfortable option. The friendly staff will make you feel at home here. This charming residence offers free use of the gym and sauna. The location is ideal, because the centre is only about 450 meters away and the ski lift is about 75 meters away. Furthermore, the residence is next to the casino of Briancon, so here you can try your luck on the cards! The ski bus stops next to the hotel, it takes you to the near pistes or to other starting points in the ski resort of Serre Chevalier.
Read more Résidence L'Aigle Bleu
View less Résidence L'Aigle Bleu
There are no room types available
Tip!
- Jaccuzi's, sauna, steam room and fitness suite open from 10.00 to 19.00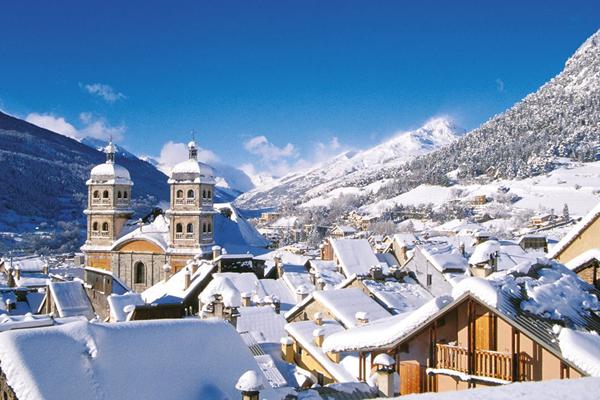 Briançon
The beautiful, historic town of Briançon is located in Serre Chevalier Vallée at a higher altitude than any other resort in Europe. There are plenty of nice shops and restaurants in the charming old centre of town. During the 19th century and up until the beginning of the 20th century the town figured as a military base due to its strategic location close to the Italian border. The impressive forts that can be found in and around the town stand as remnants of these past times.

In the new part of Briançon you will find our Résidence Le Signal du Prorel situated right by the piste. Because snow canons cover this piste it is possible to ski down right to your doorstep during most of the season!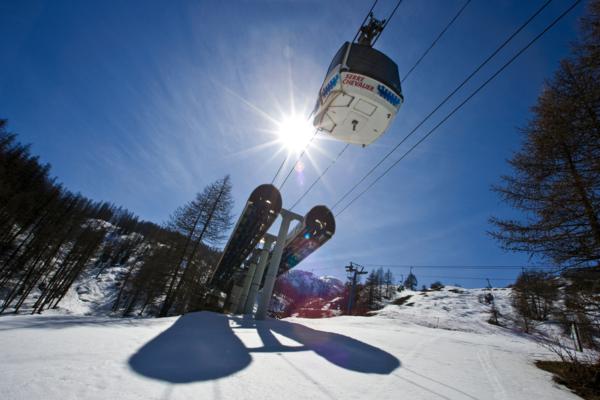 Serre Chevalier Vallée
Skiing in Serre Chevalier Vallee
The ski area of Serre Chevalier Vallée has become more famous in recent years and we can understand why. The resort has 250 km of slopes and 65 lifts transporting you from peak to peak making it easy to discover the entire area. To be sure that there is always enough snow to ski and snowboards, this ski area has strategically placed snow cannons, making sure that at least 80km of slopes are there for you to enjoy. The resort is getting even better with lots of investment in new lifts and faster connections in recent years! The highest point from where you can ski is at Telesiege Yret, at 2800 metres about sea level. One of the special characteristics of this ski area is that the tree line is at 2150 metres. This means that during most runs, you can enjoy the scenery and the forest around you.
Cross/country skiers have not been forgotten in this area, since there is approximately 40km of track to discover. The north side of this area offers a large variety of activities and magnificent scenery. There is also 20km of snowshoeing trails to discover for those who enjoy hiking.
Resorts in the Serre Chevalier Valley
The Serre Chevalier Valley consists of several authentic mountain villages with Briancon, Chantemerle, Monêtiers-Les-Bains and Villeneuve. Briancon is located at the foot of the ski area and is a typical authentic mountain village that is known for its art and its historic character. Chantemerle, also known as Serre-Chevalier 1350, is situated in between Briancon and Villeneuve. It is a typical wintersports village with a large town square, shops and bars. Villeneuve, also known as SerreChevalier 1400, has also been built as a winter sports village and is also locate centrally in the ski area. Last but not least, Monêtiers-Les-Bains, Serre-Chevalier 1500, has more of a rural feel in comparison to the other villages and is known for its hot springs. The Serre Chevalier boarders the Ecrin National Park, which will give you nice hikes, beautiful scenery and a varied ski area. Serre Chevalier is an excellent choice for families with young families.
Practical information
Capital:
The capital of France is Paris
Time:
France is one hour ahead of the UK (GMT+1).
Language:
The official language is French.
Money:
The euro (€) is the official currency of France
Emergency number:
The local emergency number is 112.
Service charge (tip) in restaurants and bars :
It is not likely that the service charger will be added to the bill automatically. If you are pleased with the service you can round off or leave a tip of 10%.
Power:
The voltage is 220 and the socket is different compared to the general UK sockets. You can buy an European adapter in most airports and supermarkets.
Mobile:
A UK mobile phone should work in France. The setup for this may differ per provider, so it is best to inquire about this before hand.
Safety on the slopes:
In France, wearing a helmet is not mandatory but recommended (especially for children). In ski classes (for all ages), it is often compulsory.
Travel documents:
You must be in possession of a valid passport in order to travel to France.
Food and Drinks:
Cheese, croissants, baguettes and wine! It is possible to drink tap water.
Opening hours:
As a general rule, the shops are open on Monday/Friday from 09:00 to 19:00. However, some shops may close over lunchtime. On Sunday and Monday, a selection of shops are closed. Some supermarkets are open on Sunday mornings.
Public Holidays:
Christmas Day: 25 December, 2014 (Thursday)
Boxing Day: 26 December, 2014 (Friday)
New Year's Day: 1 January, 2015 (Thursday)
Good Friday: 3 April, 2015
Easter Sunday: 5 April, 2015
Easter Monday: 6 April, 2015
Travelling by car:
Most motorways in France require you to pay a toll fee. The Pas Piccolo San Bernardo is closed the whole winter (November - June). Always check the locat weather reports before departing.

In some cities and towns it is obligaroty to have a "environmentsl sticker". It is not possible to buy these stickers en route. You will have to order them online before you leave home. French authorities advise you to print out the form and the confirmation of the sticker if it does not arrive at your home in time. You can find the form on:
https://www.certificat-air.gouv.fr/en/demande-ext/cgu
Lift pass, lessons and material
In the booking steps it is indicated for which days the lift pass is valid. If you want to use the ski lift on a different day than indicated in the booking process, please contact our contact centre by telephone. It is not possible to change the days of the lift pass once you have arrived at the destination. If you wish to extend the lift pass, it can often be booked as an extra. The price for extending the lift pass can be found in the booking. If you choose "no lift pass", the discount can also be found in the booking process.
Discounts:
The lift pass for children up to 5 years and for seniors aged 75 and over is free. Children from 6 to 11 years old and seniors aged 65 to 74 receive discounts on the lift pass. The discounts will be automatically calculated in your package price. When you are entitled to the free lift pass, choose 'no lift pass' when booking. The free lift pass and discounted lift passes can be picked at the resort by showing your ID.
The above fees and discounts are valid when booking through Sunweb. Other rates are used at the resort.
If you want to book lessons, you can reserve them when making your booking. When you book your lessons, you should give an indication of your level, this way the ski school can put you in the correct classes. To insure the quality, the ski school handles a maximum of 10 persons a group for ski classes. For snowboard classes, the maximum is 8 persons.
Beginners: Choose beginners lessons if you've never skied before.
Average: Can you brake / and turn? Opt for average and not for beginners.
Advanced: Can you ski, but you want to develop your technique? Opt for advanced.
All lessons are bookable in a group enviroment.
Children: a maximum of 10 children per group in the morning, a maximum of 8 children per group in the afternoon
Adults: a maximum of 10 people per group
For snowboard lessons a maximum of 6 people per group applies.
Ski and snowboard hire can be added in step 2 of the booking.
The following materials can be booked:
Bronze
This material is ideal for beginners and intermediate skiers and snowboarders. This material is particularly agile, so it makes turning and breaking easy. Parallel skiing is also possible with these skis.
Silver
This is ideal material for intermediate skiers and snowboarders. The material is agile, but also suitable to cut corners sharp. Even at high speeds these skis provide great performance.
Gold
These skis and snowboards are made of high quality material, and are perfect for experienced skiers. This comfortable material is suitable on all track types and snow conditions.
Diamond
These are high performance skis and snowboards with the latest technology, and are suitable for the most experienced skiers.
TIP:
Tell our rental partner your exact requirements (eg off piste skiing) so they can help you select the right material.
Great! We will let you know as soon as this accommodation is bookable for Winter 2020/2021.
Unfortunately something went wrong...