Back
Skiing in

Serre Chevalier Vallée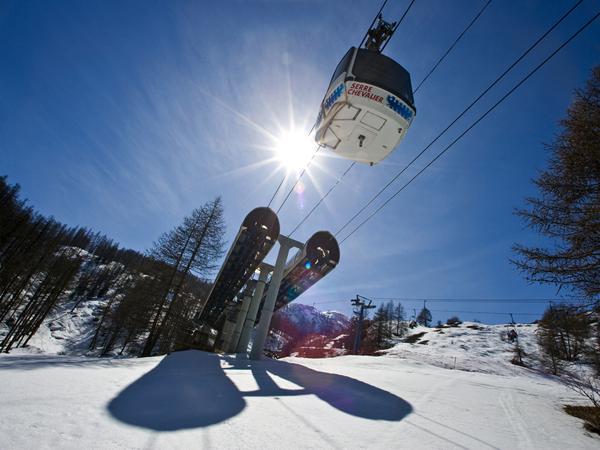 General information
Skiing in Serre Chevalier Vallee
The ski area of Serre Chevalier Vallée has become more famous in recent years and we can understand why. The resort has 250 km of slopes and 65 lifts transporting you from peak to peak making it easy to discover the entire area. To be sure that there is always enough snow to ski and snowboards, this ski area has strategically placed snow cannons, making sure that at least 80km of slopes are there for you to enjoy. The resort is getting even better with lots of investment in new lifts and faster connections in recent years! The highest point from where you can ski is at Telesiege Yret, at 2800 metres about sea level. One of the special characteristics of this ski area is that the tree line is at 2150 metres. This means that during most runs, you can enjoy the scenery and the forest around you.
Cross/country skiers have not been forgotten in this area, since there is approximately 40km of track to discover. The north side of this area offers a large variety of activities and magnificent scenery. There is also 20km of snowshoeing trails to discover for those who enjoy hiking.
Resorts in the Serre Chevalier Valley
The Serre Chevalier Valley consists of several authentic mountain villages with Briancon, Chantemerle, Monêtiers-Les-Bains and Villeneuve. Briancon is located at the foot of the ski area and is a typical authentic mountain village that is known for its art and its historic character. Chantemerle, also known as Serre-Chevalier 1350, is situated in between Briancon and Villeneuve. It is a typical wintersports village with a large town square, shops and bars. Villeneuve, also known as SerreChevalier 1400, has also been built as a winter sports village and is also locate centrally in the ski area. Last but not least, Monêtiers-Les-Bains, Serre-Chevalier 1500, has more of a rural feel in comparison to the other villages and is known for its hot springs. The Serre Chevalier boarders the Ecrin National Park, which will give you nice hikes, beautiful scenery and a varied ski area. Serre Chevalier is an excellent choice for families with young families.
Show more
Show less
Popular destinations in Serre Chevalier Vallée
Top destinations
Top of page