Chalet Flocon de Belleville
Chalet Flocon de Belleville
Chalet Flocon de Belleville
Chalet Flocon de Belleville is a well maintained, comfortable chalet located about five minutes drive from Les Menuires. The ski slope and ski lift can be reached by car or ski bus. When you come back after a tiring day on the slopes at home you can relax in the wellness area of the chalet where there is a sauna, jacuzzi and hammam. In the center of Les Menuires, you can visit the gym or the ice rink.
Read more Chalet Flocon de Belleville
View less Chalet Flocon de Belleville
There are no room types available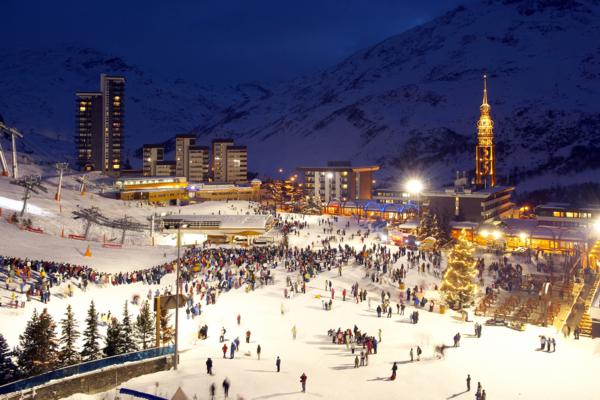 Les Menuires
Les Menuires, a village located just under Val Thorens, was built in the 1960's in the shape of a horse shoe. Although most of Les Menuires was built during that time, much has changed since. This can be seen in the remarkable differences in architectural styles. The village consists of different neighbourhoods. The more recent constructions in the neighbourhoods of Reberty and Les Bruyères have adopted a more authentic style using wood and natural stones. This is contrasted with the more functional, modernist buildings that characterised construction in the 1960's.
Taking off your skis after a long day on the pistes does not mean that the day is over. You could decide to soak up some sun on one of the many terraces overlooking the pistes or go shopping in La Croisette instead. The sports centre in the centre of Les Menuires is open 7 days a week, so even if the weather is bad, you can still keep busy. Les Menuires has many shops, restaurants and bars.
Skiing in Les Menuires
Most accommodations in Les Menuires are either on or adjacent to the slopes. This means that you will never have to walk far to start your day in the snow. The ski area of Les Menuires has approximately 160 kilometres of pistes. Even though, Les Menuires might be at a lower altitude than Val Thorens, it does have its perks as well. Les Menuires is more sheltered by trees than Val Thorens. For those who enjoy long ski tours, you can book the lift pass for the whole of Les Trois Vallées and boasts 600 kilometres of slopes.
This is a popular and affordable destination for big families and small groups.
Check out our holiday packages for skiing in Les Menuires! You can either book an all inclusive holiday or choose to book a self drive holiday. All flights packages to France include free bronze ski rental equipment. However, it is always possible to upgrade your ski material to a ski package that suits your experience level.
Les Menuires
Les Menuires is a ski resort in the Belleville valley. Together with Saint Martin de Belleville and Val Thorens, it makes up the ski region of Les Trois Vallées.
Skiing in Les Menuires
The ski area of Les Menuires is divided into its own region and the enormous Les Trois Vallées. The area of Les Menuires itself consists of 62 pistes (160 km / 100 ml) and 48 lifts of which no less than 13 depart directly from Les Menuires. Queues are a rarity here. Recently a new cable car between the Les Menuires and St. Martin de Belleville has started to run, which improves the connection between the two areas even further.
Novice and intermediate skiers and snowboarders have excellent options here since there are lots of varied pistes. Do you want a more challenging holiday and do you enjoy visiting different areas? Then you should definitely head for Les Trois Vallées, the biggest interconnected ski resort in the World! Here you can venture on some huge ski tours, taking you through all three valleys, just make sure you can get back before the lifts close and your dinner gets cold. This is a perfect destination that is popular and affordable!
Check out our holiday packages for skiing in Les Menuires! You can either book an all inclusive holiday or choose to book a self drive holiday. All flights packages to France include free bronze ski rental equipment. However, it is always possible to upgrade your ski material to a ski package that suits your experience level.

Please note: there are no Trois Vallées lift passes available outside of peak season.


Practical information
Capital:
The capital of France is Paris
Time:
France is one hour ahead of the UK (GMT+1).
Language:
The official language is French.
Money:
The euro (€) is the official currency of France
Emergency number:
The local emergency number is 112.
Service charge (tip) in restaurants and bars :
It is not likely that the service charger will be added to the bill automatically. If you are pleased with the service you can round off or leave a tip of 10%.
Power:
The voltage is 220 and the socket is different compared to the general UK sockets. You can buy an European adapter in most airports and supermarkets.
Mobile:
A UK mobile phone should work in France. The setup for this may differ per provider, so it is best to inquire about this before hand.
Safety on the slopes:
In France, wearing a helmet is not mandatory but recommended (especially for children). In ski classes (for all ages), it is often compulsory.
Travel documents:
You must be in possession of a valid passport in order to travel to France.
Food and Drinks:
Cheese, croissants, baguettes and wine! It is possible to drink tap water.
Opening hours:
As a general rule, the shops are open on Monday/Friday from 09:00 to 19:00. However, some shops may close over lunchtime. On Sunday and Monday, a selection of shops are closed. Some supermarkets are open on Sunday mornings.
Public Holidays:
Christmas Day: 25 December, 2014 (Thursday)
Boxing Day: 26 December, 2014 (Friday)
New Year's Day: 1 January, 2015 (Thursday)
Good Friday: 3 April, 2015
Easter Sunday: 5 April, 2015
Easter Monday: 6 April, 2015
Travelling by car:
Most motorways in France require you to pay a toll fee. The Pas Piccolo San Bernardo is closed the whole winter (November - June). Always check the locat weather reports before departing.

In some cities and towns it is obligaroty to have a "environmentsl sticker". It is not possible to buy these stickers en route. You will have to order them online before you leave home. French authorities advise you to print out the form and the confirmation of the sticker if it does not arrive at your home in time. You can find the form on:
https://www.certificat-air.gouv.fr/en/demande-ext/cgu
Flight information
Sunweb offers flights and transfers packages to this resort. You can select which airport you wish to travel from in the PRICES AND BOOKING tab above. It is possible to select different flight departure and arrival times in Step 2 of the booking process.
All Sunweb flights are booked with EasyJet. Hold luggage and ski equipment as luggage are NOT included in your package price. This can be added as an extra in Step 2 of the booking process. The price of luggage varies, as per Easyjets policies. All flight bookings include one cabin bag per person (maximum size of 56 x 45 x 25cm; including handles and wheels).
Please read more about the luggage rules and regulations on EasyJet's website. When making a flights booking with Sunweb, you are also agreeing to EasyJet's Terms and Conditions.
Transfers:
Return airport transfers are included in your package price when booking a flight package with Sunweb. These however can be removed in Step 2 of the booking steps if you would like to add in a hire car or seek an alternative travel arrangement. All transfers are shared transfers to and from your accommodation and the airport.
Due to the nature of shared transfers, there may be a wait time at the airport before your departure. This can be up to 1.5 hours. Please note that there will NOT be a Sunweb rep waiting for you at the airport as the transfer is managed by a partner. All information regarding the transfer (meeting point, departure times etc) will be explained on your travel documents that are sent to you 14 days before departure. The transfer will drop you off in the resort area; you may have not be dropped exactly outside your accommodation.
Departure from the UK:
Please ensure that you are not late and have checked in online before arriving at the airport. In addition to checking in online, you will have to enter your passport information. This is called API (advanced passenger information) and you will receive instructions from Sunweb after you have booked the holiday.
Arrival on Resort:
If you are planning on checking in late on your arrival day, it is almost always possible to get into your hotel or apartment. However, it is very important that this is arranged in advance. You will receive your travel documents two weeks before your departure, and this will include instructions on how to arrange your late arrival and collection of the key.
Please Note:
Once you agree to Sunweb's Term's and Conditions you are legally obliged to pay for the holiday and any cancellation fees that may apply.
Lift pass, lessons and material
Discounts:
The lift pass for children aged 4 and under and seniors from 75 years is free. Children aged between 5-12 years old and seniors 65-74 years receive a discount on the price. These discounts will be automatically calculated into your package price. If you are entitled to a free ticket you choose when booking for 'no ticket'. The free ski pass and ski passes can you pick up locally by showing your ID.
Deposit:
On site you have to pay a deposit for the ticket.
Passport:
A passport is required for a free lift pass.
The above price increases and reductions are only valid when booking with Sunweb. On site different rates are applied.
In the booking steps it is indicated for which days the lift pass is valid. If you want to use the ski lift on a different day than indicated in the booking process, please contact our contact centre by telephone. It is not possible to change the days of the lift pass once you have arrived at the destination. If you wish to extend the lift pass, it can often be booked as an extra. The price for extending the lift pass can be found in the booking. If you choose "no lift pass", the discount can also be found in the booking process.
If you want to book lessons, you can reserve them when making your booking. When you book your lessons, you should give an indication of your level, this way the ski school can put you in the correct classes. In Les Menuires we work with the ski school Prosneige. For further information you can check http://menuires.prosneige.fr/english/.
- The ski and snowboard lessons start on Sunday.
- When booking lessons:
Beginners: Choose beginners lessons if you've never skied before.
Average: Can you brake / make a curve? Opt for average and not for beginners.
Advanced: Can you ski, but you want to develop your technique? Opt for advanced.
You can specify that you would like to include ski hire directly when booking.
The following types of material can be booked:
Bronze
This material is ideal for beginners and intermediate skiers and snowboarders. This material is particularly agile, so it makes turning and breaking easy. Parallel skiing is also possible with these skis.
Silver
This is ideal material for intermediate skiers and snowboarders. The material is agile, but also suitable to cut corners sharp. Even at high speeds these skis provide great performance.
Gold
These skis and snowboards are made of high quality material, and are perfect for experienced skiers. This comfortable material is suitable on all track types and snow conditions.
Diamond
These are high performance skis and snowboards with the latest technology, and are suitable for the most experienced skiers.
TIP: Tell our rental partner your exact requirements (eg off piste skiing) so they can help you select the right material.
Wahoo! Your alert has been activated
Unfortunately something went wrong...