Chalet Grand Massif
Chalet Grand Massif is located in a quiet but fantastic location close to the ski area. It is just 50m away from the ski lift, so you will be carving up the fresh powder in no time. Originally, an old farm house from the 18th century, this chalet has been completely restored with great attention to detail. It is simple, yet still equipped with all necessary comforts including a dining room with a modern kitchen.
The centre of Morillon cam be reached via the blue slope'Laberieu', which runs along the chalet. For daily shopping you can go to Morillon or the nearby village of Sameons.
Read more Chalet Grand Massif
View less Chalet Grand Massif
Room types
4-room apartment (3 bedrooms)
for 2 till 8 persons
surface circa 75m²
Number of beds: 9
Terrace
Kitchen
(mini) fridge
hotplate (4 burners)
(mini)oven
microwave
coffee machine
toaster
dishwasher
raclette grill
washing machine
Television (satellite television)
(Living) room(s): sleeps 2 (2 x one person sleeping couch)
Bedroom(s): 3 bedrooms
1st bedroom: sleeps 2 (1 x double bed)
2nd bedroom: sleeps 3 (3 x single bed)
3rd bedroom: sleeps 2 (1 x two persons bed (separate beds))
Separate toilet
private infrared sauna
Bathroom(s): 2 bathrooms
Bathroom 1: shower, toilet
Bathroom 2: shower
deposit: circa 600,00 € per unit per stay to be paid with cash (to be paid at resort, obligated)
tourist tax: for all guests with age up from 12 year circa 0,75 € per person per night to be paid with cash (to be paid at resort, obligated)
electricity: (included in the package price)
baby cot: (free of charge) (to be mentioned at reservation)
children's chair in the room: (free of charge) (to be mentioned at reservation)
linen package: circa 8,00 € per person per week(s) (to be mentioned at reservation, to be paid at resort)
final cleaning (kitchen excl.): circa 70,00 € per unit per stay (to be paid at resort)
place in car park: (free of charge)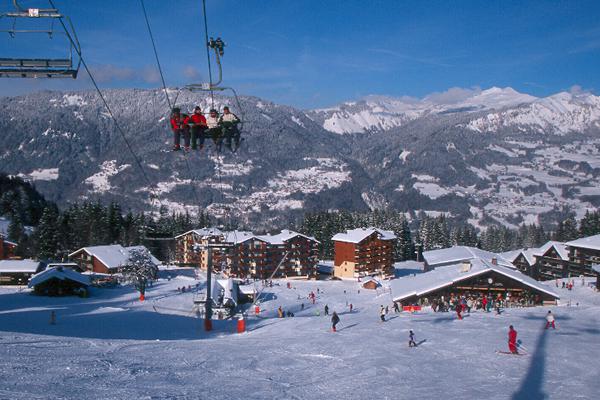 Morillon
Morlillon is an ideal ski holiday destination for families with children. The village has a mix of many renovated traditional buildings and new chalet style accommodations. In the center there is a variety of lively shops and a weekly market.
Skiing in Morillon
Morillon is part of the extensive Les Grand Massif ski area. Overall this area has over 265km of ski slopes. It also includes the famous French resorts of Flaine, Les Carroz d'Araches and Samoëns. It is a perfect area for beginner to intermediate skiers/snowboarders. The highest point of Les Grand Massif is approximately 2500m, making it a fairly snow sure destination through the whole of the winter season.
The resort
Morillon is a car free village. You can drive your car up to the accommodation to drop of your luggage when you arrive at the resort. After this you can park in the free covered parking at the beginning of Morillon 1100. Morillon 1100 has easy access to the other slopes of the Grand Massif.
For non skiers this resort offers a great range of different activities too. This includes dog sledding, paragliding, ice skating and mountain walks. Sunweb has a great assortment of accommodation choices for skiing in Morillon. From all inclusive hotels; to cheap, simple apartments. There are options to suit all groups and budgets.
Location and surroundings
distance to centre: approx. 2 kilometres
distance to ski piste approx. 50 metres
distance to ski lift approx. 2 kilometres
nearest shops approx. 2 kilometres
Le Grand Massif
The ski area of Le Grand Massif, with approximately 265km of pistes, is regarded as one of the best ski resorts in France. The area has an altitude of 900m to 2500m. The ski area Le Grand Massif is known as a snow-sure resort. If there is snow falling in the French Alpes, it likely to be snowing in Flaine! Every year we get many messages from guests who have chosen to return to Le Grand Massif, a strong sign that once visited you will want to keep going back!
The pistes of Grand Massif are well-connected, consisting of Flaine, Samoens, Morillon and Les Carroz. The combination of these areas, make it the fourth biggest ski area in France. This fantastic area offers plenty of options for skiers and snowboarders of every level. Novices and intermediate skiers can head to one of the many wide pistes that are also ideal for snowboarders.
Snowboarders in Le Grand Massif can also test their skills in one of Europe's biggest snow parks that include a half pipe, boarder cross and various jumps. Highly experienced will be happy to know that there is a challenge in Grand Massif: Gers descent!
There are also plenty of off-piste route or you can head off on one of the longer ski trails. We recommend the Cascade, a fantastic descent lasting 14 km.
There are rarely waiting times or queues in Flaine but you can expect the resort to be relatively full during French school holidays. On location you can opt for a hands free lift pass. This lift pass costs approximately € 3,- extra. All Sunweb packages include a lift pass for the full ski area (Grand Massif).
In the villages of Les Carroz and Samoëns you will find an extensive cross country skiing area. There is a total of 47 km of cross country tracks in the area. Samoëns is also the only ski resort with the official title of "Monument Historique".
Practical information
Capital:
The capital of France is Paris
Time:
France is one hour ahead of the UK (GMT+1).
Language:
The official language is French.
Money:
The euro (€) is the official currency of France
Emergency number:
The local emergency number is 112.
Service charge (tip) in restaurants and bars :
It is not likely that the service charger will be added to the bill automatically. If you are pleased with the service you can round off or leave a tip of 10%.
Power:
The voltage is 220 and the socket is different compared to the general UK sockets. You can buy an European adapter in most airports and supermarkets.
Mobile:
A UK mobile phone should work in France. The setup for this may differ per provider, so it is best to inquire about this before hand.
Safety on the slopes:
In France, wearing a helmet is not mandatory but recommended (especially for children). In ski classes (for all ages), it is often compulsory.
Travel documents:
You must be in possession of a valid passport in order to travel to France.
Food and Drinks:
Cheese, croissants, baguettes and wine! It is possible to drink tap water.
Opening hours:
As a general rule, the shops are open on Monday/Friday from 09:00 to 19:00. However, some shops may close over lunchtime. On Sunday and Monday, a selection of shops are closed. Some supermarkets are open on Sunday mornings.
Public Holidays:
Christmas Day: 25 December, 2014 (Thursday)
Boxing Day: 26 December, 2014 (Friday)
New Year's Day: 1 January, 2015 (Thursday)
Good Friday: 3 April, 2015
Easter Sunday: 5 April, 2015
Easter Monday: 6 April, 2015
Travelling by car:
Most motorways in France require you to pay a toll fee. The Pas Piccolo San Bernardo is closed the whole winter (November - June). Always check the locat weather reports before departing.

In some cities and towns it is obligaroty to have a "environmentsl sticker". It is not possible to buy these stickers en route. You will have to order them online before you leave home. French authorities advise you to print out the form and the confirmation of the sticker if it does not arrive at your home in time. You can find the form on:
https://www.certificat-air.gouv.fr/en/demande-ext/cgu
Flight information
Flight packages are not available for this destination/resort. Please see the prices for self-drive packages (including lift passes) on the Prices and Booking tab.
Lift pass, lessons and material
From the 9-12-2017 the ski area of Flaine is opened. The ski area of Samoëns opens on 23-12-2017 and the entire ski area of Le Grand Massif opens on 23-12-2017.
In the booking steps it is indicated for which days the lift pass is valid. If you want to use the ski lift on a different day than indicated in the booking process, please contact our contact centre by telephone. It is not possible to change the days of the lift pass once you have arrived at the destination. If you wish to extend the lift pass, it can often be booked as an extra. The price for extending the lift pass can be found in the booking. If you choose "no lift pass", the discount can also be found in the booking process.
Discounts:
For children up to 4 years old, the lift pass is free. When you are entitled to a free lift pass, choose "No skipass" when booking. The free ski pass can be picked up locally on presentation of your ID. Children aged 5-6 will receive a discount on their lift pass. This discount will be displayed in step 2 of the booking process.
Passport photo:
A passport photo is not required.
The above fees and discounts are valid when booking with Sunweb. Other rates are used at the resort.
From the 9-12-2017 the ski area of Flaine is opened. The ski area of Samoëns opens on 23-12-2017 and the entire ski area of Le Grand Massif opens on 23-12-2017.
You can not book your lessons with us it has to be done on location.
Ski and snowboard hire can be booked in step 2 of the booking.
When booking Gold or Diamond ski hire, you can exchange this once for snowboard or free ride ski hire (not applicable in the weekend)
The following types of material can be booked:
Bronze
This material is ideal for beginners and intermediate skiers and snowboarders. This material is particularly agile, so it makes turning and breaking easy. Parallel skiing is also possible with these skis.
Silver
This is ideal material for intermediate skiers and snowboarders. The material is agile, but also suitable to cut corners sharp. Even at high speeds these skis provide great performance.
Gold
These skis and snowboards are made of high quality material, and are perfect for experienced skiers. This comfortable material is suitable on all track types and snow conditions.
Diamond
These are high performance skis and snowboards with the latest technology, and are suitable for the most experienced skiers.
TIP: Tell our rental partner your exact requirements (eg off piste skiing) so they can help you select the right material.
NOTE: A helmet is not included in this package. You can choose to bring your own, or rent one locally if available.