Résidence Le Prariond
Résidence Le Prariond
The traditional apartments of Résidence Le Prariond are situated on a beautiful location in Valmorel. The apartments are suitable for couples as well as for small groups of friends and families. The apartments are equipped with a cozy kitchen, a seating area and comfortable beds. The most beautiful thing about Résidence Le Prariond is that it is located directly on the slopes. The only thing you have to do is put on you skis or snowboard and you're ready to go.
After an intensive day in the mountains, you will have a drink in one of the après-ski bars in the centre of Valmorel, which is 300 meters away from the residence. In the evening you can prepare a delicious dinner in the kitchen or you can go to one of the restaurants in the village.
Read more Résidence Le Prariond
View less Résidence Le Prariond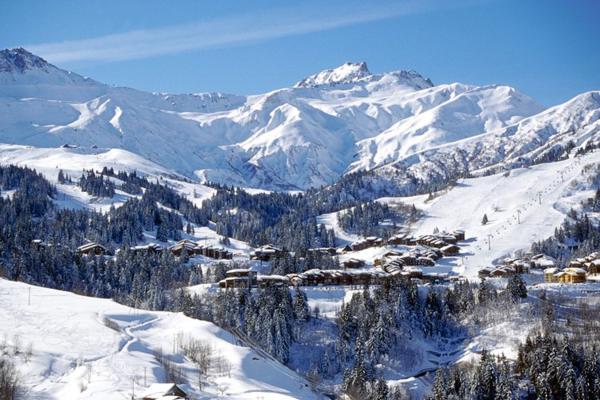 Valmorel
With its authentic houses built in chalet style Valmorel closely resembles a quaint little mountain village and is very popular with visitors today. Located on the edge of the forest, Valmorel merges with its beautiful surroundings.

From the easy and popular pistes on the Beaudin you can ski directly to St. François Longchamp. For the advanced skiers and snowboarders the long black pistes are definitely a highlight in the area. There is a snow park with a half pipe for snowboarders and for cross country skiers there are cross country skiing tracks located a few kilometers down the road and can be reached by bus. Because the tracks run through the lower laying valley, there is no continual snow fall here.

Valmorel also has more than 15 kilometers of hiking trails. The trails cut through a forested area and take approximately 1.5 to 3 hours to hike. Of course Valmorel also has plenty to keep you entertained off the pistes. There are numerous shops, restaurants, bars, nightclubs and even two cinemas in the lively centre of Valmorel.

Valmorel is the ideal destination for families and visitors looking for a relatively peaceful ski village!
Location and surroundings
distance to centre: approx. 300 metres
directly next to the ski piste.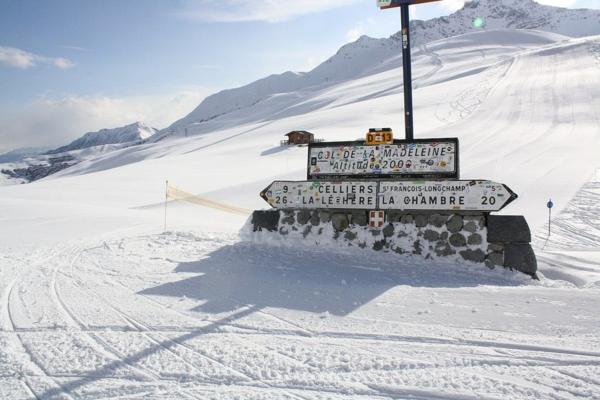 Le Grand Domaine
The ski area of Le Grand Domaine varies in altitude from 1250 meters to 2550 meters. It is a fantastic choice for half term as it remains relatively unknown within the English market. Besides ski slopes at every level, Le Grand Domaine also offers a snow park with a half pipe for snowboarders. The area is also highly regarded for its many natural obstacles perfect for freestylers!
The resort of Valmorel is surrounded by the famous mountain pass of Col de la Madeleine. The buildings in Valmorel have a maximum height of three floors and they are built in authentic Chalet style. St. François Longchamp 1650 and 1450 are located at the other end of the Col de la Madeleine in the Vallée de Maurienne. Together, these resorts make up Le Grand Domaine, a very diverse ski area with something to offer everyone.
If you are looking to explore beyond the pistes, there is 15 kmof cross country tracks in the stunning area of Montaimon (approx. 3 km from Valmorel).
Practical information
Capital:
The capital of France is Paris
Time:
France is one hour ahead of the UK (GMT+1).
Language:
The official language is French.
Money:
The euro (€) is the official currency of France
Emergency number:
The local emergency number is 112.
Service charge (tip) in restaurants and bars :
It is not likely that the service charger will be added to the bill automatically. If you are pleased with the service you can round off or leave a tip of 10%.
Power:
The voltage is 220 and the socket is different compared to the general UK sockets. You can buy an European adapter in most airports and supermarkets.
Mobile:
A UK mobile phone should work in France. The setup for this may differ per provider, so it is best to inquire about this before hand.
Safety on the slopes:
In France, wearing a helmet is not mandatory but recommended (especially for children). In ski classes (for all ages), it is often compulsory.
Travel documents:
You must be in possession of a valid passport in order to travel to France.
Food and Drinks:
Cheese, croissants, baguettes and wine! It is possible to drink tap water.
Opening hours:
As a general rule, the shops are open on Monday/Friday from 09:00 to 19:00. However, some shops may close over lunchtime. On Sunday and Monday, a selection of shops are closed. Some supermarkets are open on Sunday mornings.
Public Holidays:
Christmas Day: 25 December, 2014 (Thursday)
Boxing Day: 26 December, 2014 (Friday)
New Year's Day: 1 January, 2015 (Thursday)
Good Friday: 3 April, 2015
Easter Sunday: 5 April, 2015
Easter Monday: 6 April, 2015
Travelling by car:
Most motorways in France require you to pay a toll fee. The Pas Piccolo San Bernardo is closed the whole winter (November - June). Always check the locat weather reports before departing.

In some cities and towns it is obligaroty to have a "environmentsl sticker". It is not possible to buy these stickers en route. You will have to order them online before you leave home. French authorities advise you to print out the form and the confirmation of the sticker if it does not arrive at your home in time. You can find the form on:
https://www.certificat-air.gouv.fr/en/demande-ext/cgu
Flight information
Flight packages are not available for this destination/resort. Please see the prices for self-drive packages (including lift passes) on the Prices and Booking tab on the yellow menu above.
Lift pass, lessons and material
Babies under 2 and seniors (older than 75) are entitled to a free lift pass on the spot.
In the booking steps it is indicated for which days the lift pass is valid. If you want to use the ski lift on a different day than indicated in the booking process, please contact our contact centre by telephone. It is not possible to change the days of the lift pass once you have arrived at the destination. If you wish to extend the lift pass, it can often be booked as an extra. The price for extending the lift pass can be found in the booking. If you choose "no lift pass", the discount can also be found in the booking process.
Discounts:
The lift pass for children aged 4 and under and seniors from 75 years is free. Children from 5-12 years old and seniors 65-74 years receive a discount on the ticket. These discounts will be automatically calculated in your package price. If you are entitled to a free pass choose 'no lift pass' when booking for. The free lift passes can you pick up locally by showing your ID.
Deposit:
On site you will pay € 3, - deposit for the hands-free lift pass.
Passport:
A passport is not required.
The above price increases and reductions are only valid when booking with Sunweb. At the resort different rates are used.
Babies under 2 and seniors (older than 75) are entitled to a free lift pass on the spot.
You can arrange ski lessons yourself on location.
You can select ski and snowboard hire in step 2 of the booking steps.
The following materials can be booked:
Bronze
This material is ideal for beginners and intermediate skiers and snowboarders. This material is particularly agile, so it makes turning and breaking easy. Parallel skiing is also possible with these skis.
Silver
This is ideal material for intermediate skiers and snowboarders. The material is agile, but also suitable to cut corners sharp. Even at high speeds these skis provide great performance.
Gold
These skis and snowboards are made of high quality material, and are perfect for experienced skiers. This comfortable material is suitable on all track types and snow conditions.
Diamond
These are high performance skis and snowboards with the latest technology, and are suitable for the most experienced skiers.
TIP:
Tell our rental partner your exact requirements (eg off piste skiing) so they can help you select the right material.