Hotel Alaska
Hotel Alaska
Hotel Alaska is a lovely hotel in a great location right on the slopes and within easy walking distance of the lift. It offers modernly furnished rooms with balconies. In the afternoon and the evening, there is a children's club available to guests. You can choose to visit the hotel's wellness centre, where you can relax in the sauna or book a massage, for a small fee. The stay is based on half board, which means that both breakfast and dinner are included in the price.
Read more Hotel Alaska
View less Hotel Alaska
Room types
double room
for 2 till 3 persons
double bed or single beds
Non-smoking rooms
Balcony
Heating
Television (flat screen, satellite television)
Telephone
bathroom with: shower, sink, toilet, bidet, hair dryer, bath robe, bath slippers
tourist tax: for all guests with age up from 14 year circa 1,50 € per person per night to be paid with cash or credit card (to be paid at resort, obligated)
christmas dinner: (included in the package price)
new year's eve dinner: (included in the package price)
pets, incl. food: on request circa 10,00 € per piece per night (to be paid at resort)
parking garage available: circa 7,00 € per piece per day (to be paid at resort)
place in car park: (free of charge)
Boardtype
21 Mar - 13 Apr

21 Mar - 13 Apr

21 Mar - 13 Apr

21 Mar - 13 Apr

25 Jan - 13 Apr
Location and surroundings
distance to centre: approx. 1500 metres
distance to Airport approx. 150 kilometres
distance to bus stop approx. 500 metres
distance to ATM approx. 150 metres
directly next to the ski piste.
distance to ski lift approx. 200 metres
nearest shops approx. 500 metres
nearest (mini) supermarket approx. 500 metres
nearest restaurant approx. 500 metres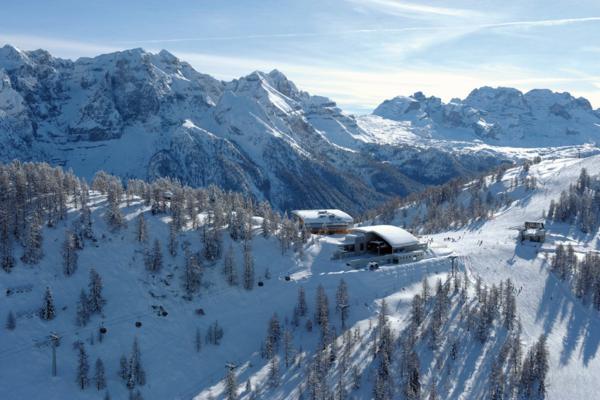 Folgarida
Folgarida is a small and traditional ski village, located in the sunlit ski area of Val di Sole. The village consists of several districts, and from each district there is a lift leaving the extensive ski area where you will find plenty of beautiful ski runs through the trees. Due to its high location and the many snow cannons, it is a very snow sure area. On the edge of the slopes you will find many charming restaurants, the perfect place to enjoy a local pasta meal with a red wine.
Apres Ski
Folgarida is not particularly famous for its apres ski scene, however you can definitely enjoy at top night at the Dream Pub. Many of the hotels in the area have their own animation with different shows for guests.
Shopping and Espresso bars
In the village you will find some fantastic restaurants, pizzerias, bars and shops. In the afternoon we recommend that you head to Madonna di Campiglio. This mouth- watering village is especially popular with Italians, and there are several squares with restaurants, espresso bars and boutiques. Lovers of craft products will be in heaven with the many stores.
Location and surroundings
distance to centre: approx. 1500 metres
distance to Airport approx. 150 kilometres
distance to bus stop approx. 500 metres
distance to ATM approx. 150 metres
directly next to the ski piste.
distance to ski lift approx. 200 metres
nearest shops approx. 500 metres
nearest (mini) supermarket approx. 500 metres
nearest restaurant approx. 500 metres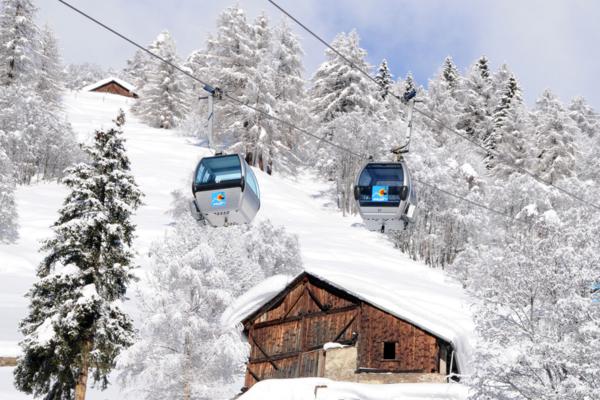 Val di Sole
Val di Sole is a beautiful, charming sunlight ski area. It is especially designed for experienced skiers and snowboarders due to its many steep slopes and off piste possibilities. On the side of Marillèva a chairlift and a gondola lift takes you to a number of delightful wide blue slopes leading through the forest. For advanced skiers be sure to check out the Nera Folgarida, which leads back to the valley from the Folgarinda gondola lift.
Val di Sole consists of several beautiful ski resorts, such as: Madonna di Campiglio, Folgarida, Marilleva and Mezzana. When you stay in Folgarida, Marilleva or Mezzana you can book the ski pass for the restricted area Folgarida / Marilleva, which gives access to 60 kilometers of piste or the larger, extensive ski pass Campiglio / Dolomiti di Brenta. With this extensive ski pass you also have access to the beautiful ski area of Madonno di Campiglio.
Practical information
Capital:
The capital is Rome.
Language:
The official language is Italian.
Time:
There is a time difference of +1hour.
Currencies:
The official currency in Italy is the euro.
Voltage:
The voltage is 230 volts.
Travel documents:
You must be in possession of a valid passport or valid proof of identity.
Talk on the phone:
A British mobile phone also works in Italy. To call to Italy from the UK, first dial the country code 0039 and then the area code without zero and then the subscriber number. The country code 0044 is from Italy to the UK.
Emergency number:
The national emergency number is 112.
Traveling by car:
The national roads are well passable. Pas Piccolo San Bernardo is closed throughout the winter season (November to June).
Keep in mind that the highways require a toll. If you travel via the Austrian motorways, you must be in possession of a toll sticker. For some motorways, tunnels and roads in Austria there is no vignette requirement, but a separate toll must be paid, such as the A13 from Innsbruck-Süd to the Italian border.
There is no general obligation in Italy for winter tyres. Winter equipment (chains or winter tyres) may be mandatory on mountain roads. This is indicated with a traffic sign. Not using winter tires in winter conditions can lead to (joint) liability in the event of accidents and also have criminal consequences. In Austria and Germany, winter tires are required in winter conditions.
In case of breakdown or an accident, it is mandatory that all road users wear a reflective vest.
If you travel via France:
Please note: in some cities it is mandatory to have an environmental sticker from 1 July 2017. If you drive over the Paris ring road, the Boulevard Périphérique, you will also need an environmental sticker in many cases. The vignette can not be obtained along the way, but can only be ordered online. The French police advise to print out the application form and the confirmation and to take it with you if the vignette is not delivered in time by post. The order form can be found on this website: https://www.certificat-air.gouv.fr/en/demande-ext/cgu
Future environmental zones can be found on this website: http://en.france.fr/nl/tips/milieuzones-france-ecovignet-credit
Food and drink:
Italy is known for pizzas, pastas and risottos. It is not recommended to drink tap water.
Tips:
It is customary in Italy to give a tip of around 10% in bars, restaurants and hotels.
Opening hours:
In general, the shops are closed between 13.00 and 16.00. This is the siesta. After 16.00 hours the shops will open again until about 19.00 hours.
Safety:
In Italy, a ski helmet is mandatory for children up to and including 14 years of age. A ski helmet is recommended for adults. In a ski class, wearing a helmet is often required.
Swimming pool
In Italy you are generally required to wear a swimming cap in swimming pools. This is for both public swimming pools and swimming pools that belong to hotels.
Lift pass, lessons and material
Discounts:
Children born on or after 30-11-2009 are entitled to a free lift pass on display of an ID card. Children born on or between 01-12-2001 and 29-11-2009 receive a discount on the lift pass. These discounts will be automatically calculated in the booking.
Deposit:
A deposit of €5 is required on the spot for the lift pass. This and will be returned at the end of the week upon return of the lift pass.
The above fees and discounts are only valid when booking through Sunweb. Other rates are used at the resort.
Lessons can not be booked in advance through Sunweb. You will need to arrange this yourself at the resort.
You can opt to add in ski and snowboard hire in the booking steps;
A helmet for children and adults is not included in the rental of ski and/or snowboard equipment.
For children from 3 to 7 years old it is mandatory to wear a helmet. You can purchase these yourself or rent them on the spot.
The following types of material can be booked:Bronze
This material is ideal for beginners and intermediate skiers and snowboarders. This material is particularly agile, so it makes turning and breaking easy. Parallel skiing is also possible with these skis.
Silver
This is ideal material for intermediate skiers and snowboarders. The material is agile, but also suitable to cut corners sharp. Even at high speeds these skis provide great performance.
Gold
These skis and snowboards are made of high quality material, and are perfect for experienced skiers. This comfortable material is suitable on all track types and snow conditions.
Diamond
These are high performance skis and snowboards with the latest technology, and are suitable for the most experienced skiers.
TIP: Tell our rental partner your exact requirements (eg off piste skiing) so they can help you select the right material.