Hotel des Alpes
Hotel des Alpes is set in a beautiful location, and when there is enough snow you can ski all the way to the door. The rooms are nicely decorated, and comfortably furnished. It features a ski storage room with boot warmers, meaning your feet will be warm and ready the next morning. In the evening you can enjoy a tasty four course dinner at the restaurant. After this you can party until the early hours of the morning with an après-ski drink!
Read more Hotel des Alpes
View less Hotel des Alpes
Room types
double room
for 2 till 3 persons
Partly with balcony
Television (flat screen, satellite television, free of charge)
Telephone
bathroom with: bath or shower, sink, toilet, hair dryer
baby cot: (free of charge) (to be mentioned at reservation)
safe available in the room: circa 10,00 € per stay (to be paid at resort)
wireless internet available in public area: (free of charge)
parking garage available: circa 8,00 € per night (to be mentioned at reservation, to be paid at resort)
tourist tax: for all guests with age up from 14 year circa 2,00 € per person per night (to be paid at resort, obligated)
wireless internet available in the room: (free of charge)
single room
for 1 person
Partly with balcony
Television (flat screen, satellite television, free of charge)
Telephone
bathroom with: bath or shower, sink, toilet, hair dryer
baby cot: (free of charge) (to be mentioned at reservation)
safe available in the room: circa 10,00 € per stay (to be paid at resort)
wireless internet available in public area: (free of charge)
parking garage available: circa 8,00 € per night (to be mentioned at reservation, to be paid at resort)
tourist tax: for all guests with age up from 14 year circa 2,00 € per person per night (to be paid at resort, obligated)
wireless internet available in the room: (free of charge)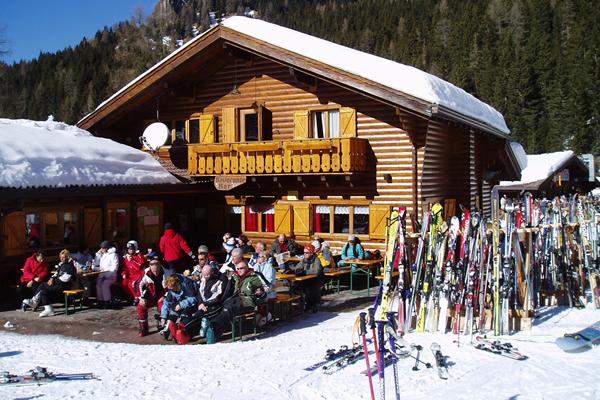 Selva
Skiing in Selva – Ski to door and much more
Selva is the Italian name for this beautiful ski resort. In German, the village is also called Wolkenstein. Selva is the last and smallest village of the Val Gardena ski area. Although it is the smallest village, it is one of the most renowned winter sports resorts in the Alpine region. Other villages in the Val Gardena ski area are Santa Cristina and Ortisei (also known as St. Ulrich). The Weinlokalen and Konditoreien being a venue of conviviality, but also the typical Austrian après-ski in Val Gardena plenty to be found to do. The après-ski bars, such as Luise Keller, allows you to enjoy a schnapps or mulled wine.
The center of Selva is stretched out and most activities are geared towards the winter sports tourists that come and visit the village. Due to its excellent location, it is often possible to ski at the end of the day to the door of your accommodation. From the valley you can view the impressive Sella Massif. The Ciampiona gondola will take you straight to the top of the mountain, where you can challenge yourself to do the spectacular Ciaminio run back to Selva or choose one of the many other runs that starts there. The gondolas and lifts give access to the Dolomiti Superski region. The region has over 1200km of downhill runs to choose from. The ski areas that are all part of the Dolomiti Superski region are; Alta Badia, Arabba- Marmolada, Val di Fassa and Val Gardena. With the Dolomiti Superski left pass, you can make wonderful tours so that you never have to see a piste twice.
Cross-country skiers and hikers can make beautiful trips and for children there are separate elevators and there is childcare. After skiing you can relax in the sauna or solarium. And for the more energetic there is a tennis court and an indoor ice rink.
Location and surroundings
distance to ski bus stop approx. 100 metres
distance to ski lift approx. 500 metres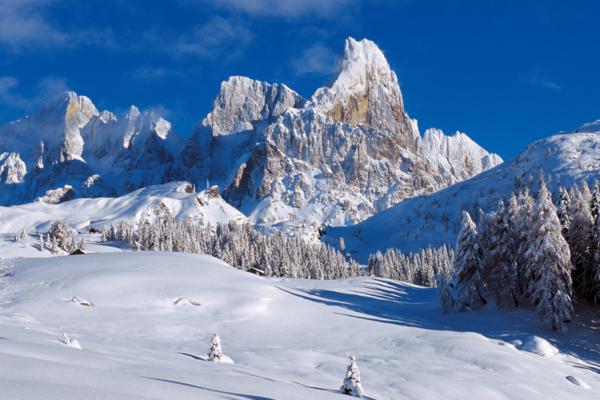 Val Gardena
Dolomiti Superski

Twelve ski areas, all under one ski pass Dolomiti Superski! The breathtaking mountain scenery of the Italian Dolomites offers anamazing amount of runs: the Dolomiti Super Ski Pass gives access up to 1200 km of varied slopes and 450 ski lifts. Even the most seasoned winter sports fans here will have no time to get bored! Experience the convenience of one ski pass for the area Val Gardena, Val di Fassa, Arabba-Marmolada, Alta Badia, Cortina d'Ampezzo, Kronplatz, Sextner Dolomites, Val di Fiemme, San Martino di Castrozza, Valle Isarco, Trevalli-Moena and Civetta .

The legendary Sella Ronda, the medium route includes four of these twelve ski areas (Val Gardena, Val di Fassa, Alta Badia and Arabba-Marmolada). On skis or snowboard, the Sella Ronda, take in about 5-6 hours with a sprawling 500 kilometers of slopes in the heart of the Dolomites. This is a trip you will never forget!

Cross-country skiers find treasures. Dolomites offer a total of more than 1000 kilometers of ski runs. The 12-kilometer trail to the beautiful Rautal Pederti and the beautiful trails of the Gsieser-Antholz is well known.

Val Gardena

Val Gardena is a famous valley where the men's World Cup slalom skiing is organized annually. It consists of three cozy ski villages, namely: Ortisei / St. Ulrich, San Cristina and Selva / Wolkenstein, where the central Italian hospitality blends nicely along with the Austrian atmosphere. All the ingredients for a successful holiday are present in this beautiful Italian valley. Approximately 175 kilometers of slopes and 115 kilometers of cross-country trails are at your disposal. Val Gardena is part of the Dolomiti Superski ski area, with approximately 475 lifts and 1200 kilometers of slopes. Very well known in this beautiful area is the Sella Ronda, a route on intermediate runs along Arabba which lasts 5 to 6 hours. A must for every avid skier and snowboarder!

The villages of Ortisei, San Cristina and Selva are interconnected: From Ortisei you can jump in a cab and after only a short ride be at the Seceda top or to Monte Piz and both slopes are connected to the center of San Cristina. Also you can use for only 7 euros per week the ski bus, so you can choose where you want to shop or après-ski. There are plenty of opportunities in Val Gardena!
Practical information
Capital:
The capital is Rome.
Language:
The official language is Italian.
Time:
There is a time difference of +1hour.
Currencies:
The official currency in Italy is the euro.
Voltage:
The voltage is 230 volts.
Travel documents:
You must be in possession of a valid passport or valid proof of identity.
Talk on the phone:
A British mobile phone also works in Italy. To call to Italy from the UK, first dial the country code 0039 and then the area code without zero and then the subscriber number. The country code 0044 is from Italy to the UK.
Emergency number:
The national emergency number is 112.
Traveling by car:
The national roads are well passable. Pas Piccolo San Bernardo is closed throughout the winter season (November to June).
Keep in mind that the highways require a toll. If you travel via the Austrian motorways, you must be in possession of a toll sticker. For some motorways, tunnels and roads in Austria there is no vignette requirement, but a separate toll must be paid, such as the A13 from Innsbruck-Süd to the Italian border.
There is no general obligation in Italy for winter tyres. Winter equipment (chains or winter tyres) may be mandatory on mountain roads. This is indicated with a traffic sign. Not using winter tires in winter conditions can lead to (joint) liability in the event of accidents and also have criminal consequences. In Austria and Germany, winter tires are required in winter conditions.
In case of breakdown or an accident, it is mandatory that all road users wear a reflective vest.
If you travel via France:
Please note: in some cities it is mandatory to have an environmental sticker from 1 July 2017. If you drive over the Paris ring road, the Boulevard Périphérique, you will also need an environmental sticker in many cases. The vignette can not be obtained along the way, but can only be ordered online. The French police advise to print out the application form and the confirmation and to take it with you if the vignette is not delivered in time by post. The order form can be found on this website: https://www.certificat-air.gouv.fr/en/demande-ext/cgu
Future environmental zones can be found on this website: http://en.france.fr/nl/tips/milieuzones-france-ecovignet-credit
Food and drink:
Italy is known for pizzas, pastas and risottos. It is not recommended to drink tap water.
Tips:
It is customary in Italy to give a tip of around 10% in bars, restaurants and hotels.
Opening hours:
In general, the shops are closed between 13.00 and 16.00. This is the siesta. After 16.00 hours the shops will open again until about 19.00 hours.
Safety:
In Italy, a ski helmet is mandatory for children up to and including 14 years of age. A ski helmet is recommended for adults. In a ski class, wearing a helmet is often required.
Swimming pool
In Italy you are generally required to wear a swimming cap in swimming pools. This is for both public swimming pools and swimming pools that belong to hotels.
Flight information
Sunweb offers flights and transfers packages to this resort. You can select which airport you wish to travel from in the PRICES AND BOOKING tab above. It is possible to select different flight departure and arrival times in Step 2 of the booking process.
All Sunweb flights are booked with EasyJet. Hold luggage and ski equipment as luggage are NOT included in your package price. This can be added as an extra in Step 2 of the booking process. The price of luggage varies, as per Easyjets policies. All flight bookings include one cabin bag per person (maximum size of 56 x 45 x 25cm; including handles and wheels).
Please read more about the luggage rules and regulations on EasyJet's website. When making a flights booking with Sunweb, you are also agreeing to EasyJet's Terms and Conditions.
Transfers:
Return airport transfers are included in your package price when booking a flight package with Sunweb. These however can be removed in Step 2 of the booking steps if you would like to add in a hire car or seek an alternative travel arrangement. All transfers are shared transfers to and from your accommodation and the airport.
Due to the nature of shared transfers, there may be a wait time at the airport before your departure. This can be up to 1.5 hours. Please note that there will NOT be a Sunweb rep waiting for you at the airport as the transfer is managed by a partner. All information regarding the transfer (meeting point, departure times etc) will be explained on your travel documents that are sent to you 14 days before departure. The transfer will drop you off in the resort area; you may have not be dropped exactly outside your accommodation.
Departure from the UK:
Please ensure that you are not late and have checked in online before arriving at the airport. In addition to checking in online, you will have to enter your passport information. This is called API (advanced passenger information) and you will receive instructions from Sunweb after you have booked the holiday.
Arrival on Resort:
If you are planning on checking in late on your arrival day, it is almost always possible to get into your hotel or apartment. However, it is very important that this is arranged in advance. You will receive your travel documents two weeks before your departure, and this will include instructions on how to arrange your late arrival and collection of the key.
Please Note:
Once you agree to Sunweb's Term's and Conditions you are legally obliged to pay for the holiday and any cancellation fees that may apply.
Lift pass, lessons and material
In step 2 of the booking process it is indicated for which days the lift pass is valid. If you want to use the ski lift on a different day than indicated in step 2 of the booking process, please contact our contact centre by telephone. It is not possible to change the days of the lift pass once you have arrived at the destination. If you wish to extend the lift pass, it can often be booked as an extra. The price for extending the lift pass can be found in step 2 of the booking. If you choose "no lift pass", the discount can also be found in step 2 of the booking process.
Discounts:
The lift pass for children born on or after 01-12-2011 is free on display of an ID card. Children born between 01-12-2003 and 30-11-2011 and seniors born before 29-11-1954 receive discounts on the lift pass. These discounts will be automatically calculated into the package price.
The above fees and discounts are valid only when booking with Sunweb. Other rates are used at the resort.
You can specify that you would like to include ski and snowboard hire directly when booking.
A helmet for children and adults is not included in the rental of ski and/or snowboard equipment.
For children from 3 to 7 years old it is mandatory to wear a helmet. You can purchase these yourself or rent them on the spot.
The following types of material can be booked:Bronze
This material is ideal for beginners and intermediate skiers and snowboarders. This material is particularly agile, so it makes turning and breaking easy. Parallel skiing is also possible with these skis.
Silver
This is ideal material for intermediate skiers and snowboarders. The material is agile, but also suitable to cut corners sharp. Even at high speeds these skis provide great performance.
Gold
These skis and snowboards are made of high quality material, and are perfect for experienced skiers. This comfortable material is suitable on all track types and snow conditions.
Diamond
These are high performance skis and snowboards with the latest technology, and are suitable for the most experienced skiers.
TIP: Tell our rental partner your exact requirements (eg off piste skiing) so they can help you select the right material.