Hotel Salzburgerhof
Hotel Salzburgerhof
Hotel Berner is a typical Austrian hotel. The rooms are spacious, the food is delicious and you can use the modern sauna and wellness center. The nicely furnished rooms are fully equipped for a comfortable stay and the ski bus leaves right next to the hotel so you are on the slopes in no time. This hotel has a fantastic location in the center of Maria with everything at your fingertips. After an exhausting day on the slopes make a visit to the sauna, solarium and Turkish steam bath.
Read more Hotel Salzburgerhof
View less Hotel Salzburgerhof
There are no room types available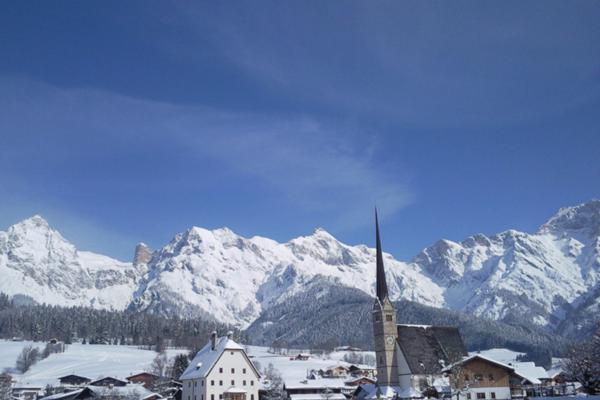 Maria Alm
You will find the picturesque village of Maria Alm in a beautiful location in Austria. The village is a little further from the main highway, however, this makes it a perfect destination for those whom enjoy a more quiet and spacious environment. The village is nestled in the green and lush scenery, at the foot of the Steinernes Lake and the impressive mountain chain on the boarder of Germany. The church with its pointed tower set against the breath-taking background of rising white mountains is a defining feature of the lively village.
Maria Alm is located at an altitude of 800 meters in a tranquil valley that sees no passing traffic. There are various sites of interest and nightlife options in and around the village. There is an indoor swimming pool, a sauna and a fitness centre where you can keep up your training and relax. You can also enjoy an excellent lunch or dinner at bargain prices in the restaurants here. You may also decide to take a romantic sleigh tour during the day or set out on a refreshing hike through the stunning landscape. In the evening you can visit some of the lively bars and nightclubs or you can stay on the pistes instead and descend via luge on the flood-lit luge tracks! Maria Alm is perfect for families with young children.
Skiing in Maria Alm
Maria Alm is part of the ski region Ski Amadé. Behind the church, four lifts depart and give you access to various beginner runs. The ski area of which Maria Alm is part of, offers approximately 120Km of connected slopes with very well prepared slopes, 30km of cross-country trails, floodlit toboggan runs. From Maria Alm you can take a ski bus to Mühlbach. If you would like to visit other ski areas such as Flachau or Schladming, you will need your car. Unfortunately there are no ski bus connections outside of Maria Alm and Mühlbach.
Hochkönig Winterreich - Ski Amadé
This welcoming and atmospheric ski resort at the foot of the Hochkönig is a dream for skiers, snowboarders, cross country skiers, hikers and even families with children! Setting out from the scenic villages of Mühlbach, Dienten and Maria Alm you can enjoy great routes throughout the resort. Snow canons provide snow cover where and when necessary. From Maria Alm the cable car takes you directly to the 2000 metre (6,500 ft) high Aberg from where you can start some of the best descents in the Alps.

There is a 35 metre long half pipe for freeriders in Dienten and despite the many drag lifts it remains a great spot for snowboarders too. Cross country skiing can be done around all three villages and there is a total of approximately 47 km (29 ml) of tracks. The longest track in Maria Alm is 12 km (8 ml) long. There is also a 2 kilometre (1 ml) long track at Maria Alm that is lit up in the evening.
Practical information
Capital:
The capital is Vienna.
Language:
The official language is German but English is widely spoken as well.
Time:
There is one hour time difference with the UK (GMT+1).
Money:
The official currency is the Euro.
Tipping:
It is customary in Austria to tip between 5% and 10% in bars and restaurants.
Food & Drink:
Austria is known for its Vienna Schnitzels and Glühwein. Tap water is safe for drinking.
Opening times shops:
Shops are usually open from Monday until Friday from 09.00 AM to 18.00 PM (some shops close during the afternoon). Most shops are closed on Sunday.
Travelling by car:
Snow chains are obligatory in the Alps. You need a toll permit for the motorways in Austria. You can buy the permit at the AA in the UK or in Austria at the major border crossings. The European Commission advises you to wear a safety reflector jacket in the event of a break down or accident. This vest can be purchased from the AA in the UK as well.
Voltage:
The voltage is 230 volt.
Mobile telephone:
UK mobile phones work in Austria as well.
Travel documents:
You need to be in the possession of a valid passport to travel to Austria.
Flight information
Sunweb offers flights and transfers packages to this resort. You can select which airport you wish to travel from in the PRICES AND BOOKING tab above. It is possible to select different flight departure and arrival times in Step 2 of the booking process.
All Sunweb flights are booked with EasyJet. Hold luggage and ski equipment as luggage are NOT included in your package price. This can be added as an extra in Step 2 of the booking process. The price of luggage varies, as per Easyjets policies. All flight bookings include one cabin bag per person (maximum size of 56 x 45 x 25cm; including handles and wheels).
Please read more about the luggage rules and regulations on EasyJet's website. When making a flights booking with Sunweb, you are also agreeing to EasyJet's Terms and Conditions.
Transfers:
Return airport transfers are included in your package price when booking a flight package with Sunweb. These however can be removed in Step 2 of the booking steps if you would like to add in a hire car or seek an alternative travel arrangement. All transfers are shared transfers to and from your accommodation and the airport.
Due to the nature of shared transfers, there may be a wait time at the airport before your departure. This can be up to 1.5 hours. Please note that there will NOT be a Sunweb rep waiting for you at the airport as the transfer is managed by a partner. All information regarding the transfer (meeting point, departure times etc) will be explained on your travel documents that are sent to you 14 days before departure. The transfer will drop you off in the resort area; you may have not be dropped exactly outside your accommodation.
Departure from the UK:
Please ensure that you are not late and have checked in online before arriving at the airport. In addition to checking in online, you will have to enter your passport information. This is called API (advanced passenger information) and you will receive instructions from Sunweb after you have booked the holiday.
Arrival on Resort:
If you are planning on checking in late on your arrival day, it is almost always possible to get into your hotel or apartment. However, it is very important that this is arranged in advance. You will receive your travel documents two weeks before your departure, and this will include instructions on how to arrange your late arrival and collection of the key.
Please Note:
Once you agree to Sunweb's Term's and Conditions you are legally obliged to pay for the holiday and any cancellation fees that may apply.
Lift pass, lessons and material
A lift pass for Ski Amadé is included in the package.
3-day trip including 2-day lift pass
4-day trip including 2-day lift pass
5-day trip including 3-day lift pass
6-day trip including 4-day lift pass
7-day trip including 5-day lift pass
8-day trip including 6-day lift pass
In step 1 of the booking process, it is indicated which days the lift pass is valid for (eg Sunday to Friday). If you would like the ski pass to start on a different day than shown in the booking steps, you must contact our contact centre by telephone. The booking can then be adjusted.
On destination, it is not possible to change the lift pass start date to another day. An extension of the lift pass can often be booked for an extra surcharge; the price for this can be found in step 1 of the booking process. The discount for "no ski pass" can also be found in the booking process.
Discounts:
The ski pass for children born from 1/1/2014 is free. Children born between 1/1/2001 and 31/12/2013 receive a discount on the ski pass. You will find these discounts in step 2 of the booking process.
Deposit: You must pay the deposit of approximately € 2 on site. You will receive this amount back when you return your pass. ID is required when collecting the ski pass.
The above surcharges and discounts are only valid when booking through Sunweb. At the destinations, other rates may apply.
A lift pass for Ski Amadé is included in the package.
3-day trip including 2-day lift pass
4-day trip including 2-day lift pass
5-day trip including 3-day lift pass
6-day trip including 4-day lift pass
7-day trip including 5-day lift pass
8-day trip including 6-day lift pass
The lessons cannot be booked in advance. You can arrange this yourself on location.
Please note: if you have booked a short-stay, then, unfortunately, it is not possible to book ski/snowboard lessons through us. You can organise them at the destination.
The lessons can not be booked in advance. You can arrange this yourself once you arrive at the destination.
You can specify that you would like to include ski and or snow board hire directly when booking. This can be done in step 2 of the booking process.
The following materials can be booked:
Bronze
This material is ideal for beginners and intermediate skiers and snowboarders. This material is particularly agile, so it makes turning and breaking easy. Parallel skiing is also possible with these skis.
Silver
This is ideal material for intermediate skiers and snowboarders. The material is agile, but also suitable to cut corners sharp. Even at high speeds these skis provide great performance.
Gold
These skis and snowboards are made of high quality material, and are perfect for experienced skiers. This comfortable material is suitable on all track types and snow conditions.
Diamond
These are high performance skis and snowboards with the latest technology, and are suitable for the most experienced skiers.
TIP:
Tell our rental partner your exact requirements (eg off piste skiing) so they can help you select the right material.
NOTE:
A helmet is only included in this package for children up to 11 years old. If you are older, you can choose to bring your own, or rent one locally if available.
Wahoo! Your alert has been activated
Unfortunately something went wrong...