Apartments Nordic
Apartments Nordic
Apartments Nordic
With a quiet location and right on the slopes, Hotel Nordic has a lot to offer. Here you can definitely relax and enjoy the snow. After a long day on the fresh powder, be to visit the spa facilities. Here you can swim a few laps in the swimming pool and unwind in the sauna.
Read more Apartments Nordic
View less Apartments Nordic
There are no room types available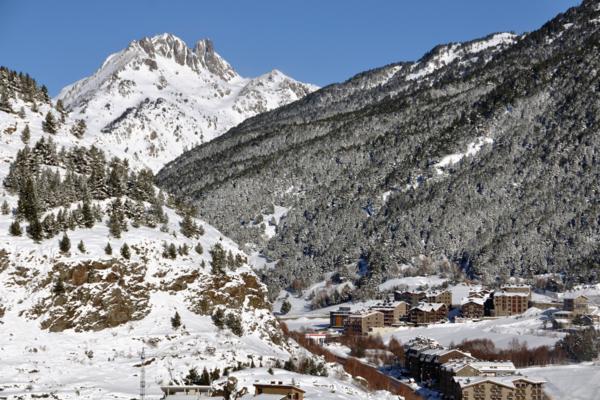 El Tarter
El Tarter is an authentic village next to Soldeu. They are both in the Vall d'Incles and they are interconnected. During the day it's pretty quiet here, but at the end of the afternoon, you will not miss the fun in the apres-ski bars. Meanwhile, El Tarter was discovered by the spoiled après-skier. Here you can party until the early hours. After a wonderful day on the slopes, in the center you can have a refreshing drink in a cozy, small bar or a good meal in a restaurant.
Grandvalira
Grandvalira is a real paradise for enthusiasts. There are peaks that reach above 2800 meters and have 210 kilometers of slopes. The ski resorts of Grau Roig and Soldeu are interconnected, making the Grandvalira area the largest ski area in Southern Europe. With 300 sunny days a year Grandvalira is also of the sunniest areas in Europe.
Beginners and children are fond of Canillo, where there is mostly peaceful, blue runs. El Tarter other hand, is a true paradise for the real cracks. After a few hours on the slopes will you still not be confident? Choose the wide slopes in Soldeu where you will have the space. This does not mean that this part of the ski area is only suitable for beginners, because some of the most extreme sections of Grandvalira are also found here. Grau Roig is the most unspoilt part of the ski area. The views are truly spectacular here. The slopes offer something for everyone, and for children there is a nice snow track in the woods. Pas de la Casa has a high altitude (almost as high as Val Thorens in the French Alps). With a wide variety of wide blue, red and black runs, you should not skip this section. Whether you are a novice or an advanced skier, you will sure find something in Grandvalira, judging by the quality of the snow and the wide, varied pistes! The experienced skiers can really enjoy themselves here. The lowest point of this area is actually not low, at about 1700 meters.
Is there more to do in Grandvalira something? Yes! A drink in a very special place is highly recommended: the Igloo Bar Grandvalira Pla de les Pedres at Grau Roig. Rent a dog sled, take a thrilling ride on a snowmobile or take a beautiful walk on snowshoes. Tubing, snow buggies, four fun parks and helicopter skiing, all of these activities are within your reach!
After a long day out in the snow, there is still plenty to do. There are several restaurants, bars and cafes in which to find the beautiful slopes directly. You can even enjoy tapas on the slopes in the Red Chill Out & Tapas Bar in El Tarter. On the lounge terrace, you can relax in a hammock and listen to the DJs.
Practical information
Capital:
The capital is Andorra la Vella.

Language:
The official language is Catalan. Besides Catalan, Spanish and French is widely spoken.

Time:
There is no difference with the UK.

Currency:
The official currency is the euro .

Voltage:
The voltage is 230 volts.

Travel documents:
You must have a valid passport or a valid ID.

Telephoning:
UK mobile phones work in Andorra. To call from UK to Andorra, first dial the country code 00376 and then the area code without zero and then the phone number. From Andorra to the UK the country code 0044.

Emergency number:
The national emergency number is 112.

Traveling by car:
The national roads are passable. The highways in Andorra have tolls. In France, the majority of motorways have tolls. Andorra has no general duty to winter tires. However, on some routes snow chains or snowtires are required. This is indicated by signs. Information about the use of snow chains and snow tires can be obtained from the ANWB.
In a breakdown or accident, it is mandatory that all road users wear a reflective vest. The warning triangle should be placed no more than 1 metre from the edge of the road. Make sure the warning triangle is placed behind the vehicle that has broken down or behind the accident, it is also required that you put on your hazard lights.

Food and drink:
In Andorra there is something for everyone. There is a lot of fish eaten and both Spanish and French dishes are served here often.

Tipping:
Giving a tip of around 5% in bars and restaurants is common practice.

Hours:
The shops are open from 09:00 to 20:00 Monday to Friday. On Sunday the shops are open until 19:00. Some shops are closed in the afternoon between 13:00 and 15:00. Stores in smaller towns close before the afternoon and are closed on Sundays .

Holidays:
- Mary Immaculate Conception: December
- Christmas: 25 and December 26
- New Year: January 1
- Epiphany: January 6
- Carnival Sunday: March
- Constitution Day: March

Safety:
Wearing a helmet in Andorra is not mandatory but is strongly recommended (especially for children). In a ski class wearing a helmet is mandatory.
Flight information
U vliegt met Transavia vanaf Amsterdam naar Barcelona. Deze vlucht duurt ongeveer 2 uur en 15 minuten. Tijdens de vlucht zijn de maaltijden en drankjes niet inclusief. Bij aankomst op het vliegveld wordt u opgewacht door de Nederlands- of Engelssprekende vertegenwoordiger van Sunweb Vakanties.


Vertrekdagen en reisduren

Er wordt één keer per week (op zaterdag) naar Barcelona gevlogen. U kunt een 8-daagse reis boeken.


De transfer

De transfer is inclusief indien u ook de accommodatie bij Sunweb Vakanties geboekt heeft. De transfer naar El Tarter duurt ongeveer ca. 4 uur.


Vluchtschema

Vluchtschema is op dit moment nog niet bekend.


E-tickets

Sunweb Vakanties verzendt u circa één week voor vertrek de tickets per e-mail. Deze tickets kunt u zelf uitprinten en hiermee checkt u in bij de incheckbalie van de desbetreffende luchtvaartmaatschappij. Bij de e-tickets treft u ook de overige belangrijke reisinformatie aan. Indien u heeft aangegeven de tickets per post te willen ontvangen, dan printen wij voor u de e-tickets uit en sturen we deze op. Voor een vlotte incheckprocedure is het belangrijk dat u de e-tickets uitknipt op de aangegeven stippellijntjes.

Let op: op de tickets dienen de 1e voornaam en de achternaam gespeld te zijn zoals in het paspoort of op de ID-kaart. Op het ticket van de gehuwde dames dient alléén de meisjesnaam te staan die ook in het paspoort (of ID-kaart) staat. Indien namen onjuist geschreven zijn, kunt u geweigerd worden voor een vlucht.


Bagage

Voor de wintersportvluchten geldt een bagagevrijdom van 20 kg ruimbagage per persoon exclusief skiuitrusting. Tevens mag u 5 kg aan handbagage meenemen met de maximale afmetingen van 115 cm (l+b+h). Voor baby's van 0 t/m 1 jaar geldt een bagagevrijdom van 10 kg per baby.

Naast uw ruimbagage mag u ook één skiuitrusting van maximaal 15 kilo per persoon meenemen op de vlucht. U betaald bij de check-in per skiuitrusting € 25,- per enkele reis.


Meer informatie

Uitgebreidere algemene informatie over de vliegreis kunt u op onze site vinden onder het kopje
reisinfo
, boven in het scherm.



Lift pass, lessons and material
Your booking will indicate the days for which the lift pass is valid (eg Sunday to Friday). If you want to enter the lift pass on a different day than indicated in the booking steps, you must contact our contact centre by telephone and the booking can be adjusted. Once at the location, it is not possible to enter the lift pass on another day. An extension of the lift pass can often be booked extra; the price for this can be found in the further course of the booking steps. The discount for "no lift pass" can also be found in the booking process.
Discounts:
The ski pass for children up to and including the age of 11 is free (on presentation of a proof of identity). Children from 12 to 17 years receive a discount on the ski pass. These discounts can be found in the calculation of your travel sum.
For bookings made before 15 October 2018 you will receive €21.50 early booking discount on the 6-day lift pass.
Pay attention:
For seniors from 65 to 69 years old there are reduced rates once at the location, for seniors aged 70 and over the ski pass is free (on presentation of a proof of identity). We recommend that you buy your ski pass at your destination and select 'no lift pass' when booking. For everyone up to 65 years old it is cheaper to purchase the lift pass when making the booking.
Children under the age of 3 are not allowed to travel with the Funicamp gondola. This restriction does not apply to the other lifts.
The above surcharges and discounts are only valid when booking via Sunweb. Different rates are applied once at the location.
Lessons can be booked in step 2 if available.
Please note:
- If you have booked ski lessons and you want to switch on the spot to snowboard lessons (or vice versa), € 13, - will be charged. This amount must be paid immediately (before the lesson begins).
- Lessons start on Monday
You can add in ski and snowboard hire during the booking steps.
Wahoo! Your alert has been activated
Error! Unfortunately something went wrong...