Chalet Pierra Menta
Chalet Pierra Menta is a detached wooden chalet located 1,650 meters above sea level. Don't be fooled by the traditional exterior, because inside the chalet you will find all the modern conveniences you need. There is a fully equipped kitchen and each bedroom has a private bathroom. From the balcony you have a fantastic view of the surroundings. In the morning you can easily be the first on the track, because it is only a short walk from the chalet. After a day of skiing, you can warm up by the fireplace. Staying at Chalet Pierra Menta promises to be a nice winter holiday this year!
Read more Chalet Pierra Menta
View less Chalet Pierra Menta
There are no room types available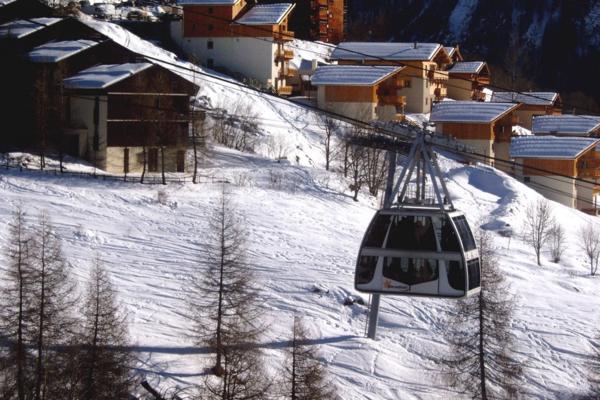 Vallandry
Vallandy is a small, cosy French village consisting of a number of authentic houses, farms, Savoyard-style apartment buildings and chalets. In the centre of the village there is an assortment of shops, restaurants, bars and a nightclub.
Skiing in Vallandry
The village of Vallandry is located at an altitude of 1600m in the centre of the vast ski area of Paradiski. It is located in the same area as Les Arcs which has over 117km of ski slopes. The resort of La Plagne is also accessible via a ski lift. Due to its central location in such a large resort, Vallandry is a perfect ski holiday spot for both beginner and advanced skiers and snowboarders.
Sunweb has a great collection of different accommodations in Vallandry. From cheap apartments, to large luxurious chalets there are ski packages to suit all budgets and group sizes.
Les Arcs/Peisey-Vallandry
The villages of Les Arcs and Peisey-Vallandry together form a ski resort which is part of the great Paradiski area. Les Arcs/Peisey-Vallandry has a total of 106 pistes in a 200km area.
Skiing in Les Arcs/Peisey-Vallandry
The side of Les Arcs is know for being quite busy with a lot going on, however the side of Peisey-Vallandry is know for being more peaceful and quiet for skiers/snowboarders. Usually there are little to no queues for the ski lifts in this area. For beginners the lower part of Arc 1600 and 1800 are great areas to practice and learn the basics. For the more advanced skiers the Aiguille Rouge slope on the mountain of the same name is a must do. It is perhaps the most difficult slope within the whole of the Paradiski area. As most of the slopes in the area are above 1800m, it is very snow sure.
Snowpark Mille8
In the heart of Les Arcs 1800, the snowpark Mille8 has opened its doors. The snowpark is nestled in a beautiful area in the Paradiski ski area. At the park you will find an exciting toboggan run, forest theme trail and a freestyle trail with various obstacles.
New for 2019/20
A new Folie Douce will open with 3 restaurants on the slopes. Enjoy the delicious food, unique shows, fine drinks and good après ski. Every day from 13.30 - 14.30 you can watch a cabaret show. After this it is time for a party and the best music is played by various famous DJs. Foil Douce is open until 19:00 and on Thursdays even longer.
Practical information
Capital:
The capital of France is Paris
Time:
France is one hour ahead of the UK (GMT+1).
Language:
The official language is French.
Money:
The euro (€) is the official currency of France
Emergency number:
The local emergency number is 112.
Service charge (tip) in restaurants and bars :
It is not likely that the service charger will be added to the bill automatically. If you are pleased with the service you can round off or leave a tip of 10%.
Power:
The voltage is 220 and the socket is different compared to the general UK sockets. You can buy an European adapter in most airports and supermarkets.
Mobile:
A UK mobile phone should work in France. The setup for this may differ per provider, so it is best to inquire about this before hand.
Safety on the slopes:
In France, wearing a helmet is not mandatory but recommended (especially for children). In ski classes (for all ages), it is often compulsory.
Travel documents:
You must be in possession of a valid passport in order to travel to France.
Food and Drinks:
Cheese, croissants, baguettes and wine! It is possible to drink tap water.
Opening hours:
As a general rule, the shops are open on Monday/Friday from 09:00 to 19:00. However, some shops may close over lunchtime. On Sunday and Monday, a selection of shops are closed. Some supermarkets are open on Sunday mornings.
Public Holidays:
Christmas Day: 25 December, 2014 (Thursday)
Boxing Day: 26 December, 2014 (Friday)
New Year's Day: 1 January, 2015 (Thursday)
Good Friday: 3 April, 2015
Easter Sunday: 5 April, 2015
Easter Monday: 6 April, 2015
Travelling by car:
Most motorways in France require you to pay a toll fee. The Pas Piccolo San Bernardo is closed the whole winter (November - June). Always check the locat weather reports before departing.

In some cities and towns it is obligaroty to have a "environmentsl sticker". It is not possible to buy these stickers en route. You will have to order them online before you leave home. French authorities advise you to print out the form and the confirmation of the sticker if it does not arrive at your home in time. You can find the form on:
https://www.certificat-air.gouv.fr/en/demande-ext/cgu
Flight information
Flight packages are not available for this destination/resort. Please see the prices for self-drive packages (including lift passes) on the Prices and Booking tab on the yellow menu above.
Lift pass, lessons and material
With a 6 or 7-day lift pass for the extensive Paradiski area, the half-day free lift pass is valid the day before the actual lift pass starts.
Discounts:
The lift pass for children up to age 4 and senior citizens from 75 years is free. Seniors aged 75 and over pay a single deposit of € 10 for the Les Arcs / Peisey-Vallandry or Paradiski lift pass. When you are entitled to this lift pass, select 'no lift pass' when booking. You can pick up this lift pass at the resort on presentation of your ID.
Deposit:
On the spot there is no deposit to be paid for the lift pass.
With a 6 or 7-day lift pass for the extensive Paradiski area, the half-day free lift pass is valid the day before the actual lift pass starts.
You cannot reserve lessons at time of booking.
You can add ski and snowboard hire directly when booking.
The following types of material can be booked:
Bronze
This material is ideal for beginners and intermediate skiers and snowboarders. This material is particularly agile, so it makes turning and breaking easy. Parallel skiing is also possible with these skis.
Silver
This is ideal material for intermediate skiers and snowboarders. The material is agile, but also suitable to cut corners sharp. Even at high speeds these skis provide great performance.
Gold
These skis and snowboards are made of high quality material, and are perfect for experienced skiers. This comfortable material is suitable on all track types and snow conditions.
Diamond
These are high performance skis and snowboards with the latest technology, and are suitable for the most experienced skiers.
TIP: Tell our rental partner your exact requirements (eg off piste skiing) so they can help you select the right material.
Wahoo! Your alert has been activated
Unfortunately something went wrong...