Chalet Sebbe - Catered Chalet
Chalet Sebbe - Catered Chalet
Centrally located in the quaint winter sports village Sölden, is the comfortable Chalet Sebbe. The chalet has 6 bedrooms ranging from single to triple rooms. Chalet Sebbe is furnished in typical Tyrolean style and can accommodate up to 15 people. In addition to a cozy living room there is also a separate dining room, where you can sit together.
The Giggijochbahn is just 100 meters away. This is one of the two gondolas in Sölden that will take you to the slopes within a few minutes. At the top of the Giggijoch the ski lessons start and four different lifts take you further into the ski area.
Catered chalet:
The catered chalet gives you all the benefits of a perfect ski holiday. You have the cozyness of your own chalet that you share with friends and loved ones. And you don't have to fuss about any of the meals, since they are all prepared for you by the chalet staff (7X breakfast and 6X dinner). All meals prepared by the staff and all drinks (excl. spirits) are included. In most cases, the chalet staff stays at the chalet for the whole winter, and will make sure that you are well informed about any other activities or outings that you might want to undertake during your stay.
Read more Chalet Sebbe - Catered Chalet
View less Chalet Sebbe - Catered Chalet
There are no room types available
Sölden
Ski holidays in Sölden
Skiing in Sölden, the most famous winter sports destination in the Ötztal Arena, means skiing a beautiful ski resort with a steady snow fall and amazing après-ski parties that can rival any across the Alps.
Many international snowboarding and skiing competitions in Sölden are well-respected and are regularly on the agenda. Sölden ski holidays also offer a lot away from the slopes, in the village you will find the Freizeit Arena, a recreation centre with a swimming pool, sauna, gym, tennis courts, a bowling alley, a cinema, restaurants and more. Aside from skiing in Sölden there are other winter sports activities you can get involved with, you can also ice skate and sleigh on a 4km flood-lit track.
Sölden also has approximately 30 kilometers of hiking trails set out along the river and around the village. The highest point to be reached by foot is Hochsölden, at an altitude of 2027m.
Hochsölden is a small village and is ideal for families with children. The village is situated on the Giggijoch which means that you can nearly always ski back to your accommodation. You can also reach this village by car and ski lift and there is even a bus service between Sölden and Hochsölden (approx. 9 kilometers). Because the village primarily consists of hotels the night life is quite low key, but you can always head down to Sölden for the real party atmosphere.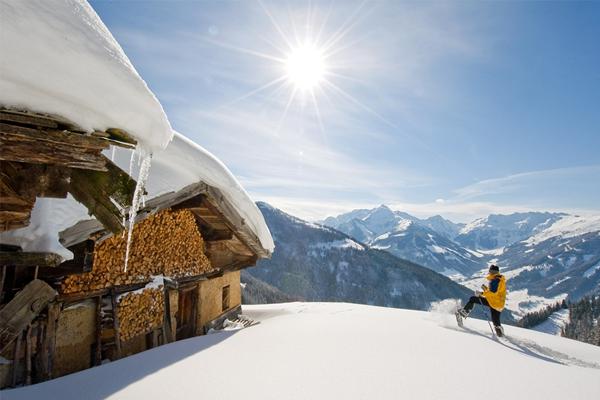 Sölden
The Big 3
Sölden ski holidays, together with Hochsölden, offer the largest ski area in Ötztal Arena, with 33 lifts and slopes suitable for all levels. The area has a strong snow record due to its high altitude and also due to the two glaciers, skiing on these glaciers in Sölden is even possible throughout the summer. Being able to ski practically all year round on a glacier at an altitude of 3250m makes Sölden ski holidays high on the wish list for many winter holiday goers.
The Ötztal Arena is the only ski area in Austria with mountain peaks reaching higher than 3000m, these are known as the Big 3. If you're looking for a real challenge when snowboarding or skiing in Sölden, you can attempt the Big 3 Rally with routes that cover over 50km.
Obergurgl and Hochgurgl
Clients who have booked a lift pass of more than 3 days for their ski holiday in Sölden, can now also enjoy the ski area of Obergurgl and Hochgurgl. This ski area adds another 110km to the already huge ski region of Sölden and has many more blue, red and black slopes. If the skiing in Sölden isn't challenging enough, you can take on one of the most difficult pistes in Austria, the Hohe Mut.
Après-ski
In Sölden there are many bars in the town and at the foot of the mountain, where you can enjoy the wonderful après-ski. We offer a variety of ski packages to Sölden, Hochsölden and Vent, from cheap and cheerful to luxurious and all-inclusives, where you will be able to enjoy a wonderful ski holiday on the Sölden slopes.
Practical information
Capital:
The capital is Vienna.
Language:
The official language is German but English is widely spoken as well.
Time:
There is one hour time difference with the UK (GMT+1).
Money:
The official currency is the Euro.
Tipping:
It is customary in Austria to tip between 5% and 10% in bars and restaurants.
Food & Drink:
Austria is known for its Vienna Schnitzels and Glühwein. Tap water is safe for drinking.
Opening times shops:
Shops are usually open from Monday until Friday from 09.00 AM to 18.00 PM (some shops close during the afternoon). Most shops are closed on Sunday.
Travelling by car:
Snow chains are obligatory in the Alps. You need a toll permit for the motorways in Austria. You can buy the permit at the AA in the UK or in Austria at the major border crossings. The European Commission advises you to wear a safety reflector jacket in the event of a break down or accident. This vest can be purchased from the AA in the UK as well.
Voltage:
The voltage is 230 volt.
Mobile telephone:
UK mobile phones work in Austria as well.
Travel documents:
You need to be in the possession of a valid passport to travel to Austria.
Flight information
Sunweb offers flights and transfers packages to this resort. You can select which airport you wish to travel from in the PRICES AND BOOKING tab above. It is possible to select different flight departure and arrival times in Step 2 of the booking process.
All Sunweb flights are booked with EasyJet. Hold luggage and ski equipment as luggage are NOT included in your package price. This can be added as an extra in Step 2 of the booking process. The price of luggage varies, as per Easyjets policies. All flight bookings include one cabin bag per person (maximum size of 56 x 45 x 25cm; including handles and wheels).
Please read more about the luggage rules and regulations on EasyJet's website. When making a flights booking with Sunweb, you are also agreeing to EasyJet's Terms and Conditions.
Transfers:
Return airport transfers are included in your package price when booking a flight package with Sunweb. These however can be removed in Step 2 of the booking steps if you would like to add in a hire car or seek an alternative travel arrangement. All transfers are shared transfers to and from your accommodation and the airport.
Due to the nature of shared transfers, there may be a wait time at the airport before your departure. This can be up to 1.5 hours. Please note that there will NOT be a Sunweb rep waiting for you at the airport as the transfer is managed by a partner. All information regarding the transfer (meeting point, departure times etc) will be explained on your travel documents that are sent to you 14 days before departure. The transfer will drop you off in the resort area; you may have not be dropped exactly outside your accommodation.
Departure from the UK:
Please ensure that you are not late and have checked in online before arriving at the airport. In addition to checking in online, you will have to enter your passport information. This is called API (advanced passenger information) and you will receive instructions from Sunweb after you have booked the holiday.
Arrival on Resort:
If you are planning on checking in late on your arrival day, it is almost always possible to get into your hotel or apartment. However, it is very important that this is arranged in advance. You will receive your travel documents two weeks before your departure, and this will include instructions on how to arrange your late arrival and collection of the key.
Please Note:
Once you agree to Sunweb's Term's and Conditions you are legally obliged to pay for the holiday and any cancellation fees that may apply.
Lift pass, lessons and material
An Otztal Sölden ski pass is included in the fare.
Please note: A 2-day ski pass is only valid for the Sölden / Hochsölden ski area. For lift passes from 3 days, the ski area of ​​Obergurgl / Hochgurgl is included in the lift pass.
A lift pass for Sölden is included in the package.
3-day trip including 2-day lift pass
4-day trip including 2-day lift pass
5-day trip including 3-day lift pass
6-day trip including 4-day lift pass
7-day trip including 5-day lift pass
8-day trip including 6-day lift pass
In step 1 of the booking process, it is indicated which days the lift pass is valid for (eg Sunday to Friday). If you would like the ski pass to start on a different day than shown in the booking steps, you must contact our contact centre by telephone. The booking can then be adjusted.
On destination, it is not possible to change the lift pass start date to another day. An extension of the lift pass can often be booked for an extra surcharge; the price for this can be found in step 1 of the booking process. The discount for "no ski pass" can also be found in the booking process.
Discounts:
The ski pass for children born from 1/1/2015 is free. Children born between 1/1/2000 and 31/12/2015 and for seniors born until 31/12/1955 receive a discount on the ski pass. You will find these discounts in step 2 of the booking process.
Discounted ski passes can only be obtained on presentation of a valid photo ID.
An Otztal Sölden ski pass is included in the fare.
Please note: A 2-day ski pass is only valid for the Sölden / Hochsölden ski area. For lift passes from 3 days, the ski area of ​​Obergurgl / Hochgurgl is included in the lift pass.
A lift pass for Sölden is included in the package.
3-day trip including 2-day lift pass
4-day trip including 2-day lift pass
5-day trip including 3-day lift pass
6-day trip including 4-day lift pass
7-day trip including 5-day lift pass
8-day trip including 6-day lift pass
You can add lessons in step 2 of the booking process. Please note: If you have booked a short-stay, it is not possible to book lessons through us. You can arrange this at the destination.
You can reserve your ski and snowboard rental at the same time as booking your holiday.
The following types of material can be booked:
Bronze
This material is ideal for beginners and intermediate skiers and snowboarders. This material is particularly agile, so it makes turning and breaking easy. Parallel skiing is also possible with these skis.
Silver
This is ideal material for intermediate skiers and snowboarders. The material is agile, but also suitable to cut corners sharp. Even at high speeds these skis provide great performance.
Gold
These skis and snowboards are made of high quality material, and are perfect for experienced skiers. This comfortable material is suitable on all track types and snow conditions.
Diamond
These are high performance skis and snowboards with the latest technology, and are suitable for the most experienced skiers.
TIP: Tell our rental partner your exact requirements (eg off piste skiing) so they can help you select the right material.