Hotel Zillertalerhof
Hotel Zillertalerhof
Hotel Zillertalerhof
The romantic Zillertal Hotel Hof is idyllic, very quiet and offers a panoramic view of the mountains Achentaler. Are you a cross-country ski fanatic? Here you can indulge yourself in front of the hotel as you can get on the trails that run through the beautiful Achensee region. If you come for skiing and boarding, you are only 3 minutes from the Christlum ski lift. After a day on the slopes you can reminisce with a drink in hand on the sun terrace, or on your private balcony or terrace. The rooms are decorated with a lot of wood that exudes a soothing atmosphere. A fluffy bathrobe is waiting for you so that you can visit the steam room and sauna. After dinner toast each other on a great day skiing in the cozy bar. This promises to be a great ski holiday.
Read more Hotel Zillertalerhof
View less Hotel Zillertalerhof
There are no room types available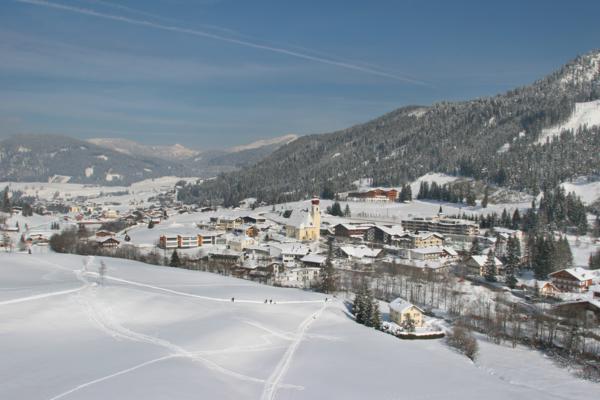 Achenkirch
Achenkirch lies at the foot of an impressive mountain. The place looks small, but it is not. Achenkirch has nearly 2000 inhabitants, it is also the largest village around the Achensee. The closest ski area is Christlum Alm, where two chairlifts and four lifts take you to a height of 1780 meters. After a day of skiing you can relax in one of the public health centers. In the evening, you definitely will not be bored, there have been plenty of restaurants and cafes.
Achensee
The Ski resort of Achensee is located in beautiful surroundings and consists of the villages Maurach, Pertisau, Eben and Achenkirch. The villages are located around the lake and together form the resort. This resort has good nightlife and some great pistes! So, for both true ski fanatics and those more interested in the apres-ski, there is plenty to enjoy here.

There are also many cross country tracks for those interested! On the sunny slopes of the Zwölferkopf at Pertisau there is 12 km (8 ml) of pistes varying in difficulty and in the Rofan area near Maurach there is another 14 km (9 ml) of pistes waiting to be used. Thanks to the ski bus connections it is also easy to access both areas and show off your skills on the different slopes! You will have no time to get bored here!
Practical information
Capital:
The capital is Vienna.
Language:
The official language is German but English is widely spoken as well.
Time:
There is one hour time difference with the UK (GMT+1).
Money:
The official currency is the Euro.
Tipping:
It is customary in Austria to tip between 5% and 10% in bars and restaurants.
Food & Drink:
Austria is known for its Vienna Schnitzels and Glühwein. Tap water is safe for drinking.
Opening times shops:
Shops are usually open from Monday until Friday from 09.00 AM to 18.00 PM (some shops close during the afternoon). Most shops are closed on Sunday.
Travelling by car:
Snow chains are obligatory in the Alps. You need a toll permit for the motorways in Austria. You can buy the permit at the AA in the UK or in Austria at the major border crossings. The European Commission advises you to wear a safety reflector jacket in the event of a break down or accident. This vest can be purchased from the AA in the UK as well.
Voltage:
The voltage is 230 volt.
Mobile telephone:
UK mobile phones work in Austria as well.
Travel documents:
You need to be in the possession of a valid passport to travel to Austria.
Lift pass, lessons and material
Your booking will indicate for which days the lift pass is valid. If you wish to enter the ski lift on a day other than indicated, you must contact our contact centre by telephone. The booking can then be adjusted.
It is not possible to change the lift pass once you have arrived at your destination. An extension of the lift pass can often be booked at an extra cost. This can be found in the booking steps. The discount if you wish to not have a lift pass can also be found in the booking process.
Discounts: The lift pass for children up to 5 years old is free. Children from 6 to 17 years old receive a discount on the lift pass. These discounts can be found in the calculation of the travel sum.
Lift pass: A surcharge of 5euros is required when collecting the lift pass at your destination.
De lessen kunt u niet vooraf boeken. Deze kunt u zelf ter plaatse regelen.
Richtprijzen lessen:
Skiles volwassenen:5 dagen à 2 uur les per dag, circa € 140,-*Snowboardles volwassenen:5 dagen à 2 uur les per dag, circa € 150,-*Skiles kinderen:5 dagen à 4 uur les per dag, circa € 180,-*
* Prijzen zijn richtprijzen en onder voorbehoud van wijzigingen.
Materiaalhuur kunt u niet vooraf boeken. Deze kunt u zelf ter plaatse regelen.
Skihuur volwassenen:6/7 dagen ski's, schoenen en stokken Carving circa € 148,- *6/7 dagen ski's, schoenen en stokken Top Carving circa € 173,- *Snowboardhuur volwassenen:6/7 dagen snowboard en schoenen, circa € 173,-*Materiaalhuur kinderen (t/m 15 jaar):6/7 dagen ski's, schoenen, stokken en helm, circa € 97,-*6/7 dagen snowboard, schoenen en helm, circa € 134,-*
* prijzen zijn richtprijzen en onder voorbehoud van wijzigingen.
Wahoo! Your alert has been activated
Unfortunately something went wrong...