Pas de la Casa
Back
Skiing in

Pas de la Casa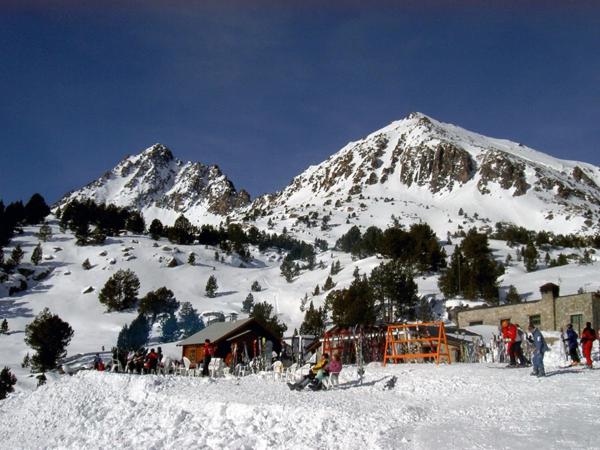 General information
Pas de la Casa is a cozy resort located in the eastern part of the largest microstate of Europe: Andorra. Partly due to the high elevation and the many snow cannons in this area, Pas de la Casa will have a lot of snow. Until late in the season you can enjoy beautiful sunny and snowy slopes, and in addition there is also a exuberant après-ski.
What makes Pas de la Casa particularly attractive is that everything is within walking distance. Snowboarders can also fully enjoy the half pipe and there is even a ski slope where you can ski in the evening.
Ibiza of the Pyrenees:
Due to the wide range of bars, nightclubs and restaurants, Pas de la Casa is also known as the Ibiza of the Pyrenees. Pas de la Casa features lively clubs and atmospheric bars on almost every street. The après-ski in Pas de la Casa speaks both to the young and old, and goes on until the wee hours.
Shop Paradise:
Besides beautiful slopes, an exuberant après-ski, Pas de la Casa is also a true shopping paradise. In Andorra, you can duty-free shop, especially for electronics, alcohol and tobacco, which are very cheap here. There are also many nice boutiques where you can buy beautiful winter clothing and ski equipment.
Tobotronc:
During a ski holiday in Pas de la Casa, there is more than just skiing. With other forms of winter here, you can create sensational snowmobile rides, enjoy extraordinary experiences on snowshoes, with skibikes down the incline or pulling through the valleys with sled dogs. Of course we can not forget the incredible Tobotronc on the longest slide in the world, where you can create a dizzying descent. This makes an extensive range of the Andorra white destination.
Show more
Show less
View all accommodations in Pas de la Casa
Top of page