Encamp
Back
Skiing in

Encamp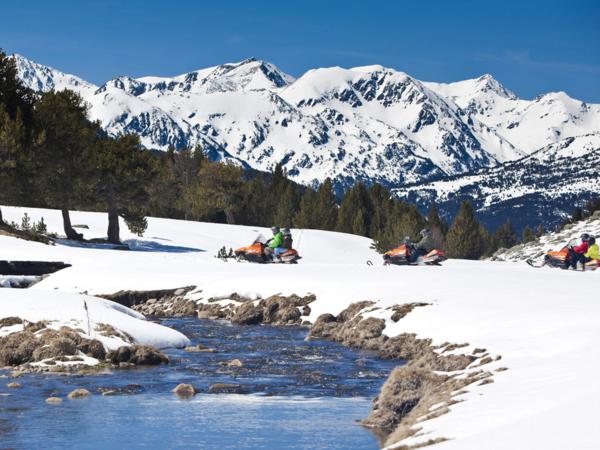 General information
Encamp is one of Andorra 's top ski destinations. The high-speed gondola takes you to the slopes in the middle of the Grandvalira ski area. In just 17 ​​minutes from the center of Encamp you will stand at 2600 meters high, where can enjoy the whole day on the many excellent wide slopes. You can easily transfer through Encamp on a ski train to the gondola during the morning and afternoon.
But that 's not all. In terms of après-ski, you will not go hungry. The bars are cozy and warm and the perfect place to socialize with the friendly locals. A conversation with a tip: go even après-ski in the nearby capital, Andorra la Vella. Encamp exudes a Spanish atmosphere, and it is finally on the Spanish side of Andorra.
Do you prefer a sportier way of working, then there is the sports center with a large fitness center, squash courts, a swimming pool and relaxing sauna. Shopping and fine dining is available, and even culturally Encamp has plenty to offer. This historic site actually has one of the finest cultural heritage of Andorra, in the heart of the city, "Les Bons" view, the remains of an old medieval city center. Also, do the old, water- powered flour mill, which is not to miss. The car museum, one of the largest in Europe, is known for its outstanding collection of cars from the late 1800s until 1960.
For a day without slopes, we definitely recommend you visit to Caldea. Caldea is the largest wellness and spa center in southern Europe, with 20,000 m2 of water and cornerstone of spa enjoyment! The complex is just 7 kilometers away from Encamp, in a suburb of the capital, Andorra la Vella. Here you can enjoy large indoor and outdoor pools, jacuzzis, waterfalls and water massage. There is a section with Roman baths of different temperatures and a spa with thermal baths where you can choose from a wide range of beauty treatments. You can also order a delicious lunch, snacks or dinner in the two restaurants. There is even a shopping center in the complex. In short, Caldea: for a whole day try something different for the whole family .
Show more
Show less
View all accommodations in Encamp
Top of page