Casa Monica
Casa Monica
Casa Monica
Casa Monica is a nice small complex on the outskirts of the city center. It consists of 2 houses next to each other. Just a short walk away is the ski lift 'Daolasa' and the comfy city center of mountain village of Commezzadura. The rooms are basic, yet are well-kept and each are equipped with a kitchenette, spacious bedroom and balcony or terrace. Casa Monica is a fantastic choice for a winter adventure!
Read more Casa Monica
View less Casa Monica
There are no room types available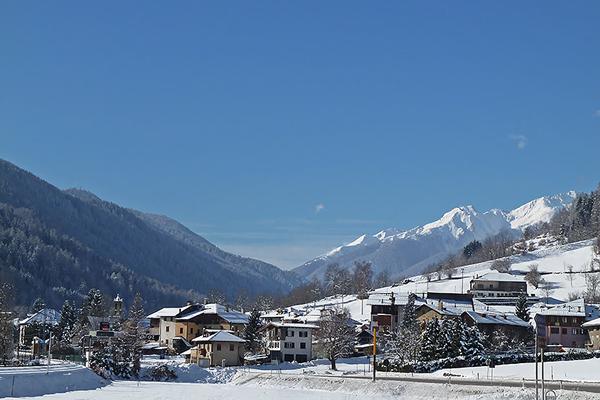 Commezzadura
Commezzadura is located in one of the most beautiful ski areas in Europe, Folgarida-Marilleva and Madonna di Campiglio. This also connects to the Skirama Dolomiti Adamello Brenta. Commezzadura is located in a valley, which provides majestic views of the surroundings. For those that don't enjoy skiing/snowboarding there are plenty of alternative activities to partake in. This includes an ice skating rink, and for the really adventurous you can even climb the frozen waterfall Val di Rabbi.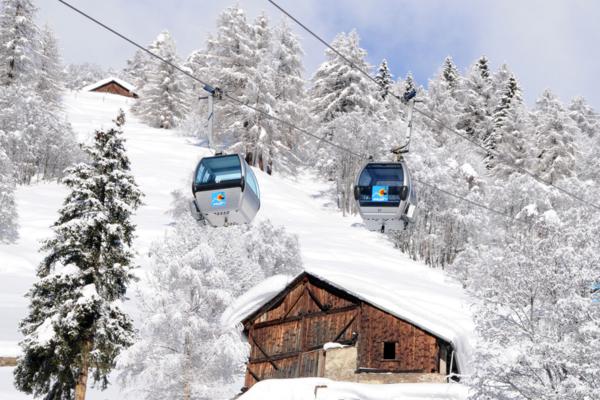 Val di Sole
Val di Sole is a beautiful, charming sunlight ski area. It is especially designed for experienced skiers and snowboarders due to its many steep slopes and off piste possibilities. On the side of Marillèva a chairlift and a gondola lift takes you to a number of delightful wide blue slopes leading through the forest. For advanced skiers be sure to check out the Nera Folgarida, which leads back to the valley from the Folgarinda gondola lift.
Val di Sole consists of several beautiful ski resorts, such as: Madonna di Campiglio, Folgarida, Marilleva and Mezzana. When you stay in Folgarida, Marilleva or Mezzana you can book the ski pass for the restricted area Folgarida / Marilleva, which gives access to 60 kilometers of piste or the larger, extensive ski pass Campiglio / Dolomiti di Brenta. With this extensive ski pass you also have access to the beautiful ski area of Madonno di Campiglio.
Practical information
Capital:
The capital is Rome.
Language:
The official language is Italian.
Time:
There is a time difference of +1hour.
Currencies:
The official currency in Italy is the euro.
Voltage:
The voltage is 230 volts.
Travel documents:
You must be in possession of a valid passport or valid proof of identity.
Talk on the phone:
A British mobile phone also works in Italy. To call to Italy from the UK, first dial the country code 0039 and then the area code without zero and then the subscriber number. The country code 0044 is from Italy to the UK.
Emergency number:
The national emergency number is 112.
Traveling by car:
The national roads are well passable. Pas Piccolo San Bernardo is closed throughout the winter season (November to June).
Keep in mind that the highways require a toll. If you travel via the Austrian motorways, you must be in possession of a toll sticker. For some motorways, tunnels and roads in Austria there is no vignette requirement, but a separate toll must be paid, such as the A13 from Innsbruck-Süd to the Italian border.
There is no general obligation in Italy for winter tyres. Winter equipment (chains or winter tyres) may be mandatory on mountain roads. This is indicated with a traffic sign. Not using winter tires in winter conditions can lead to (joint) liability in the event of accidents and also have criminal consequences. In Austria and Germany, winter tires are required in winter conditions.
In case of breakdown or an accident, it is mandatory that all road users wear a reflective vest.
If you travel via France:
Please note: in some cities it is mandatory to have an environmental sticker from 1 July 2017. If you drive over the Paris ring road, the Boulevard Périphérique, you will also need an environmental sticker in many cases. The vignette can not be obtained along the way, but can only be ordered online. The French police advise to print out the application form and the confirmation and to take it with you if the vignette is not delivered in time by post. The order form can be found on this website: https://www.certificat-air.gouv.fr/en/demande-ext/cgu
Future environmental zones can be found on this website: http://en.france.fr/nl/tips/milieuzones-france-ecovignet-credit
Food and drink:
Italy is known for pizzas, pastas and risottos. It is not recommended to drink tap water.
Tips:
It is customary in Italy to give a tip of around 10% in bars, restaurants and hotels.
Opening hours:
In general, the shops are closed between 13.00 and 16.00. This is the siesta. After 16.00 hours the shops will open again until about 19.00 hours.
Safety:
In Italy, a ski helmet is mandatory for children up to and including 14 years of age. A ski helmet is recommended for adults. In a ski class, wearing a helmet is often required.
Swimming pool
In Italy you are generally required to wear a swimming cap in swimming pools. This is for both public swimming pools and swimming pools that belong to hotels.
Lift pass, lessons and material
Discounts:
Children born on or after 30-11-2009 are entitled to a free lift pass, on display of an ID card. Children born on or between 01-12-2001 and 29-11-2009 receive a discount on the lift pass. These discounts can be found in the calculation of your package.
Deposit:
A deposit of € 5 is required on the spot for the lift pass. This will be refunded to you when you refund the lift pass.
The above fees and discounts are valid when booking through Sunweb. Other rates are used at the resort.
Wahoo! Your alert has been activated
Error! Unfortunately something went wrong...