Villa Maxime
Villa Maxime is just a short walk away from the centre of Morzine. The chalet is divided into four comfy apartments for 4 to 8 people. The lifts are a short walk away but if you prefer, the ski bus stops just outside the chalet. In the evening, the choice is yours! You can make yourself comfy at home or head out and experience all that Morzine has to offer.
Read more Villa Maxime
View less Villa Maxime
There are no room types available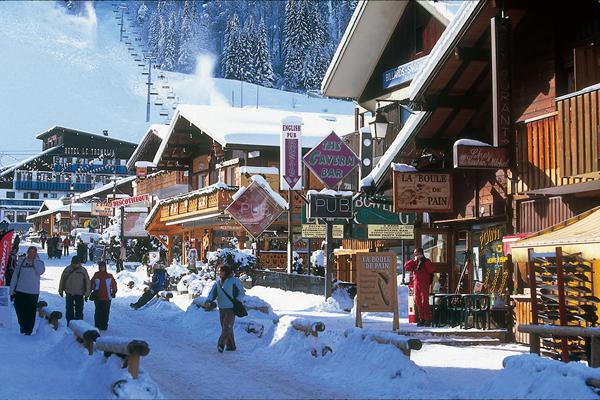 Morzine
Morzine is a popular destination for a ski holiday due to its charming center and authentic chalet architecture. The village has a strong traditional feel, and features a range of different shops, restaurants and bars. Situated at an altitude of 100m, Morzine has beautiful panoramic views of the surrounding mountains.
Skiing in Morzine
Morzine has a great variety of beginner and advanced slopes for skiers/snowboarders of all levels. The famous ski village of Avoriaz is nearby, and can be accessed by gondola in just four minutes. Morzine is also apart of the vast Les Porte du Soleil ski area. This ski area is one of the biggest in the Alps, with over 650km of slopes. Aside from Avoriaz, this also features the resorts of Les Gets, Châtel and more. With the full Les Porte du Soliel lift pass it is even possible to ski all the way to Switzerland!
Accommodation
Known for its old-fashioned design, Morzine has a lot of cosy hotels with very hospitable French owners. It is perfect for families with young children. For those that aren't keen on skiing there are plenty of alternative activities including paragliding, husky sledding, snow shoe trekking and more. The village is located close to the Swiss boarder, meaning it has a very short transfer time from the popular Geneva airport. Sunweb has a great range of cheap ski packages to Mozine, including all inclusive deals with flights and transfers.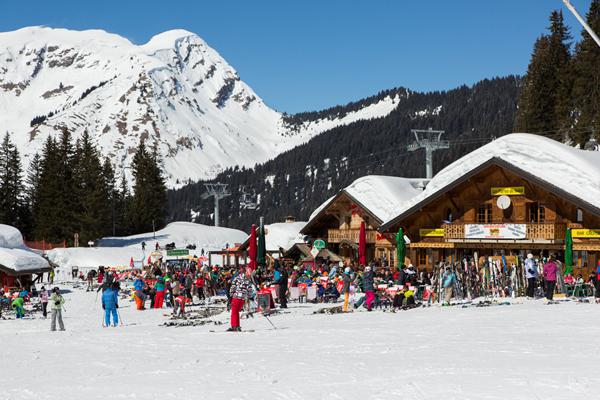 Les Portes du Soleil
The vast ski area of Les Portes du Soleil consists of a total of 12 villages spread over the boarder of France and Switzerland. All together it is linked together by 650km of ski slopes, making it one of the largest ski areas in the world.
Skiing in Les Portes du Soliel
There are around 200 different ski lifts in Les Portes du Soleil. Every year the ski area is expanded with new modern chairlifts and gondolas. Due to sheer size of the ski area, there is usually very little waiting for the lifts in comparison to other resorts.
Les Portes du Soliel is a perfect ski holiday choice for both beginner and advanced skiers/snowboarders. Beginners will love the great mix of blue slopes, and for the advanced there is 300km of red and black slopes. The super adventurous can even try conquering the formidable Mur Suisse, also know as the Swiss wall.
Les Portes du Soliel has 9 fun parks, perfect to practice your jumps and tricks. There also great activities for non skiers including paragliding, husky sledding and some great après ski bars. Guided snow walks with breath taking views are also an option. The high altitude combined with the use of a lot of snow cannons means that the area is very snow sure through the season.
There are three main ski areas in Les Porte du Soliel:
Avoriaz
Avoriaz is one of the most popular ski holiday destinations in all of France. Due to its high altitude and car free village, most of the accommodations are ski in/ski out throughout the winter. Avoriaz itself has around 77km of ski slopes, however with the full Les Portes du Soliel lift pass you have access to over 650km. Avoriaz is also famous for its indoor water paradise park, called Aquariaz.
Châtel
Châtel is a traditional, picturesque and atmospheric mountain village located right on the French-Swiss border. It has over 80km of slopes, which are mainly suited for beginners and young children. More advanced skiers should upgrade to the full Les Portes du Soleil pass where there is a much larger variety of advanced slopes.
Les Gets
The area of Les Gets has over 120km of ski slopes. It is perfect spot for beginner to intermediate skier/snowboarders. Thrill seekers and freestylers will love the Deborah Anthonioz border slope, which is dedicated to the 2010 Olympic silver medalist in Vancouver. The longest slope in Les Gets is 11km.
Sunweb has a great range of different ski packages in Les Portes du Soliel. From cheap, simple apartments - to luxurious all inclusive hotels. There are options for all group sizes and budgets.
Practical information
Capital:
The capital of France is Paris
Time:
France is one hour ahead of the UK (GMT+1).
Language:
The official language is French.
Money:
The euro (€) is the official currency of France
Emergency number:
The local emergency number is 112.
Service charge (tip) in restaurants and bars :
It is not likely that the service charger will be added to the bill automatically. If you are pleased with the service you can round off or leave a tip of 10%.
Power:
The voltage is 220 and the socket is different compared to the general UK sockets. You can buy an European adapter in most airports and supermarkets.
Mobile:
A UK mobile phone should work in France. The setup for this may differ per provider, so it is best to inquire about this before hand.
Safety on the slopes:
In France, wearing a helmet is not mandatory but recommended (especially for children). In ski classes (for all ages), it is often compulsory.
Travel documents:
You must be in possession of a valid passport in order to travel to France.
Food and Drinks:
Cheese, croissants, baguettes and wine! It is possible to drink tap water.
Opening hours:
As a general rule, the shops are open on Monday/Friday from 09:00 to 19:00. However, some shops may close over lunchtime. On Sunday and Monday, a selection of shops are closed. Some supermarkets are open on Sunday mornings.
Public Holidays:
Christmas Day: 25 December, 2014 (Thursday)
Boxing Day: 26 December, 2014 (Friday)
New Year's Day: 1 January, 2015 (Thursday)
Good Friday: 3 April, 2015
Easter Sunday: 5 April, 2015
Easter Monday: 6 April, 2015
Travelling by car:
Most motorways in France require you to pay a toll fee. The Pas Piccolo San Bernardo is closed the whole winter (November - June). Always check the locat weather reports before departing.

In some cities and towns it is obligaroty to have a "environmentsl sticker". It is not possible to buy these stickers en route. You will have to order them online before you leave home. French authorities advise you to print out the form and the confirmation of the sticker if it does not arrive at your home in time. You can find the form on:
https://www.certificat-air.gouv.fr/en/demande-ext/cgu
Flight information
Sunweb offers flights and transfers packages to this resort. You can select which airport you wish to travel from in the PRICES AND BOOKING tab above. It is possible to select different flight departure and arrival times in Step 2 of the booking process.
All Sunweb flights are booked with EasyJet. Hold luggage and ski equipment as luggage are NOT included in your package price. This can be added as an extra in Step 2 of the booking process. The price of luggage varies, as per Easyjets policies. All flight bookings include one cabin bag per person (maximum size of 56 x 45 x 25cm; including handles and wheels).
Please read more about the luggage rules and regulations on EasyJet's website. When making a flights booking with Sunweb, you are also agreeing to EasyJet's Terms and Conditions.
Transfers:
Return airport transfers are included in your package price when booking a flight package with Sunweb. These however can be removed in Step 2 of the booking steps if you would like to add in a hire car or seek an alternative travel arrangement. All transfers are shared transfers to and from your accommodation and the airport.
Due to the nature of shared transfers, there may be a wait time at the airport before your departure. This can be up to 1.5 hours. Please note that there will NOT be a Sunweb rep waiting for you at the airport as the transfer is managed by a partner. All information regarding the transfer (meeting point, departure times etc) will be explained on your travel documents that are sent to you 14 days before departure. The transfer will drop you off in the resort area; you may have not be dropped exactly outside your accommodation.
Departure from the UK:
Please ensure that you are not late and have checked in online before arriving at the airport. In addition to checking in online, you will have to enter your passport information. This is called API (advanced passenger information) and you will receive instructions from Sunweb after you have booked the holiday.
Arrival on Resort:
If you are planning on checking in late on your arrival day, it is almost always possible to get into your hotel or apartment. However, it is very important that this is arranged in advance. You will receive your travel documents two weeks before your departure, and this will include instructions on how to arrange your late arrival and collection of the key.
Please Note:
Once you agree to Sunweb's Term's and Conditions you are legally obliged to pay for the holiday and any cancellation fees that may apply.
Lift pass, lessons and material
In the booking steps it is indicated for which days the lift pass is valid. If you want to use the ski lift on a different day than indicated in the booking process, please contact our contact centre by telephone. It is not possible to change the days of the lift pass once you have arrived at the destination. If you wish to extend the lift pass, it can often be booked as an extra. The price for extending the lift pass can be found in the booking. If you choose "no lift pass", the discount can also be found in the booking process.
All packages to Morzine include a lift pass for Les Portes du Soleil, except if you book an apartment at Residence du Telepherique. When staying in Residence Telepherique then the lift pass for Avoriaz is included. There are 3 ski lifts that depart from Morzine ( Prodains, Super Morzine and d'Arbent) that are part of the Avoriaz area. For the other ski lifts you will need a lift pass for the Les Portes du Soleil area.
Discounts:
Children 4 years and under, get a free lift pass. Children from 5 – 15 years old qualify for a discount on their lift pass. These discounts are calculated in Step 2 of our booking process. Exception: if you book a holiday at Residence du Telepherique you will get a free lift pass!
The discounts mentioned above are only valid when booking on our website. Other prices are used when purchasing the pass in resort.
In this particular package you cannot upgrade to the Les Portes du Soleil area and you also cannot remove the lift pass and receive a discount.
The reason being that Village Club du Soleil Morzine sells us a package that includes the morzine pass, accom and free ski rental which is why we can't change or remove anything out of it for a price reduction.
WARNING:
If you stay at Résidence du Téléphérique, you have the Avoriaz lift pass included in your package. With this pass you cannot use all of the ski lifts in Morzine. If you are choosing to have ski lessons in Morzine, we advise that you select 'no ski pass' in the booking and purchasing a Morzine beginners pass at the resort, or upgrading to the Full le Porte du Soleil pass.
If you book a short-stay, it is not possible to book lessons through us. You can organise this at the destination.
When booking ski lessons, you will be asked to specify your level of experience:
Beginners: Only choose beginners lessons if you have never skied before.
Intermediate: If you are able to break and make turns, choose this level.
Advanced: If you are able to ski but you would like to improve your technique, please choose this level.
When booking ski lessons, you will be asked to specify your level of experience:
Beginners:
Only choose beginners lessons if you have never skied before.
Intermediate:
If you are able to break and make turns, choose this level.
Advanced:
If you are able to ski but you would like to improve your technique, please choose this level.
You can specify that you would like to include ski or snow board hire directly when booking. This can be done in step 2 of the booking process.
If you hire Gold or Diamond equipment, you can exchange this, once, for snowboard equipment or free ride skis. (Not applicable on weekends)
The following materials can be booked:
Bronze
This material is ideal for beginners and intermediate skiers and snowboarders. This material is particularly agile, so it makes turning and breaking easy. Parallel skiing is also possible with these skis.
Silver
This is ideal material for intermediate skiers and snowboarders. The material is agile, but also suitable to cut corners sharp. Even at high speeds these skis provide great performance.
Gold
These skis and snowboards are made of high quality material, and are perfect for experienced skiers. This comfortable material is suitable on all track types and snow conditions.
Diamond
These are high performance skis and snowboards with the latest technology, and are suitable for the most experienced skiers.
TIP:
Tell our rental partner your exact requirements (eg off piste skiing) so they can help you select the right material.