Résidence le New Chastillon
Résidence le New Chastillon
Residence le New Chastillon is located in the centre of Isola 2000. Everything that you need is within hand-reach. To start your day on the slopes, all you have to do is step outside and pop on your skis or snowboard. Want to have some fun in town? Just step outside and you will be right in town where all the shops and bars are. Want to relax? Treat yourself to a dip in the indoor heated pool or a session in the sauna, after a long day on the slopes.
The apartments have modern and comfortable furniture and have a well-equipped kitchen and free Wi-fi. Watch the last skiers and snowboarders descend the slopes from your balcony, while you are enjoying a glass of wine or a hot chocolate and the sun set.
Read more Résidence le New Chastillon
View less Résidence le New Chastillon
There are no room types available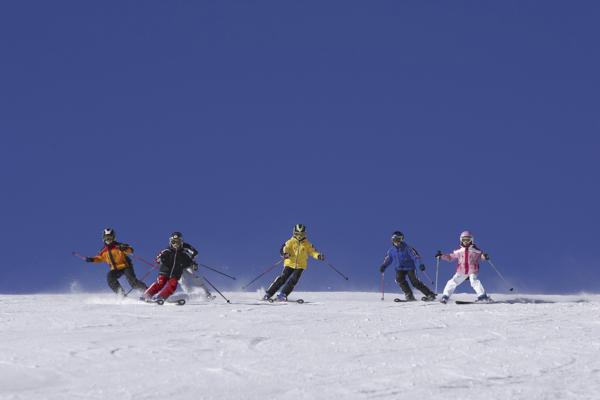 Isola 2000
Isola 2000 is a charming village that consists of several neighborhoods. In the center there are a number of fine restaurants and nice bars that guarantee a good après ski. A large part of the center is covered and there are a number of beautiful shops. Due to its location near the Côte d'Azur, Isola attracts many skiers from this region and it is a mouth-watering atmosphere. Instead of skiing, you can also take a sprint on the ice rink in Isola, squash or visit the fitness center. For relaxation after skiing, a visit to the sauna or solarium is definitely worth the effort.
Isola 2000
Sunny Isola
Isola 2000 is only a two-hour drive from the Mediterranean. As a result, it is a nice sunny ski area and perhaps the most southern. Is there enough snow, do you wonder? Hell yes! Therefore, a winter sports in Isola 2000 is a perfect choice when you want to combine sun and snow. The ski area offers 120 kilometers of slopes, all of which are above 2000 meters. Isola 2000 is a suitable ski area for winter sportsmen of all levels, but because there are many blue runs, it is ideal for beginners. For freestylers there is a fantastic snowpark complete with big air, boarder cross and slopestyle. If you'd rather do something different, Isola 2000 offers different possibilities. You will find a wellness center and a shopping center. Of course you can also make beautiful walks through the beautiful nature. Enjoy your winter sports in Isola 2000 plenty of sun and snow!
Practical information
Capital:
The capital of France is Paris
Time:
France is one hour ahead of the UK (GMT+1).
Language:
The official language is French.
Money:
The euro (€) is the official currency of France
Emergency number:
The local emergency number is 112.
Service charge (tip) in restaurants and bars :
It is not likely that the service charger will be added to the bill automatically. If you are pleased with the service you can round off or leave a tip of 10%.
Power:
The voltage is 220 and the socket is different compared to the general UK sockets. You can buy an European adapter in most airports and supermarkets.
Mobile:
A UK mobile phone should work in France. The setup for this may differ per provider, so it is best to inquire about this before hand.
Safety on the slopes:
In France, wearing a helmet is not mandatory but recommended (especially for children). In ski classes (for all ages), it is often compulsory.
Travel documents:
You must be in possession of a valid passport in order to travel to France.
Food and Drinks:
Cheese, croissants, baguettes and wine! It is possible to drink tap water.
Opening hours:
As a general rule, the shops are open on Monday/Friday from 09:00 to 19:00. However, some shops may close over lunchtime. On Sunday and Monday, a selection of shops are closed. Some supermarkets are open on Sunday mornings.
Public Holidays:
Christmas Day: 25 December, 2014 (Thursday)
Boxing Day: 26 December, 2014 (Friday)
New Year's Day: 1 January, 2015 (Thursday)
Good Friday: 3 April, 2015
Easter Sunday: 5 April, 2015
Easter Monday: 6 April, 2015
Travelling by car:
Most motorways in France require you to pay a toll fee. The Pas Piccolo San Bernardo is closed the whole winter (November - June). Always check the locat weather reports before departing.

In some cities and towns it is obligaroty to have a "environmentsl sticker". It is not possible to buy these stickers en route. You will have to order them online before you leave home. French authorities advise you to print out the form and the confirmation of the sticker if it does not arrive at your home in time. You can find the form on:
https://www.certificat-air.gouv.fr/en/demande-ext/cgu
Lift pass, lessons and material
In the booking steps it is indicated for which days the lift pass is valid. If you want to use the ski lift on a different day than indicated in the booking process, please contact our contact centre by telephone. It is not possible to change the days of the lift pass once you have arrived at the destination. If you wish to extend the lift pass, it can often be booked as an extra. The price for extending the lift pass can be found in the booking. If you choose "no lift pass", the discount can also be found in the booking process.
Discounts:
The lift pass for children up to 4 years old and seniors from the age of 72 is free. Children from 5 to 16 years and seniors from 62 to 71 years receive a discount on the lift pass. These discounts can be found in the calculation of the travel sum. When you are entitled to a free lift pass, you choose 'no lift pass' when booking.
Allowance:
On site there is a surcharge of € 1.50 for the hands-free lift pass.
The above surcharges and discounts are only valid when booking. Different rates are applied on the spot.
Lessons cannot be booked in advance. You can arrange this upon arrival into resort.
Ski and snowboard rental can be specified immediately upon booking.
When you book Gold or Diamond ski equipment you can exchange it once a week for free, for snowboard equipment or freeride skis (unavailable on weekends).
The following types of material can be booked:
Bronze
Material that is ideal for beginners and advanced skiers and snowboarders. This material is extra manoeuvrable, so that making turns and braking can be mastered well. Parallel skiing with these skis is also possible.
Silver
Material that is excellent for intermediate skiers and snowboarders. This material is manoeuvrable, but also very suitable for sharply cutting corners. These skis also have a very good performance at high speed.
Gold
These skis and snowboards are made of high-quality material and are suitable for advanced winter sports enthusiasts. Also suitable for skiers who have mastered parallel skiing. This comfortable material can be used on all types of slopes and under all snow conditions.
Diamond
These high performance skis and snowboards with the latest technology are of high quality and suitable for the most experienced winter sports enthusiasts. Tip! Indicate with our rental partner your specific wishes for use (for example off-piste), so that they will select the right material for you.
Diamond
Deze high performance ski's en snowboards met de nieuwste technologie zijn van hoge kwaliteit en geschikt voor de meest ervaren wintersporters. Tip! Geef bij onze verhuurpartner graag jouw specifieke wensen voor gebruik aan (bijvoorbeeld offpiste), zodat hij het juiste materiaal voor je selecteert.