Gasthof Pension Mariandl
Gasthof Pension Mariandl
Gasthof Pension Mariandl is superbly located between the popular ski villages of Mayrhofen and Zell am Ziller. The ski bus stop is only 100m away, and takes you quickly to the lifts each morning. This cosy guest house has a very welcoming Dutch owner, who will prepare delicious meals for you every night.
Read more Gasthof Pension Mariandl
View less Gasthof Pension Mariandl
There are no room types available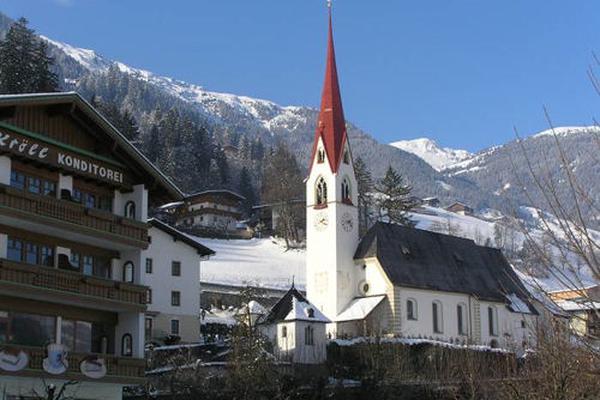 Ramsau
Ski holidays in Ramsau are considered to be one of the most romantic winter holiday destinations in all of Austria. Located in the centre of the Zillertal mountain, skiing in Ramsau means skiing with lots of sunshine as the small resort is located on the south side of the mountains.
Skiing in Ramsau
Ski holidays in Ramsau are approximately 3km away from the famous Mayrhofen. So, if you choose to go skiing in Ramsau although you are assured of peace, you aren't far from the crowds if you fancy a change of scenery.
Ski Zillertal 3000
Ski holidays in Ski Zillertal 3000 provide some of the most modern cable cars and lifts which travel across over 225km of pistes. With options for all levels, including the Hintertux Glacier, snowboarding and skiing in Ski Zillertal 3000 is a resort for everyone to consider.
Ski holidays in Ski Zillertal 3000 are possible as this unique region has been created thanks to the lift connection between Mayrhofen and Tux further up the valley. A 150-person cable-car links the two areas of Horberg/Gerent/Penken and Rastkogel/Eggalm.
Skiing in Ski Zillertal 3000 is made easier due to the excellent transport links to take you across the vast region. The resorts of Penken and Horberg are connected with each other by a small ski train and these areas are connected to the Tux ski resort by a cable car making travelling from area to area stress-free. The Hintertuxer glacier, with its almost always snow covered pistes, together with the even expanding arsenal of snow cannons provides the resort with an excellent snow record.
Between the resort stations of the ski lifts in Mayrhofen, Hippach and Finkenberg ski buses ride back and forth and can be used for free if you have a lift pass. When skiing in Ski Zillertal 3000, with your Zillertal lift pass you can also ski in Gerlos, Fügen and on the glacier.
If that's not enough, the cross country tracks in Mayrhofen are lit up in the evening and you can go wild in one of the best snow parks when snowboarding and skiing in Ski Zillertal 3000, Burton Park in Mayrhofen. In short, this area really does offer everything you look for and more in a ski holiday.
Practical information
Capital:
The capital is Vienna.
Language:
The official language is German but English is widely spoken as well.
Time:
There is one hour time difference with the UK (GMT+1).
Money:
The official currency is the Euro.
Tipping:
It is customary in Austria to tip between 5% and 10% in bars and restaurants.
Food & Drink:
Austria is known for its Vienna Schnitzels and Glühwein. Tap water is safe for drinking.
Opening times shops:
Shops are usually open from Monday until Friday from 09.00 AM to 18.00 PM (some shops close during the afternoon). Most shops are closed on Sunday.
Travelling by car:
Snow chains are obligatory in the Alps. You need a toll permit for the motorways in Austria. You can buy the permit at the AA in the UK or in Austria at the major border crossings. The European Commission advises you to wear a safety reflector jacket in the event of a break down or accident. This vest can be purchased from the AA in the UK as well.
Voltage:
The voltage is 230 volt.
Mobile telephone:
UK mobile phones work in Austria as well.
Travel documents:
You need to be in the possession of a valid passport to travel to Austria.
Flight information
Sunweb offers flights and transfers packages to this resort. You can select which airport you wish to travel from in the PRICES AND BOOKING tab above. It is possible to select different flight departure and arrival times in Step 2 of the booking process.
All Sunweb flights are booked with EasyJet. Hold luggage and ski equipment as luggage are NOT included in your package price. This can be added as an extra in Step 2 of the booking process. The price of luggage varies, as per Easyjets policies. All flight bookings include one cabin bag per person (maximum size of 56 x 45 x 25cm; including handles and wheels).
Please read more about the luggage rules and regulations on EasyJet's website. When making a flights booking with Sunweb, you are also agreeing to EasyJet's Terms and Conditions.
Transfers:
Return airport transfers are included in your package price when booking a flight package with Sunweb. These however can be removed in Step 2 of the booking steps if you would like to add in a hire car or seek an alternative travel arrangement. All transfers are shared transfers to and from your accommodation and the airport.
Due to the nature of shared transfers, there may be a wait time at the airport before your departure. This can be up to 1.5 hours. Please note that there will NOT be a Sunweb rep waiting for you at the airport as the transfer is managed by a partner. All information regarding the transfer (meeting point, departure times etc) will be explained on your travel documents that are sent to you 14 days before departure. The transfer will drop you off in the resort area; you may have not be dropped exactly outside your accommodation.
Departure from the UK:
Please ensure that you are not late and have checked in online before arriving at the airport. In addition to checking in online, you will have to enter your passport information. This is called API (advanced passenger information) and you will receive instructions from Sunweb after you have booked the holiday.
Arrival on Resort:
If you are planning on checking in late on your arrival day, it is almost always possible to get into your hotel or apartment. However, it is very important that this is arranged in advance. You will receive your travel documents two weeks before your departure, and this will include instructions on how to arrange your late arrival and collection of the key.
Please Note:
Once you agree to Sunweb's Term's and Conditions you are legally obliged to pay for the holiday and any cancellation fees that may apply.
Lift pass, lessons and material
In step 2 of the booking process it is indicated for which days the lift pass is valid. If you want to use the ski lift on a different day than indicated in step 2 of the booking process, please contact our contact centre by telephone. It is not possible to change the days of the lift pass once you have arrived at the destination. If you wish to extend the lift pass, it can often be booked as an extra. The price for extending the lift pass can be found in step 2 of the booking. If you choose "no lift pass", the discount can also be found in step 2 of the booking process.
Discounts:
Children born after 01-01-2013 will get a free lift pass. Children born between 01-01-2000 and 31-12-2012 will get a discount on their lift pass. These discounts can be found in the calculation of your fare, in step 3 of the booking process.Above mentioned discounts are only valid when booking through Sunweb. At the destinations other rates may apply.
Lessons cannot be reserved at time of booking.
You can choose which ski and snowboard hire you would like at the time of booking.
Wahoo! Your alert has been activated
Error! Unfortunately something went wrong...