Boutique Lodge
Boutique Lodge
Boutique Lodge
On a wonderful location in the pleasant village of Fieberbrunn is the beautiful Boutique Lodge. This charming hotel is 600 meters from the Bergbahnen Fieberbrunn and was fully renovated in 2014. The spacious rooms all feature a TV and a decent bathroom. Some rooms additionally feature a balcony or terrace.
After a beautiful day on skis, you can unwind in the Boutique Lodge spa. Enjoy the sauna, infrared sauna and Turkish bath. Then sit down for a well deserved drink at the crackling fireplace in the cozy lobby.
Read more Boutique Lodge
View less Boutique Lodge
Room types
double room
for 2 persons
surface: 23m²
Mini bar
Non-smoking rooms
Balcony
Heating
Television
Radio
bathroom with:bath or shower
sink
toilet
hair dryer
Location and surroundings
distance to centre approx. 600 metres
distance to airport salzburg approx. 65 kilometres
distance to train station distance: approx. 2,5 kilometres
distance to ski lift approx. 600 metres
nearest shops approx. 1 kilometres
nearest (mini) supermarket approx. 1 kilometres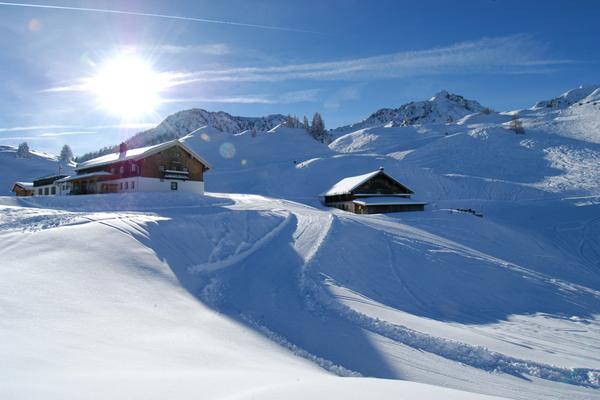 Fieberbrunn
Fieberbrunn is located between Leogang and St. Johann in Tirol and is a very lively village with all kinds of activities and events to keep you entertained. Snowboarders may find this resort of particular interest as it is where the annual snowboard competition "Lords of the Boards" is held. Due to its geographical location Fieberbrunn is tucked away in a 'snow lock' and enjoys excellent snow conditions. With 40 kilometers of easy to intermediate slopes and a few black runs, the ski resort is suitable for both novice and advanced skiers and snowboarders. If you want to take a break from the pistes for a day you can opt to relax in the public swimming pool, the sauna or the solarium. Despite attracting a steady increase in the number of visitors over the years the village has still managed to retain its authentic appeal with the lively village square and picturesque shopping streets. For après-ski you can rely on one or more of the many bars in Fieberbrunn to suit your tastes!
Location and surroundings
distance to centre approx. 600 metres
distance to airport salzburg approx. 65 kilometres
distance to train station distance: approx. 2,5 kilometres
distance to ski lift approx. 600 metres
nearest shops approx. 1 kilometres
nearest (mini) supermarket approx. 1 kilometres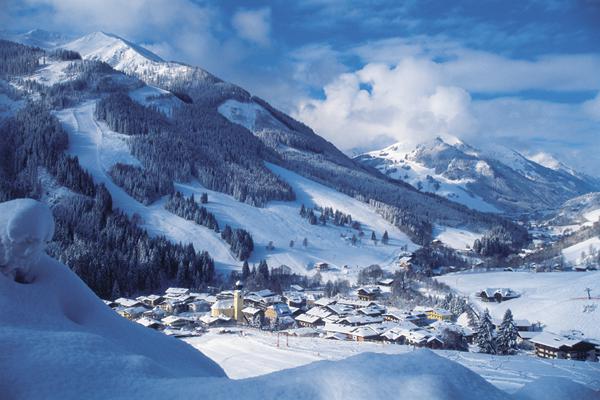 Skicircus Saalbach-Hinterglemm-Leogang-Fieberbrunn
The ski area of Saalbach-Hinterglemm-Leogang-Fieberbrunn is one of the best resorts in Austria and is rightfully referred to as the Ski Circus. More than 200 km (124 ml) of pistes are sure to give you enough choice for a great holiday!

The keener, advanced skier can head to the Schattberg side. Here on the Northern side, a 4 kilometre (3 ml) tough black run forms a formidable challenge to those who dare to try it! However the Western side also offers plenty to push even the most experienced skiers and boarders.

The Ski Circus is still an area in development. Every year new lifts are being built. If you are a beginner then you should take the lift to the Seekar area situated at a higher altitude. Here you can practice on easier pistes and still enjoy the fantastic views.

This region also caters for snowboarders. Besides half pipes and a snow park in Saalbach there are also special snowboard pistes available. After skiing or snowboarding, the cosy ski huts are great places to meet your fellow holiday makers. Saalbach is a small, peaceful village. Hinterglemm on the other hand has a more extensive après-ski with lots of English pubs as well.
Practical information
Capital:
The capital is Vienna.
Language:
The official language is German but English is widely spoken as well.
Time:
There is one hour time difference with the UK (GMT+1).
Money:
The official currency is the Euro.
Tipping:
It is customary in Austria to tip between 5% and 10% in bars and restaurants.
Food & Drink:
Austria is known for its Vienna Schnitzels and Glühwein. Tap water is safe for drinking.
Opening times shops:
Shops are usually open from Monday until Friday from 09.00 AM to 18.00 PM (some shops close during the afternoon). Most shops are closed on Sunday.
Travelling by car:
Snow chains are obligatory in the Alps. You need a toll permit for the motorways in Austria. You can buy the permit at the AA in the UK or in Austria at the major border crossings. The European Commission advises you to wear a safety reflector jacket in the event of a break down or accident. This vest can be purchased from the AA in the UK as well.
Voltage:
The voltage is 230 volt.
Mobile telephone:
UK mobile phones work in Austria as well.
Travel documents:
You need to be in the possession of a valid passport to travel to Austria.
Flight information
Flight packages are not available for this destination/resort. Please see the prices for self-drive packages (including lift passes) on the Prices and Booking tab on the yellow menu above.
Lift pass, lessons and material
Discounts:
Children born after 01-01-2013 will get a free lift pass. Children born between 01-01-2000 and 31-12-2012 will get a discount on their lift pass. These discounts can be found in the calculation of your fare, in step 3 of the booking process
Above mentioned discounts are only valid when booking through Sunweb. At the destinations other rates may apply.
In step 2 of the booking process it is indicated for which days the lift pass is valid. If you want to use the ski lift on a different day than indicated in step 2 of the booking process, please contact our contact centre by telephone. It is not possible to change the days of the lift pass once you have arrived at the destination. If you wish to extend the lift pass, it can often be booked as an extra. The price for extending the lift pass can be found in step 2 of the booking. If you choose "no lift pass", the discount can also be found in step 2 of the booking process.
When booking ski lessons, you will be asked to specify your level of experience:
Beginners:
Only choose beginners lessons if you have never skied before.
Intermediate:
If you are able to break and make turns, choose this level.
Advanced:
If you are able to ski but you would like to improve your technique, please choose this level.
You can specify that you would like to include ski and snow board hire directly when booking. This can be done in step 2 of the booking process.
The following materials can be booked:
Bronze
This material is ideal for beginners and intermediate skiers and snowboarders. This material is particularly agile, so it makes turning and breaking easy. Parallel skiing is also possible with these skis.
Silver
This is ideal material for intermediate skiers and snowboarders. The material is agile, but also suitable to cut corners sharp. Even at high speeds these skis provide great performance.
Gold
These skis and snowboards are made of high quality material, and are perfect for experienced skiers. This comfortable material is suitable on all track types and snow conditions.
Diamond
These are high performance skis and snowboards with the latest technology, and are suitable for the most experienced skiers.
TIP:
Tell our rental partner your exact requirements (eg off piste skiing) so they can help you select the right material.
NOTE:
A helmet is only included in this package for children up to 11 years old. If you are older, you can choose to bring your own, or rent one locally if available.
Wahoo! Your alert has been activated
Error! Unfortunately something went wrong...