Appartement Am Schiweg
Apartments am Schiweg is newly built residence, on the piste in Schladming. The hustle and bustle of the centre is within easy walking distance. After a day on the slopes, there is nothing better than a drink and a snack at one of the nearby restaurants/bars in Schladming. The lift is not far away either – just 200m away. You will have everything you need for a perfect winter holiday!
Read more Appartement Am Schiweg
View less Appartement Am Schiweg
There are no room types available
Haus im Ennstal
Haus im Ennstal is a tranquil village, perfect for families. This village is part of the Schladming-Dachstein ski area, part of the Ski Amadé ski region. Over recent years, the village has been growing and is expanding its accommodations to the slopes of the mountains. The town village lies at an altitude of 752 metres, surrounded by pine forests. Even though it is a relatively quieter village, compared to Schladming, Haus im Ennstal has many restaurants, bars and cafés to choose from.
Skiing in Haus im Ennstal
The village is located next to the river Enn, which can be derived from the name of the town. Haus im Ennstal is locate centrally in the ski region of Schladming-Dachstein. There are 2 gondolas that will take you up the mountain, both situated at the edge of the village. Two cable cars take you directly to an enormous ski paradise with 166 kilometers of pistes. The freestyle arena on the Hauser Kaibling with its 120 meter long half pipe, obstacles, jumps and quarter pipes is a real challenge for even the most experienced freestyler! The local ski area of Haus im Ennstal is best for intermediate to advanced skiers. The runs in this area are well kept and snow canons make sure that there will be sufficient snow for skiing during the high season.
Cross-country skiers are definitely not forgotten in this area, since there is no less than 40 kilometers of tracks around Haus im Ennstal and a total of 350 kilometers of tracks in the Dachstein-Tauern Region. There are some excellent hiking options here too.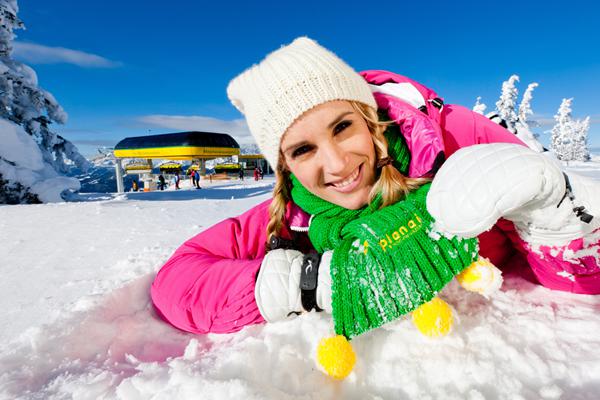 Schladming-Dachstein - Ski Amadé
This modern resort has nine mountains with three of them above 2000m altitude. Four of the nine mountains in this area are connected by connecting lifts: Hauser Kaibling, Planai, Hochwurzen and Reiteralm. These links makes it extremely easy to take day trips to other areas. Schladming-Dachstein offers excellent opportunities for advanced skiers. One example in the Planai, which offers very fast and steep slopes.
Families can enjoy the excellent Galsterbergalm, Fageralm, Stoderzinken and on the other side of the Ennstal, Ramsau am Dachstein. In Ramsau cross-country skiers and hikers will also enjoy themselves with a range of different tracks.
Schladming-Dachstein is really a paradise for skiers. There is the longest descent in the alps here, as well as the Hochwurzen Playground for free style skiers and snow boarders.
Practical information
Capital:
The capital is Vienna.
Language:
The official language is German but English is widely spoken as well.
Time:
There is one hour time difference with the UK (GMT+1).
Money:
The official currency is the Euro.
Tipping:
It is customary in Austria to tip between 5% and 10% in bars and restaurants.
Food & Drink:
Austria is known for its Vienna Schnitzels and Glühwein. Tap water is safe for drinking.
Opening times shops:
Shops are usually open from Monday until Friday from 09.00 AM to 18.00 PM (some shops close during the afternoon). Most shops are closed on Sunday.
Travelling by car:
Snow chains are obligatory in the Alps. You need a toll permit for the motorways in Austria. You can buy the permit at the AA in the UK or in Austria at the major border crossings. The European Commission advises you to wear a safety reflector jacket in the event of a break down or accident. This vest can be purchased from the AA in the UK as well.
Voltage:
The voltage is 230 volt.
Mobile telephone:
UK mobile phones work in Austria as well.
Travel documents:
You need to be in the possession of a valid passport to travel to Austria.
Flight information
Flight packages are not available for this destination/resort. Please see the prices for self-drive packages (including lift passes) on the Prices and Booking tab on the yellow menu above.
Lift pass, lessons and material
In step 2 of the booking process it is indicated for which days the lift pass is valid. If you want to use the ski lift on a different day than indicated in step 2 of the booking process, please contact our contact centre by telephone. It is not possible to change the days of the lift pass once you have arrived at the destination. If you wish to extend the lift pass, it can often be booked as an extra. The price for extending the lift pass can be found in step 2 of the booking. If you choose "no lift pass", the discount can also be found in step 2 of the booking process.
Discounts:
Children born after 1/1/1999 will get a discount on their lift pass. Children born on or after 01-01-2012 will need a Mini Card, which you can buy at the destinations. The Mini Card costs €4,50 per day with a maximum of €25. Please Select "No Lift Pass" for the children on or after 01-01-2012.
Note:
Above mentioned discounts are only valid when booking through Sunweb. At the destinations other rates may apply.
It is not possible to book ski and snow board lessons in advance through Sunweb. You can organise this at the destination.
Unfortunately, it is not possible to organise your rental equipment through Sunweb.
Great! We will let you know as soon as this accommodation is bookable for Winter 2020/2021.
Unfortunately something went wrong...