Les Résidences de Valfréjus
Les Résidences de Valfréjus
Les Résidences de Valfréjus
Résidence de Valfréjus is a great choice where you have everything that you need close by. The comfortable apartments are spread around the center of Valfrejus, all within about 50m from the lift. In the morning you can be one of the first to conquer the fresh snow. In most apartments you can even ski right back to your door!
Feeling hungry after an active day? In the cosy center you will find many restaurants where you can enjoy a delicious dinner or go looking for a nice après-ski bar. Finish up your day with a drink in one of the bars, or jump into the swimming pool which you can use free of charge.
Read more Les Résidences de Valfréjus
View less Les Résidences de Valfréjus
There are no room types available
Tip!
There is a public car park in the beginning of the village. You can not book in advance.
The apartments have different owners. These pictures are an example. The interior of your apartment may differ from the pictures.
When staying in Valfrejus you will receive a free voucher worth € 19, - per person for the public spa in Valfrejus. With this voucher you can relax with the entire group for 1.5 hours. In addition, you also get 10% discount on treatments. The spa is open from 10.00 to 02.00 and for treatments you can go between 14:00 and 20:00.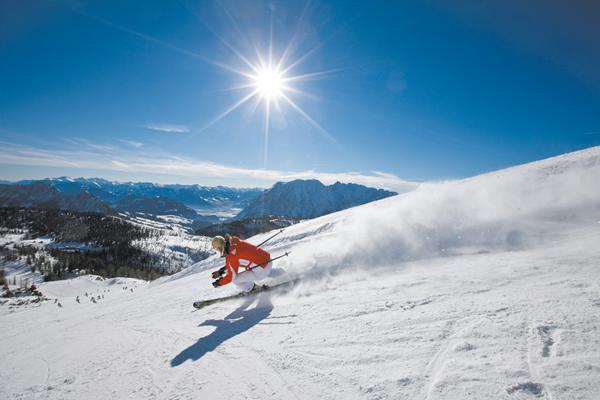 Valfréjus
In the woods just above Modane is the compact ski resort of Valfréjus at an altitude of 1550 meters. Because of the many facilities and favourable prices Valfréjus is a very interesting destination. For skiers, snowboarders and cross-country skiers there are plenty of options. For beginners there are some good blue runs all the way down from the highest point, the Punta Bagna, to the valley via the Pas du Roc. In addition to a swimming pool, sauna, skating rink, tennis court and jacuzzi are also some nice bars and restaurants in Valfréjus so after skiing you have lots of possibilities to keep you entertained.
When staying in Valfréjus, every person on the booking will receive a free voucher worth €19,- for the Valfréjus Spa. This voucher entitles everyone on the booking to enjoy the spa for at least 1 and a half hours. Additionally, you will get a discount of 10% with every treatment that you book at the spa. Opening hours are from 10 am to 2 pm and from 4 pm till 8 pm.
Please let the spa know when you plan on visiting them. You can make a reservation by calling +33 479 640 843 or through their website www.spa-valvrejus.fr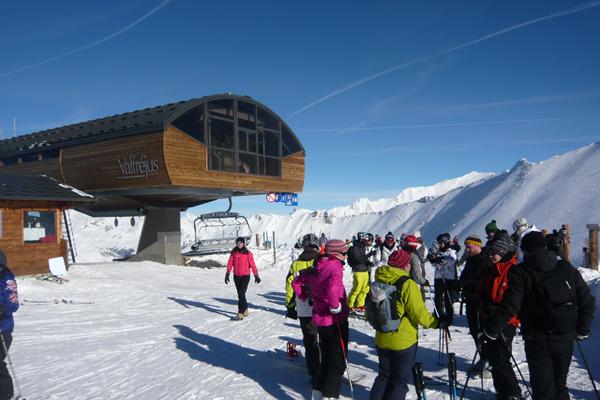 Valfréjus
Valfréjus is a small and cosy ski resort in the Mauriennedal, close to the Italian border. The 70km ski area mainly consists of blue runs, but also offers excellent off-piste opportunities for the more advanced skier.
The village sits at 1550m and two lifts will take you to the Plateau d'Arrondaz station. There you can take the Punta Bagna gondla to the highest point within the region at 2737m. From here there is a beautiful back slope and many off-piste opportunities to take you back to the Plateau. For those looking for even more excitement, there is a boardercross and 2 bobsled downhill runs of 2km. There is also the opportunity to heli-ski across the border in Italy for a truly unique experience.
New since 2018-2019
Aside from skiing in Valfréjus you now have access to unlimited skiing in La Norma, so a total of 135km is waiting for you. With a 6, 7, or 8 day lift pass you can also ski for 1 day in Aussois, 1 day in Val Cenis, 1 day in Bonneval Sur Arc, and 1 day in Bessans.
Aussois
The ski area of Aussois covers a total of 55km of slopes lying between 1350m and 2750m. From the village, 2 chairlifts take you to the top. For advanced skiers, there is an excellent black piste, Balmes, with a daring descent. There are also beautiful red runs that will take you back to the village, and closer to the village is where you will find the blue and green runs. Aussois really offers something for everyone, from those on their first runs to the more experienced skier.
La Norma
The ski area of La Norma is largely located in the woods and provides snow-sure slopes due to most of the slopes being situated in the northern area of the mountains. It has some 65km of varied pistes for both beginners and advanced skiers. Advanced skiers should head to the Mezelet descent or the black piste, La Norma II. The Repose descent is suitable for everyone, allowing all levels of skiers to refine and retune their technique.
Val Cenis
Val Cenis provides 125km of wonderful pistes for both novice and advanced skiers. The longest green run in Europe, l'Escargot, is found in Val Cenis and there are 19 ski lifts connect the villages of Lanslebourg and Lanslevillard. The lower slopes are far easier and mainly meander through the woods. There are also 2 snow parks, ideal for snowboarders, found on the slopes of the Familiale and St. Pierre.
Practical information
Capital:
The capital of France is Paris
Time:
France is one hour ahead of the UK (GMT+1).
Language:
The official language is French.
Money:
The euro (€) is the official currency of France
Emergency number:
The local emergency number is 112.
Service charge (tip) in restaurants and bars :
It is not likely that the service charger will be added to the bill automatically. If you are pleased with the service you can round off or leave a tip of 10%.
Power:
The voltage is 220 and the socket is different compared to the general UK sockets. You can buy an European adapter in most airports and supermarkets.
Mobile:
A UK mobile phone should work in France. The setup for this may differ per provider, so it is best to inquire about this before hand.
Safety on the slopes:
In France, wearing a helmet is not mandatory but recommended (especially for children). In ski classes (for all ages), it is often compulsory.
Travel documents:
You must be in possession of a valid passport in order to travel to France.
Food and Drinks:
Cheese, croissants, baguettes and wine! It is possible to drink tap water.
Opening hours:
As a general rule, the shops are open on Monday/Friday from 09:00 to 19:00. However, some shops may close over lunchtime. On Sunday and Monday, a selection of shops are closed. Some supermarkets are open on Sunday mornings.
Public Holidays:
Christmas Day: 25 December, 2014 (Thursday)
Boxing Day: 26 December, 2014 (Friday)
New Year's Day: 1 January, 2015 (Thursday)
Good Friday: 3 April, 2015
Easter Sunday: 5 April, 2015
Easter Monday: 6 April, 2015
Travelling by car:
Most motorways in France require you to pay a toll fee. The Pas Piccolo San Bernardo is closed the whole winter (November - June). Always check the locat weather reports before departing.

In some cities and towns it is obligaroty to have a "environmentsl sticker". It is not possible to buy these stickers en route. You will have to order them online before you leave home. French authorities advise you to print out the form and the confirmation of the sticker if it does not arrive at your home in time. You can find the form on:
https://www.certificat-air.gouv.fr/en/demande-ext/cgu
Flight information
Flight packages are not available for this destination/resort. Please see the prices for self-drive packages (including lift passes) on the Prices and Booking tab on the yellow menu above.
Lift pass, lessons and material
A lift pass for Valfréjus & La Norma is included in the fare.
Travel by own transport:
3-day trip including 2-day lift pass
4-day trip including 2-day lift pass
5-day trip including 3-day lift pass
6-day trip including 4-day lift pass
7-day trip including 5-day lift pass
8-day trip including 6-day lift pass
In the booking steps it is indicated for which days the lift pass is valid. If you want to use the ski lift on a different day than indicated in the booking process, please contact our contact centre by telephone. It is not possible to change the days of the lift pass once you have arrived at the destination. If you wish to extend the lift pass, it can often be booked as an extra. The price for extending the lift pass can be found in the booking. If you choose "no lift pass", the discount can also be found in the booking process. Discounts:
The lift pass for children born on or after 01-01-2015 and seniors born before 01-01-1944 is free. If you are entitled to this lift pass, you must choose "no lift pass" when booking. The free lift pass can be picked up locally on presentation of your ID.
Lift pass action:
With the Eskimo lift pass you can ski for 1 day in Aussois, 1 day in La Norma and 1 day in Val Cenis Vanoise (total of 300 km of piste). These areas are not connected, but you can access them with the ski bus. The ski bus ticket to these destinations is included with the lift pass.
The above fees and discounts are valid only when booking with Sunweb. Other rates are used at the resort.
A lift pass for Valfréjus & La Norma is included in the fare.
Travel by own transport:
3-day trip including 2-day lift pass
4-day trip including 2-day lift pass
5-day trip including 3-day lift pass
6-day trip including 4-day lift pass
7-day trip including 5-day lift pass
8-day trip including 6-day lift pass
You can select ski and snowboard directly upon booking. With short-stay holidays it is not possible to book ski lessons. You can arrange ski lessons at the resort.
- The ski and snowboard lessons start on Sunday.
- When booking please ensure you pick the right level:
Beginners: Choose beginners lessons if you've never skied before.
Average: Can you brake / make a curve? Opt for average and not for beginners.
Advanced: Can you ski, but you want to develop your technique? Opt for advanced.
Ski and snowboard rental can be specified immediately upon booking.
When you book Gold or Diamond ski equipment you can exchange it once a week for free, for snowboard equipment or freeride skis (unavailable on weekends).
The following types of material can be booked:
Bronze
This material is ideal for beginners and intermediate skiers and snowboarders. This material is particularly agile, so it makes turning and breaking easy. Parallel skiing is also possible with these skis.
Silver
This is ideal material for intermediate skiers and snowboarders. The material is agile, but also suitable to cut corners sharp. Even at high speeds these skis provide great performance.
Gold
These skis and snowboards are made of high quality material, and are perfect for experienced skiers. This comfortable material is suitable on all track types and snow conditions.
Diamond
These are high performance skis and snowboards with the latest technology, and are suitable for the most experienced skiers.
TIP: Tell our rental partner your exact requirements (eg off piste skiing) so they can help you select the right material.
Wahoo! Your alert has been activated
Unfortunately something went wrong...