Hotel Odalys Chalet Alpina
Hotel Odalys Chalet Alpina
Hotel Le Chalet Alpina is an excellent choice for a real winter sports enthusiast and the hotel, built in Savoyarde style, is in a prime location.
In front of the hotel are the most beautiful slopes of Tignes Val Claret. In the morning, you can put on your gear and get on the slopes to discover the beautiful ski area. The rooms are decorated in style with the rest of the hotel, in a traditional and charming manner.
The centre of the Val Claret district is within a ten-minute walk. Here you can fill in your evenings with a walk along the charming shops and restaurants and, when you return home, take a dip in the heated indoor pool.
Read more Hotel Odalys Chalet Alpina
View less Hotel Odalys Chalet Alpina
There are no room types available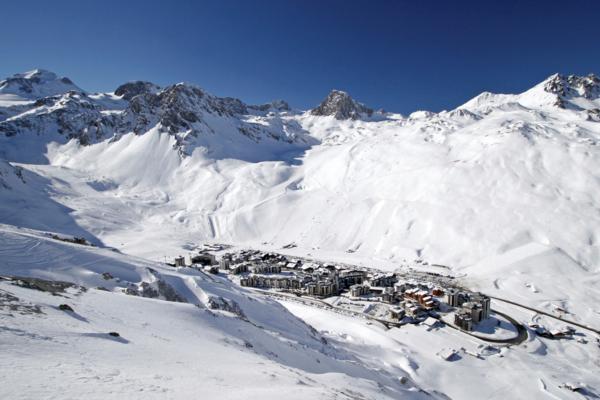 Tignes
Tignes is the second largest ski resort in Europe and is part of the L'Espace Killy ski region. The original village of Tignes, was in the valley of Val d'Isere and was submerged in the reservoir after the French had built the Tignes Dam, in 1952. After the loss of the old village, the French had decided to build a ski resort, higher up at the lake. The resort was largely built during the 60's and the building style reflects this. However, in recent years the town has worked on improving the look. Tignes village consists of four different sections: Val Claret at 2100m, Le Lac at 2100M, Lavachet at 2000m and Les Brévières at 1550m. Le Lac and Val Claret are the biggest sections within Tignes. Le Lac is known as the heart of the resort and Val Claret is for those who love night life.
After skiing you'll also have a great time in Tignes with lots of bars, clubs and shops to keep you entertained. If you are looking for more sports activities you can choose from squash, tennis, swimming and fitness at the local sports centre. You can then enjoy dinner in one of the many restaurants.
Skiing in Tignes
The Tignes –Val D'Isere ski area is said to be one of the most beautiful and extensive ski areas in the Savoie region. The maximum altitude of this ski area is 3456 m, which is at the top of the Grande Motte Gondola. This ski area offers approximately 300km of pistes for skiers and snow boarders from all levels and has 78 ski lifts. The Grande Motte glacier makes this a snow-sure destination. Dare-devils can choose to ski and snowboard off-piste, those who prefer to play it a little safer can stay on piste and for the ones that want to freestyle and freeride there is also plenty of space.
Val Claret is located centrally within Tignes and surrounded by beautiful and spacious runs. There are several lifts that depart from Val Claret and Le Lac, which will bring you to Toviere and the Col de Fresse. This is a great starting point from which to discover the Val D'Isère from.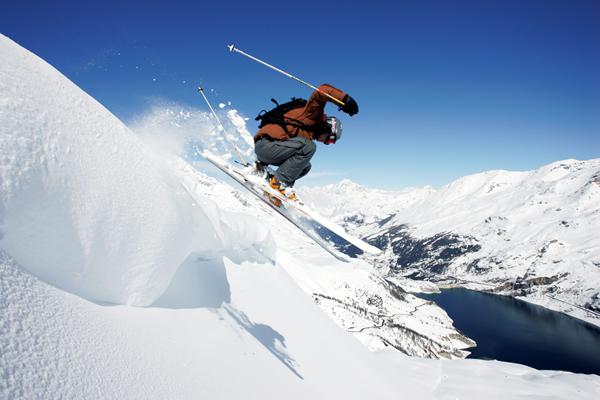 Tignes - Val d'Isère
Tignes - Val d'Isère is one of the most famous ski areas in the Alps, and includes Tignes and Val d'Isère. The region covers a very large area, and spreads itself across a huge range of altitudes. Experienced skiers and snowboarders will be impressed with the many black pistes and off piste options. Novices and fans of relaxed ski touring can head for the longer, wider blue pistes. The area also benefits from a fantastic snow record. Espace Killy is one of the best ski regions in Europe.

The slope down the Roche de Bellevarde, or more commonly know, 'Le Face', is a black piste that starts on the mountain top (2827 meters / 9,300 feet) and ends a kilometre lower at Val d'Isère!
Free riders head out to Le Spot, an unpisted area near Tignes accessible with the chair lift Col des Ves. Freestylers divide their attention between 2 boarder cross, 2 half pipes and 2 snow parks.

There are two glaciers in Espace Killy, which allow you to ski 10 months per year. The glaciers are also well worth a visit in the winter. Queues at the lifts are rare as the lift system is modern and well thought out. There are plenty of chair lifts with a windshield, cabin lifts and funiculars, (mountain trains), that help you up to the of the mountain in swift trip.

Guests staying in Tignes have the choice between two lift passes: the Super Tignes lift pass for the ski area of Tignes or a lift pass for the entire Espace Killy ski area. You can also extend the lift pass for one or two days on location (approx. € 27,50 p.d.). Outside of peak season, Espace Killy lift passes are not sold and sometimes only the pistes on the glacier are open. If you are staying in Val d'Isère the lift pass is included with your stay.
Practical information
Capital:
The capital of France is Paris
Time:
France is one hour ahead of the UK (GMT+1).
Language:
The official language is French.
Money:
The euro (€) is the official currency of France
Emergency number:
The local emergency number is 112.
Service charge (tip) in restaurants and bars :
It is not likely that the service charger will be added to the bill automatically. If you are pleased with the service you can round off or leave a tip of 10%.
Power:
The voltage is 220 and the socket is different compared to the general UK sockets. You can buy an European adapter in most airports and supermarkets.
Mobile:
A UK mobile phone should work in France. The setup for this may differ per provider, so it is best to inquire about this before hand.
Safety on the slopes:
In France, wearing a helmet is not mandatory but recommended (especially for children). In ski classes (for all ages), it is often compulsory.
Travel documents:
You must be in possession of a valid passport in order to travel to France.
Food and Drinks:
Cheese, croissants, baguettes and wine! It is possible to drink tap water.
Opening hours:
As a general rule, the shops are open on Monday/Friday from 09:00 to 19:00. However, some shops may close over lunchtime. On Sunday and Monday, a selection of shops are closed. Some supermarkets are open on Sunday mornings.
Public Holidays:
Christmas Day: 25 December, 2014 (Thursday)
Boxing Day: 26 December, 2014 (Friday)
New Year's Day: 1 January, 2015 (Thursday)
Good Friday: 3 April, 2015
Easter Sunday: 5 April, 2015
Easter Monday: 6 April, 2015
Travelling by car:
Most motorways in France require you to pay a toll fee. The Pas Piccolo San Bernardo is closed the whole winter (November - June). Always check the locat weather reports before departing.

In some cities and towns it is obligaroty to have a "environmentsl sticker". It is not possible to buy these stickers en route. You will have to order them online before you leave home. French authorities advise you to print out the form and the confirmation of the sticker if it does not arrive at your home in time. You can find the form on:
https://www.certificat-air.gouv.fr/en/demande-ext/cgu
Flight information
Sunweb offers flights and transfers packages to this resort. You can select which airport you wish to travel from in the PRICES AND BOOKING tab above. It is possible to select different flight departure and arrival times in Step 2 of the booking process.
All Sunweb flights are booked with EasyJet. Hold luggage and ski equipment as luggage are NOT included in your package price. This can be added as an extra in Step 2 of the booking process. The price of luggage varies, as per Easyjets policies. All flight bookings include one cabin bag per person (maximum size of 56 x 45 x 25cm; including handles and wheels).
Please read more about the luggage rules and regulations on EasyJet's website. When making a flights booking with Sunweb, you are also agreeing to EasyJet's Terms and Conditions.
Transfers:
Return airport transfers are included in your package price when booking a flight package with Sunweb. These however can be removed in Step 2 of the booking steps if you would like to add in a hire car or seek an alternative travel arrangement. All transfers are shared transfers to and from your accommodation and the airport.
Due to the nature of shared transfers, there may be a wait time at the airport before your departure. This can be up to 1.5 hours. Please note that there will NOT be a Sunweb rep waiting for you at the airport as the transfer is managed by a partner. All information regarding the transfer (meeting point, etc) will be explained on your travel documents that are sent to you 14 days before departure. The transfer will drop you off in the resort area; you may have not be dropped exactly outside your accommodation.
Departure from the UK:
Please ensure that you are not late and have checked in online before arriving at the airport. In addition to checking in online, you will have to enter your passport information. This is called API (advanced passenger information) and you will receive instructions from Sunweb after you have booked the holiday.
Arrival on Resort:
If you are planning on checking in late on your arrival day, it is almost always possible to get into your hotel or apartment. However, it is very important that this is arranged in advance. You will receive your travel documents two weeks before your departure, and this will include instructions on how to arrange your late arrival and collection of the key.
Please Note:
Once you agree to Sunweb's Term's and Conditions you are legally obliged to pay for the holiday and any cancellation fees that may apply.
Lift pass, lessons and material
In step 1 of the booking process, it is indicated which days the lift pass is valid for (eg Sunday to Friday). If you would like the ski pass to start on a different day than shown in the booking steps, you must contact our contact centre by telephone. The booking can then be adjusted. On destination, it is not possible to change the lift pass start date to another day. An extension of the lift pass can often be booked for an extra surcharge; the price for this can be found in step 1 of the booking process. The discount for "no ski pass" can also be found in the booking process.
Discounts:
The lift pass for children up to age 4 and senior citizens from 75 years is free. Between 21-12-2019 and 17-04-2020, children aged from 5 to 13 years old and senior citizens aged from 65 to 74 years receive discounts on the lift pass. This discount will be automatically calculated in the package price. The free lift passes can only be collected upon presentation of a valid ID.
Discount on activities:
On display of your lift pass, you have free access to the public swimming pool and the ice skating rink.
In Tignes 1800 there is no cashier from the lift company. The nearest cashier is located in Tignes 2100.
The above fees and discounts are valid only when booking with Sunweb. Other rates are used at the resort.
If you are staying in Tignes Val Claret or Tignes Le Lac and you want to book ski or snowboard lessons, you can reserve them when making your booking. When you book your lessons, you should give an indication of your level, this way the ski school can put you in the correct classes.
If you are staying in one of the other parts of Tignes, you are unable to book ski or snowboard lessons online. You can book lessons once in resort.
The ski and snowboard lessons start on Sundays.
-Lessons in Tignes Le Lac start on Sunday and will take approximately 2.5 hours on this day (9hr30 -12hr00). On the other days the lessons will take approximately 3 hours (9hr00-12hr00)
- If you book lessons it is imperative that you wish to book a lift pass for the entire Espace Killy region. A pass for the restricted area Tignes is not enough.
- When booking is requested ski lessons to your level:
Beginners: Choose beginners lessons if you've never skied before.
Average: Can you brake / make a curve? Opt for average and not for beginners.
Advanced: Can you ski, but you want to develop your technique? Opt for advanced.
-If you stay in Tignes Lavachet, Tignes Les Brevieres or 1800 you will have to arrange your own lessons.
You can select ski and snowboard hire in step 2 of the booking.
The following types of material can be booked:
Bronze
This material is ideal for beginners and intermediate skiers and snowboarders. This material is particularly agile, so it makes turning and breaking easy. Parallel skiing is also possible with these skis.
Silver
This is ideal material for intermediate skiers and snowboarders. The material is agile, but also suitable to cut corners sharp. Even at high speeds these skis provide great performance.
Gold
These skis and snowboards are made of high quality material, and are perfect for experienced skiers. This comfortable material is suitable on all track types and snow conditions.
Diamond
These are high performance skis and snowboards with the latest technology, and are suitable for the most experienced skiers.
TIP: Tell our rental partner your exact requirements (eg off piste skiing) so they can help you select the right material.