Résidence les Souverains
Résidence les Souverains
Résidence les Souverains is a beautiful residence is located in the quiet district of Les Arcs 1800. As soon as you arrive at your apartment, your holiday will start as the apartments are built directly on the pistes! Best part is that the lifts are only 100m away too!
The 4-room apartments are very comfortable and stylish; perfect place to return to in the afternoons. The apartments have well equipped kitchens so there is no need to budget for too many meals in restaurants. Perfect Paradiski holiday!
Read more Résidence les Souverains
View less Résidence les Souverains
Room types
4-room apartment (3 bedrooms)
for 2 till 8 persons
surface: 84m²
Number of beds: 8
Balcony or Terrace
Open fire place
Kitchenette
(mini) fridge
hotplate
(mini)oven
microwave
coffee machine
kettle
toaster
dishwasher
Television
(Living) room(s): sleeps 2 (1 x two persons sleeping couch)
Bedroom(s): 3 bedrooms
1st bedroom: sleeps 2 (1 x double bed)
2nd bedroom: sleeps 2 (2 x single bed)
3rd bedroom: sleeps 2 (2 x single bed)
Separate toilet
Bathroom(s): 2 bathrooms
Bathroom 1: bath, toilet
Bathroom 2: shower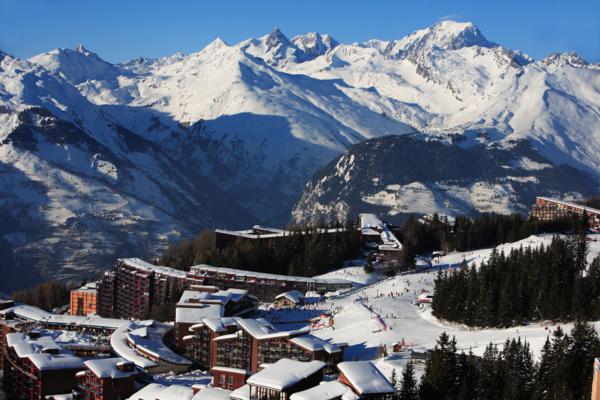 Les Arcs
Skiing in Les Arcs
Les Arcs is part of the large ski area Paradiski. This area connects a number of different resorts including La Plagne, Les Coches and Montchavin. Combined they have over 400km of ski piste to explore.
When choosing a Les Arcs ski holiday there are four different villages to pick form: Arc 1600, Arc 1800, Arc 1950 and Arc 2000. All four villages are car free. Arc 1800 and Arc 1950 are widely regarded as the liveliest of the four thanks to the many terraces, restaurants and shops.
Arc 1600
This is the oldest and smallest village of the four. The village predominantly attracts families with small children because the village is compact, flat and car free. The mountain train from Bourg St. Maurice and Les Arcs stops here along the way as well.
Arc 1800
This is the largest village of the four and there is plenty to keep you entertained here. In terms of après-ski, this is the village of preference for most young visitors. The village consists of buildings located close to the pistes as well as some smaller wooden buildings in between the trees.
Arc 1950
Arc 1950 is a very atmospheric ski village and was built in 2003 in the Canadian Whistler construction style. Quality, service and luxury are the defining features of Arc 1950. The lively centre has excellent restaurants, a few bars, a supermarket, a baker and various shops. If you want to visit the highest village of Les Arcs you can use the Cabriolet lift. This will swiftly take you up to Arc 2000.
Arc 2000
This is the highest village of Les Arcs, and is ideal for the ski and snowboard enthusiasts. It is a small village with a limited number of restaurants, bars and shops. Arc 2000 is renowned for speed skiing. Well trained skiers can try out the various black descents down the Aiguille Rouge.
Mile 8
In the heart of Les Arc 1800 is the new snow park Mille 8. This fantastic winter snow park is sure to give you an adrenaline rush! It features a toboggan run, a forest themed slope, a freestyle obstacle course and a special area for beginners and children. To relax after all this there is a large water paradise with a stunning view of Mont Blanc!
Location and surroundings
distance to centre approx. 600 metres
directly next to the ski piste.
distance to ski lift approx. 100 metres
Les Arcs/Peisey-Vallandry
The villages of Les Arcs and Peisey-Vallandry together form a ski resort which is part of the great Paradiski area. Les Arcs/Peisey-Vallandry has a total of 106 pistes in a 200km area.
Skiing in Les Arcs/Peisey-Vallandry
The side of Les Arcs is know for being quite busy with a lot going on, however the side of Peisey-Vallandry is know for being more peaceful and quiet for skiers/snowboarders. Usually there are little to no queues for the ski lifts in this area. For beginners the lower part of Arc 1600 and 1800 are great areas to practice and learn the basics. For the more advanced skiers the Aiguille Rouge slope on the mountain of the same name is a must do. It is perhaps the most difficult slope within the whole of the Paradiski area. As most of the slopes in the area are above 1800m, it is very snow sure.
Snowpark Mille8
In the heart of Les Arcs 1800, the snowpark Mille8 has opened its doors. The snowpark is nestled in a beautiful area in the Paradiski ski area. At the park you will find an exciting toboggan run, forest theme trail and a freestyle trail with various obstacles.
New for 2019/20
A new Folie Douce will open with 3 restaurants on the slopes. Enjoy the delicious food, unique shows, fine drinks and good après ski. Every day from 13.30 - 14.30 you can watch a cabaret show. After this it is time for a party and the best music is played by various famous DJs. Foil Douce is open until 19:00 and on Thursdays even longer.
Practical information
Capital:
The capital of France is Paris
Time:
France is one hour ahead of the UK (GMT+1).
Language:
The official language is French.
Money:
The euro (€) is the official currency of France
Emergency number:
The local emergency number is 112.
Service charge (tip) in restaurants and bars :
It is not likely that the service charger will be added to the bill automatically. If you are pleased with the service you can round off or leave a tip of 10%.
Power:
The voltage is 220 and the socket is different compared to the general UK sockets. You can buy an European adapter in most airports and supermarkets.
Mobile:
A UK mobile phone should work in France. The setup for this may differ per provider, so it is best to inquire about this before hand.
Safety on the slopes:
In France, wearing a helmet is not mandatory but recommended (especially for children). In ski classes (for all ages), it is often compulsory.
Travel documents:
You must be in possession of a valid passport in order to travel to France.
Food and Drinks:
Cheese, croissants, baguettes and wine! It is possible to drink tap water.
Opening hours:
As a general rule, the shops are open on Monday/Friday from 09:00 to 19:00. However, some shops may close over lunchtime. On Sunday and Monday, a selection of shops are closed. Some supermarkets are open on Sunday mornings.
Public Holidays:
Christmas Day: 25 December, 2014 (Thursday)
Boxing Day: 26 December, 2014 (Friday)
New Year's Day: 1 January, 2015 (Thursday)
Good Friday: 3 April, 2015
Easter Sunday: 5 April, 2015
Easter Monday: 6 April, 2015
Travelling by car:
Most motorways in France require you to pay a toll fee. The Pas Piccolo San Bernardo is closed the whole winter (November - June). Always check the locat weather reports before departing.

In some cities and towns it is obligaroty to have a "environmentsl sticker". It is not possible to buy these stickers en route. You will have to order them online before you leave home. French authorities advise you to print out the form and the confirmation of the sticker if it does not arrive at your home in time. You can find the form on:
https://www.certificat-air.gouv.fr/en/demande-ext/cgu
Flight information
Sunweb offers flights and transfers packages to this resort. You can select which airport you wish to travel from in the PRICES AND BOOKING tab above. It is possible to select different flight departure and arrival times in Step 2 of the booking process.
All Sunweb flights are booked with EasyJet. Hold luggage and ski equipment as luggage are NOT included in your package price. This can be added as an extra in Step 2 of the booking process. The price of luggage varies, as per Easyjets policies. All flight bookings include one cabin bag per person (maximum size of 56 x 45 x 25cm; including handles and wheels).
Please read more about the luggage rules and regulations on EasyJet's website. When making a flights booking with Sunweb, you are also agreeing to EasyJet's Terms and Conditions.
Transfers:
Return airport transfers are included in your package price when booking a flight package with Sunweb. These however can be removed in Step 2 of the booking steps if you would like to add in a hire car or seek an alternative travel arrangement. All transfers are shared transfers to and from your accommodation and the airport.
Due to the nature of shared transfers, there may be a wait time at the airport before your departure. This can be up to 1.5 hours. Please note that there will NOT be a Sunweb rep waiting for you at the airport as the transfer is managed by a partner. All information regarding the transfer (meeting point, etc) will be explained on your travel documents that are sent to you 14 days before departure. The transfer will drop you off in the resort area; you may have not be dropped exactly outside your accommodation.
Departure from the UK:
Please ensure that you are not late and have checked in online before arriving at the airport. In addition to checking in online, you will have to enter your passport information. This is called API (advanced passenger information) and you will receive instructions from Sunweb after you have booked the holiday.
Arrival on Resort:
If you are planning on checking in late on your arrival day, it is almost always possible to get into your hotel or apartment. However, it is very important that this is arranged in advance. You will receive your travel documents two weeks before your departure, and this will include instructions on how to arrange your late arrival and collection of the key.
Please Note:
Once you agree to Sunweb's Term's and Conditions you are legally obliged to pay for the holiday and any cancellation fees that may apply.
Lift pass, lessons and material
The lift pass (lift pass Classique) is included in the fare. At a surcharge you can book a lift pass (lift pass Essentiel) for Paradiski.
Travel by own transport/ plane:
3-day trip including 2-day lift pass
4-day trip including 2-day lift pass
5-day trip including 3-day lift pass
6-day trip including 4-day lift pass
7-day trip including 5-day lift pass
8-day trip including 6-day lift pass
Your booking indicates for which days the lift pass is valid (e.g. Sunday to Friday). If you want to use the lift on a different day than indicated in step 2 of the booking process, please contact our contact centre by telephone. It is not possible to change dates the days of the lift pass once you have arrived at the destination. If you wish to extend the lift pass, it can often be booked as an extra. The price for extending the lift pass can be found in step 2 of the booking process. If you choose ''no lift pass'', the discount can also be found in step 2 of the booking process.
Discounts:
The lift pass for children up to age 4 and senior citizens from 75 years old is free. Senior citizens aged 75 years and older pay a fee of € 10 once upon pick-up of the Les Arcs / Peisey-Vallandry or Paradiski lift pass. When you are entitled to this ski pass, choose "No lift pass" when booking. You can pick up this lift pass on the spot on presentation of your ID.
Pay attention:
- Staying at Chalet Deux Tetes I, you can pick up your ski pass in Les Arc 1600. This is 4 km away.
- When you stay at Hotel Village Club du Soleil Les Arcs 1800, your ski pass for 6 days Paradiski is included. It is not possible to extend it to more days. Child and senior discounts do not apply.
If you are staying in Arc 1800, Arc 1950 or Arc 2000 and you want to book lessons, you can reserve them when making your booking in step 2 of the booking process. If you are staying in one of the other parts of Les Arcs, then you will have to organise the ski or snowboard lessons directly with the ski school at location.
The 5-day ski and snowboard lessons are held from Mondays to Fridays. The 6-day ski and snowboard lessons are held from Sundays to Fridays .
When booking your ski lessons you will have to state the level of experience:
Beginners: choose this level if you have never skied before.
Intermediate: If you have skied once or twice.
Advanced: You can ski, however, you would like to improve your skills
You can choose ski or snowboard hire directly when booking.
Staying in Chalet Deux Tetes I, you can pick up your ski equipment in Les Arc 1600. This is 4 km away.
The following types of material can be booked:
Bronze
This material is ideal for beginners and intermediate skiers and snowboarders. This material is particularly agile, so it makes turning and breaking easy. Parallel skiing is also possible with these skis.
Silver
This is ideal material for intermediate skiers and snowboarders. The material is agile, but also suitable to cut corners sharp. Even at high speeds these skis provide great performance.
Gold
These skis and snowboards are made of high quality material, and are perfect for experienced skiers. This comfortable material is suitable on all track types and snow conditions.
Diamond
These are high performance skis and snowboards with the latest technology, and are suitable for the most experienced skiers.
TIP: Tell our rental partner your exact requirements (eg off piste skiing) so they can help you select the right material.
Please note:
- When you stay at Hotel Village Club du Soleil Les Arcs 1800, your ski equipment is included for 6 days. It is not possible to extend this it. It is possible not to use the material rental, but no discount is given here.
- When you stay at Chalet Villaroger, it is not possible to book a ski material.
Great! We will let you know as soon as this accommodation is bookable for Winter 2020/2021.
Unfortunately something went wrong...