Hôtel Fitz Roy (B&B)
Hôtel Fitz Roy (B&B)
Hotel Fitz Roy in Val Thorens is located in the center of the resort and very close to the slopes. This 5 star hotel is a great place to relax and enjoy your skiing holiday. This place is packed with character and charm, with a perfect balance between classic and contemporary. Think: wood, stone, leather, wool and furs. Your room (with a view of the slopes or of the mountain) will become a relaxing haven during your holiday. The room is fully equipped with a telephone, minibar, safe, free wifi, bluetooth speaker and flat screen TV. The communal facilities of the hotel are just as luxurious, including a large heated swimming pool, sauna and steam room. Perhaps you feel like treating yourself to a massage?
Read more Hôtel Fitz Roy (B&B)
View less Hôtel Fitz Roy (B&B)
There are no room types available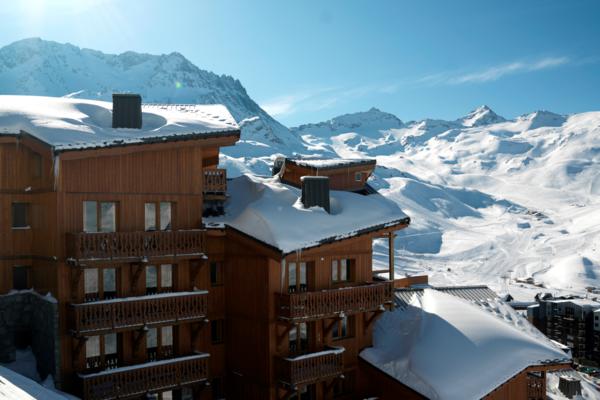 Val Thorens
Val Thorens is without a doubt one of the most unique ski destinations in France. Since it is one of the highest ski villages in Europe, it explains its popularity with visitors over the years. The lifts in Val Thorens start at your doorstep and this is where your ski day ends as well, which makes skiing in Val Thorens a perfect ski to door destination. Val Thorens is part of the bigger ski region of Les Trois Valées, which also includes the ski areas of La Valée La Courchevel, Les Menuires and Méribel.
Besides being an excellent ski resort the lively centre of Val Thorens also offers great après-ski and nightlife options. Both at the pistes and in the centre of Val Thorens you will find many lively terraces, bars and nightclubs like the Veronica Snow café, Le Monde, Malaysia and the Swedish bar Snesko. Val Thorens and Les Deux Alpes are both very well known for their apres-ski possibilities.
Skiing in Val Thorens
Next to skiing in Val Thorens, there are many other activities you can undertake. There are also two large shopping malls, a cinema and a bowling alley. The sports centre has a fitness centre, two swimming pools, tennis and squash courts, three saunas, two Jacuzzis, a Turkish steam bath and you can even treat yourself to a lovely massage or book a beauty treatment for yourself. There is even a fun park here complete with slides and trampolines. If you feel like experiencing something truly spectacular we recommend you to sign up for an evening tour on a snow scooter!

Book one of accommodations or packages for your ski holiday in Val Thorens now, and don't miss out on some of the extra services that we offer for free!
Val Thorens
Val Thorens is the highest French ski resort in Europe. The town centre of Val Thorens is located at an altitude of 2300 meters! From here there are many lifts that will take you to even higher pistes. Val Thorens is part of the bigger ski region of Les Trois Valées. Les Trois Vallées is one of the largest interconnected ski areas in the world and has approximately 600 km of pistes.

Skiing in Val Thorens
Val Thorens is without a doubt one of the most unique ski destinations in France. Since it is one of the highest ski villages in Europe, it explains its popularity with visitors over the years. The ski area of Val Thorens consists of approximately 140 km pistes. The lowest of altitude of this individual ski area is 1300 meters and highest point is 3200 meters. The high altitude and the glacier make skiing in Val Thorens perfect throughout the whole season and makes it one of the most snow sure destinations as well.
When choosing to stay and ski in Val Thorens, there are options for everyone! Accommodations wise there are cheap accommodations for the budget traveller. However, there are also luxurious and lush chalets and hotels for those who prefer more comfort or even want to pamper themselves in a wellness centre. As for lift passes, there are different options as well. You can either choose a lift pass for the individual area of Val Thorens, or you can choose to upgrade your lift pass to the whole region of the Three Valleys. For the less advanced skiers and snowboarders a pass for an individual resort should suffice. If the lift pass for Val Thorens is not enough and you are an avid skier / snowboarder, we recommend the lift pass for the whole region. This way you will be able to make tours and discover different areas of the whole region per day. We advise you to decide which pass suits you best, in your home country, as you pay considerably more on location. (Please note: in low season, it is not possible to buy lift passes for the whole region of Les Trois Vallées).
Book one of accommodations or packages for your ski holiday in Val Thorens now, and don't miss out on some of the extra services that we offer for free!
Practical information
Capital:
The capital of France is Paris
Time:
France is one hour ahead of the UK (GMT+1).
Language:
The official language is French.
Money:
The euro (€) is the official currency of France
Emergency number:
The local emergency number is 112.
Service charge (tip) in restaurants and bars :
It is not likely that the service charger will be added to the bill automatically. If you are pleased with the service you can round off or leave a tip of 10%.
Power:
The voltage is 220 and the socket is different compared to the general UK sockets. You can buy an European adapter in most airports and supermarkets.
Mobile:
A UK mobile phone should work in France. The setup for this may differ per provider, so it is best to inquire about this before hand.
Safety on the slopes:
In France, wearing a helmet is not mandatory but recommended (especially for children). In ski classes (for all ages), it is often compulsory.
Travel documents:
You must be in possession of a valid passport in order to travel to France.
Food and Drinks:
Cheese, croissants, baguettes and wine! It is possible to drink tap water.
Opening hours:
As a general rule, the shops are open on Monday/Friday from 09:00 to 19:00. However, some shops may close over lunchtime. On Sunday and Monday, a selection of shops are closed. Some supermarkets are open on Sunday mornings.
Public Holidays:
Christmas Day: 25 December, 2014 (Thursday)
Boxing Day: 26 December, 2014 (Friday)
New Year's Day: 1 January, 2015 (Thursday)
Good Friday: 3 April, 2015
Easter Sunday: 5 April, 2015
Easter Monday: 6 April, 2015
Travelling by car:
Most motorways in France require you to pay a toll fee. The Pas Piccolo San Bernardo is closed the whole winter (November - June). Always check the locat weather reports before departing.

In some cities and towns it is obligaroty to have a "environmentsl sticker". It is not possible to buy these stickers en route. You will have to order them online before you leave home. French authorities advise you to print out the form and the confirmation of the sticker if it does not arrive at your home in time. You can find the form on:
https://www.certificat-air.gouv.fr/en/demande-ext/cgu
Flight information
Sunweb offers flights and transfers packages to this resort. You can select which airport you wish to travel from in the PRICES AND BOOKING tab above. It is possible to select different flight departure and arrival times in Step 2 of the booking process.
All Sunweb flights are booked with EasyJet. Hold luggage and ski equipment as luggage are NOT included in your package price. This can be added as an extra in Step 2 of the booking process. The price of luggage varies, as per Easyjets policies. All flight bookings include one cabin bag per person (maximum size of 56 x 45 x 25cm; including handles and wheels).
Please read more about the luggage rules and regulations on EasyJet's website. When making a flights booking with Sunweb, you are also agreeing to EasyJet's Terms and Conditions.
Transfers:
Return airport transfers are included in your package price when booking a flight package with Sunweb. These however can be removed in Step 2 of the booking steps if you would like to add in a hire car or seek an alternative travel arrangement. All transfers are shared transfers to and from your accommodation and the airport.
Due to the nature of shared transfers, there may be a wait time at the airport before your departure. This can be up to 1.5 hours. Please note that there will NOT be a Sunweb rep waiting for you at the airport as the transfer is managed by a partner. All information regarding the transfer (meeting point,etc) will be explained on your travel documents that are sent to you 14 days before departure. The transfer will drop you off in the resort area; you may have not be dropped exactly outside your accommodation.
Departure from the UK:
Please ensure that you are not late and have checked in online before arriving at the airport. In addition to checking in online, you will have to enter your passport information. This is called API (advanced passenger information) and you will receive instructions from Sunweb after you have booked the holiday.
Arrival on Resort:
If you are planning on checking in late on your arrival day, it is almost always possible to get into your hotel or apartment. However, it is very important that this is arranged in advance. You will receive your travel documents two weeks before your departure, and this will include instructions on how to arrange your late arrival and collection of the key.
Please Note:
Once you agree to Sunweb's Term's and Conditions you are legally obliged to pay for the holiday and any cancellation fees that may apply.
Lift pass, lessons and material
In step 2 of the booking process it is indicated for which days the lift pass is valid. If you want to use the ski lift on a different day than indicated in step 2 of the booking process, please contact our contact centre by telephone. It is not possible to change the days of the lift pass once you have arrived at the destination. If you wish to extend the lift pass, it can often be booked as an extra. The price for extending the lift pass can be found in step 2 of the booking. If you choose "no lift pass", the discount can also be found in step 2 of the booking process.
Discounts:
The lift pass for children up to age 4 and senior citizens from 75 years is free. Children from 5 to 12 years old and seniors aged 65 to 74 receive discounts on the lift pass. These discounts are automatically calculated in the package price. When you are entitled to the free lift pass, choose 'no lift pass' when booking. The free lift pass and discounted lift passes can be picked up at the resort upon presentation of your ID.
Deposit:
On site you do not have to pay a deposit for the lift pass.
The above fees and discounts are valid only when booking with Sunweb. Other rates are used at the resort.
If you want to book lessons, you can report this directly at your reservation. When you book your lessons, you will give an indication of your level, this way the ski school can make a proper schedule.
Ski and snowboard rental can be specified immediately upon booking.
When you book ski equipment of the class 'Gold' or 'Diamond' you can exchange it once a week for free for snowboard equipment or free ride skis (not on weekends).
Children up to and including 11 years old get a free helmet.