Hostel Moontain
Hostel Moontain
Hostel Moontain
Slightly hidden in the quiet area of Oz and Oisans, is Hostel Moontain. This accommodation offers you the hostel concept in combination with several hotel facilities. You will find the openness and freedom that fits a hostel, however, you can enjoy your privacy in your room with en-suite bathroom. Nevertheless, the car-free center is only 100 meters away and the slopes are literally at your doorstep. Thus, in the morning, you'll only need to step outside and you can be on your way.
The rooms are atmospheric and modernly decorated. After a day on the slopes, it's nice to completely unwind and relax. Or, have a delicious drink in the hotel's own après ski bar to end the day in style.
Read more Hostel Moontain
View less Hostel Moontain
Boardtype
Breakfast is served in buffet style and dinner consists of a main course and dessert
Location and surroundings
distance to centre: approx. 100 metres
distance to ATM approx. 100 metres
distance to ski piste approx. 10 metres
nearest shops approx. 100 metres
nearest (mini) supermarket approx. 100 metres
Map
Current hotel
Other hotels
other group of hotels
Tip!
Oz and Oisans has a car-free centre.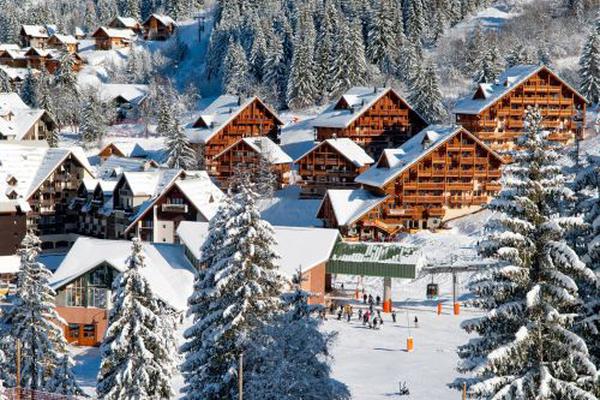 Oz
Oz is a fairly modern ski resort that is located in the Alpe d'Huez Grand Domaine Ski Area. A great advantage of this ski area is that most of the accommodations are built directly on the slopes, and close to the ski lifts. Due to this Oz is a perfect ski holiday destination for those who like to be close to action. In just four minutes you can take a lift all the way to the top of Pic Blanc.
Skiing in Oz
Oz is directly connected with the Alpe d'Huez Grand Domaine Ski Area. This ski area has a total of over 250km of ski slopes, and 45 different lifts. It also includes the resorts of Alpe d'Huez, Vaujany, Auris-en-Oisans. With a top height of 3330m and featuring a glacier, the ski area is fairly snow sure through out the whole of the winter season. In total it has over 100km combined of blue and green slopes, making it a perfect destination for beginner skiers/snowboarders.
The Resort
The small and scenic center of Oz is completely car-free. In the center you will find several supermarkets, restaurants and a nice pizzeria. It is an ideal resort for those who are more focused on skiing than partying. For cross country skiers there is also over 50km of different trails. There are plenty of activities for non skiers too, including toboggan runs, ice climbing, snow shoe walks and an ice cave.
Sunweb has a great assortment of different ski packages in Oz. From all inclusive hotels to cheap, affordable apartments. There are options to suit all group sizes and budgets.
Location and surroundings
distance to centre: approx. 100 metres
distance to ATM approx. 100 metres
distance to ski piste approx. 10 metres
nearest shops approx. 100 metres
nearest (mini) supermarket approx. 100 metres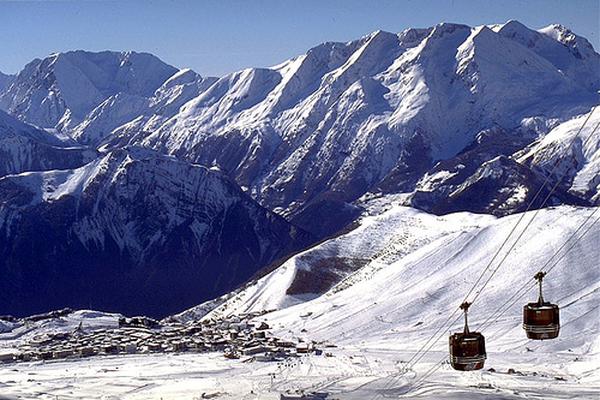 Alpe d'Huez Grand Domaine Ski
Skiing in Alpe d'Huez Grand Domaine Ski
Ski holidays in Alpe d'Huez Grand Domaine Ski take place in an area known as 'the island in the sun'. The area is blessed with an average of 300 sunny days per year and many pistes are located on the sunny south side of the area, making a ski holiday in Alpe d'Huez Grand Domaine Ski one of the best locations for snowy slopes and long, sunny days.
Ski holidays in Alpe d'Huez Grand Domaine Ski offer over 238km of pistes with access to 84 lifts meaning even the most frequent skiers and snowboarders will be spoilt for choice. With more than 325 snow cannons, there is nearly always plenty of snow on the pistes and, if not, the Des Rousses glacier provides an excellent snow-sure skiing terrain. The villages of Alpe d'Huez, Oz en Oisans, Auris en Oisans, Vaujany en Villard Reculas are all part of this great ski region.
For experienced snowboarding and skiing routes, La Piste de Sarenne awaits on the Pic Blanc at an incredible altitude of 3330m. This is the longest descent in Europe and a truly unique experience. Skiing down a total of 16 uninterrupted kilometres with an altitude different of 1450m is bound to appeal and test everyone.
A half pipe has been built on the piste of Premier Tronçon which is perfect for those looking to go snowboarding and freestyle skiing in Alpe d'Huez Grand Domaine Ski. Next to that, there are countless off-piste descents waiting to be conquered by freestyle skiers and snowboarders. Thanks to the steady snow record freestyle skiing in Alpe d'Huez Grand Domaine Ski has become more and more popular over the recent years. The 50km of cross-country skiing tracks are made up on blue and red pistes.
Practical information
Capital:
The capital of France is Paris
Time:
France is one hour ahead of the UK (GMT+1).
Language:
The official language is French.
Money:
The euro (€) is the official currency of France
Emergency number:
The local emergency number is 112.
Service charge (tip) in restaurants and bars :
It is not likely that the service charger will be added to the bill automatically. If you are pleased with the service you can round off or leave a tip of 10%.
Power:
The voltage is 220 and the socket is different compared to the general UK sockets. You can buy an European adapter in most airports and supermarkets.
Mobile:
A UK mobile phone should work in France. The setup for this may differ per provider, so it is best to inquire about this before hand.
Safety on the slopes:
In France, wearing a helmet is not mandatory but recommended (especially for children). In ski classes (for all ages), it is often compulsory.
Travel documents:
You must be in possession of a valid passport in order to travel to France.
Food and Drinks:
Cheese, croissants, baguettes and wine! It is possible to drink tap water.
Opening hours:
As a general rule, the shops are open on Monday/Friday from 09:00 to 19:00. However, some shops may close over lunchtime. On Sunday and Monday, a selection of shops are closed. Some supermarkets are open on Sunday mornings.
Public Holidays:
Christmas Day: 25 December, 2014 (Thursday)
Boxing Day: 26 December, 2014 (Friday)
New Year's Day: 1 January, 2015 (Thursday)
Good Friday: 3 April, 2015
Easter Sunday: 5 April, 2015
Easter Monday: 6 April, 2015
Travelling by car:
Most motorways in France require you to pay a toll fee. The Pas Piccolo San Bernardo is closed the whole winter (November - June). Always check the locat weather reports before departing.

In some cities and towns it is obligaroty to have a "environmentsl sticker". It is not possible to buy these stickers en route. You will have to order them online before you leave home. French authorities advise you to print out the form and the confirmation of the sticker if it does not arrive at your home in time. You can find the form on:
https://www.certificat-air.gouv.fr/en/demande-ext/cgu
Flight information
Flight packages are not available for this destination/resort. Please see the prices for self-drive packages (including lift passes) on the Prices and Booking tab on the yellow menu above.
Lift pass, lessons and material
In step 2 of the booking process it is indicated for which days the lift pass is valid. If you want to use the ski lift on a different day than indicated in step 2 of the booking process, please contact our contact centre by telephone. It is not possible to change the days of the lift pass once you have arrived at the destination. If you wish to extend the lift pass, it can often be booked as an extra. The price for extending the lift pass can be found in step 2 of the booking. If you choose "no lift pass", the discount can also be found in step 2 of the booking process.
Discounts:
The lift pass for children up to 4 years is free on display of an ID card. From 72 years onwards, reduced rates apply. If you are entitled to this lift pass, select "no lift pass" when booking. The discounted lift pass can be picked up locally on presentation of your ID.
Lift pass extras:
With the 6, 7 and 8 day lift passes you can also use the lifts in Les Deux Alpes from 23 December 2017 until 30 March 2018 for two days (It is also possible to use this lift pass for one day for the ski areas of Serre Chevalier, Puy Saint Vincent, Montgenevre or the italian "Milky Way). Please note this day has to fall into the number of days that you have booked, and can not be used as an extra day.If you would like to ski in a different area, you will have to get a special pass/voucher, which can be obtained at the cashier of the skilift company in Vaujany or Oz.
If you have a 6-, 7- or 8-day ski pass, you also have 1 access to the ice skating rink and the swimming pool in Vaujany.
Deposit:
On site you pay € 1, - deposit for the lift pass.
The above fees and discounts are valid when booking with Sunweb. Other rates are used at the resort.
You can select ski and snowboard directly upon booking. With short-stay holidays it is not possible to book ski lessons. You can arrange ski lessons at the resort.
When booking ski lessons, your level is requested:Beginners: Choose if you have never skied before.Intermediate: Choose if you have skied before and know how to break and turn.Advanced: Choose if you are an accomplished skier but wish to improve your technique.
Ski lessons are in the mornings from 9hr10 to 11hr40 and the snowboard lessons are in the afternoon from 14hr00 to 16hr40. From February onward, snowboard lessons are in the afternoon from 14hr35 to 17hr05.
Ski and snowboard rental can be specified immediately upon booking.
When you book Gold or Diamond ski equipment you can exchange it once a week for free, for snowboard equipment or freeride skis (unavailable on weekends).
The following materials can be booked:
Bronze
This material is ideal for beginners and intermediate skiers and snowboarders. This material is particularly agile, so it makes turning and breaking easy. Parallel skiing is also possible with these skis.
Silver
This is ideal material for intermediate skiers and snowboarders. The material is agile, but also suitable to cut corners sharp. Even at high speeds these skis provide great performance.
Gold
These skis and snowboards are made of high quality material, and are perfect for experienced skiers. This comfortable material is suitable on all track types and snow conditions.
Diamond
These are high performance skis and snowboards with the latest technology, and are suitable for the most experienced skiers.
TIP: Tell our rental partner your exact requirements (eg off piste skiing) so they can help you select the right material.