Gasthof Dorfwirt
Gasthof Dorfwirt
Gasthof Dorfwirt
Right in the center of Going, just 50 meters from the bus stop you find Gasthof Dorfwirt. Gasthof Dorfwirt is one of the most traditional and oldest hotels in Going. This particular hotel has been renovated without losing its history or tradition.
The rooms are simple but nicely furnished, and most have a balcony overlooking the beautiful surroundings.
After a nice day of skiing you can unwind in the cozy Tyrolean restaurant, and enjoy fine wines and excellent food. Additionally there is also a great sauna to take advantage of.
Read more Gasthof Dorfwirt
View less Gasthof Dorfwirt
Room types
double room type A
for 2 persons
surface: 20m²
Non-smoking rooms
Partly with balcony
Television
Radio
Telephone
bathroom with:bath or shower
sink
hair dryer
double room type B
for 2 till 3 persons
surface: 24m²
Non-smoking rooms
Partly with balcony
Television
Radio
Telephone
bathroom with:bath or shower
sink
hair dryer
single room
for 1 person
surface: 15m²
Non-smoking rooms
Partly with balcony
Television
Radio
Telephone
bathroom with:bath or shower
sink
hair dryer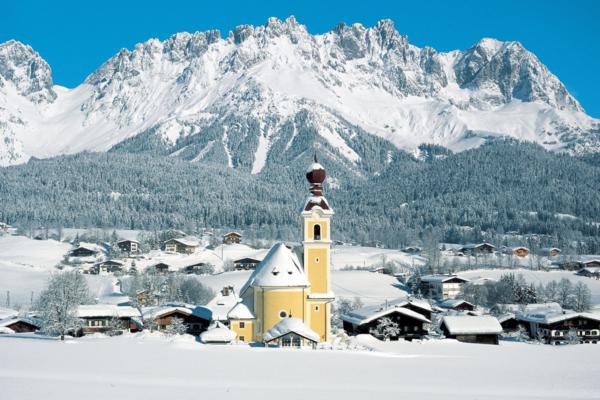 Going
If you are looking for peace then Going is a perfect choice. At the foot of the modest Astberg and in the shadow of the Wilder Kaiser lies the picturesque town where it feels like time has stood still. Rest and relaxation are key words here. The Schleier waterfall is beautiful and well worth a visit. Every Monday there is an organized romantic torchlight walk through the village that goes past the waterfall. An annual highlight in the village is the spectacular finish of the Koasalauf, a cross-country race where both professional and amateurs take part. Want to see the town from the sky? Take an unforgettable balloon flight over the majestic Wilder Kaiser ski area. For more action, you can also opt for paragliding. Going is surrounded by one of the most varied hiking and climbing areas of Austria. Beautiful walking paths take you through an idyllic, enchanting landscape.
Location and surroundings
distance to centre ellmau approx. 3,5 kilometres
distance to ski bus stop approx. 50 metres
nearest shops approx. 250 metres
Wilder Kaiser-Brixental
Skiwelt Wilder Kaiser-Brixental offers some excellent options for both cross country and regular skiers. The villages of Ellmau, Going, Scheffau, Söll, Hopfgarten, Brixen im Thale and Westendorf share approximately 279 km (173 ml) of pistes to form the biggest interconnected ski area in Austria. Additionally, due to there being so many lifts in the area you are unlikely to encounter long queues.

You do not have to worry about the quality of the snow here either. In order to salvage the weaker areas outside of the winter season modern snow canons have been installed. The lift pass is included for the entire ski area of the Wilder Kaiser-Brixental.
Practical information
Capital:
The capital is Vienna.
Language:
The official language is German but English is widely spoken as well.
Time:
There is one hour time difference with the UK (GMT+1).
Money:
The official currency is the Euro.
Tipping:
It is customary in Austria to tip between 5% and 10% in bars and restaurants.
Food & Drink:
Austria is known for its Vienna Schnitzels and Glühwein. Tap water is safe for drinking.
Opening times shops:
Shops are usually open from Monday until Friday from 09.00 AM to 18.00 PM (some shops close during the afternoon). Most shops are closed on Sunday.
Travelling by car:
Snow chains are obligatory in the Alps. You need a toll permit for the motorways in Austria. You can buy the permit at the AA in the UK or in Austria at the major border crossings. The European Commission advises you to wear a safety reflector jacket in the event of a break down or accident. This vest can be purchased from the AA in the UK as well.
Voltage:
The voltage is 230 volt.
Mobile telephone:
UK mobile phones work in Austria as well.
Travel documents:
You need to be in the possession of a valid passport to travel to Austria.
Flight information
Flight packages are not available for this destination/resort. Please see the prices for self-drive packages (including lift passes) on the Prices and Booking tab on the yellow menu above.
Lift pass, lessons and material
Discounts:
Ski passes for children born after 1/1/2013 are free. Children born between 1/1/2000 and 31/12/2012 receive discounts on ski passes which can be found in step 3 of the booking process.
Deposit:
Lift passes require a refundable € 2 deposit which is payable in resort.
Picture ID
Lift passes for children will only be issued to those who show a picture ID when picking up the lift pass.
Above discounts and surcharges are only valid when booking with Sunweb. At the destination other rates may apply.
In step 2 of the booking process it is indicated for which days the lift pass is valid. If you want to use the ski lift on a different day than indicated in step 2 of the booking process, please contact our contact centre by telephone. It is not possible to change the days of the lift pass once you have arrived at the destination. If you wish to extend the lift pass, it can often be booked as an extra. The price for extending the lift pass can be found in step 2 of the booking. If you choose "no lift pass", the discount can also be found in step 2 of the booking process.
Lessons cannot be reserved at time of booking.
Ski rental cannot be reserved at booking and must be purchased in resort.
Wahoo! Your alert has been activated
Error! Unfortunately something went wrong...