Club TNT Alpin
Club TNT Alpin
Club TNT Alpin is in the center of Bad Gastein. It consists of two buildings; Adler and Hibu, which are separated by a parking lot. All Sunweb guests will stay in the Hibu building. You can walk to the lifts within 6 minutes! When you come home in the evening, you are welcome to join the other guests for dinner at the restaurant in the Adler building. This place is a real treat for youngsters! There is lots going in the center of town, but also on the ground floor of Club TNT Alpin Adler! There is a disco that stays open until the early hours of the morning. There is a DJ most days but there are also live performances by international artists.
Read more Club TNT Alpin
View less Club TNT Alpin
There are no room types available
Bad Gastein
Bad Gastein is built on a rock and therefore has a fantastic view over the entire length of the Gastein Valley. Relax in one of the many spas after a hard day skiing. You can also find many restaurants, cafes and nightclubs. The village is divided into three small ski areas. On one side of the Graukogel, there is an 8-kilometer run with an altitude of 1500 meters and on the other side of the village at 2246 meters is the Stubnerkogel. This has the largest area of skiing and is connected to Bad Hofgastein. For snowboarders there is a 100 meter long halfpipe. The third area is located southeast of the village and is called Sport Gastein where you can reach a height of 2686 meters.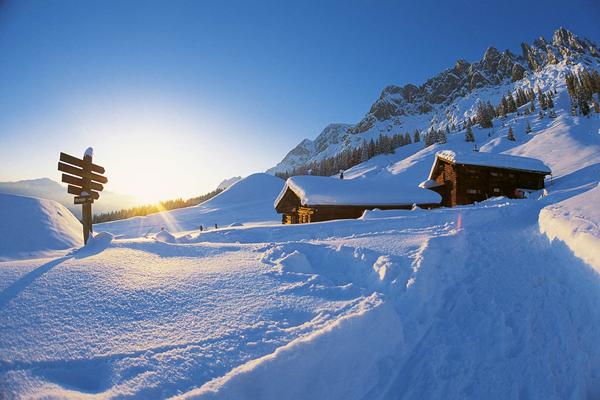 Ski Amadé
The massive ski region of Ski Amadé is ideal for ski holidays and consists of five different areas: Salzburger Sportwelt, Hochkönig Winterreich, Schladming-Dachstein, Gastein and Grossartal. Together, they account for around 270 lifts and 860km of perfectly prepared runs. These ski areas are among the best in the world. The world champions are held here regularly, meaning if it's good enough for the professionals then skiing in Ski Amadé is good enough for everyone.
Ski holidays in the Ski Amadé region benefit from long seasons and the Dachstein Glacier makes the Schadming-Dachstein ski area relatively snow-sure meaning you can usually ski until late April. If, for any reason, there should be less snow than expected, don't fret, the snow canons will cover up to 88% of the slopes with beautiful white-powder snow making skiing in Ski Amadé possible in any weather condition.
One thing that makes skiing in Ski Amadé special, is the ability to stay connected and share live updates to your social media friends and followers. There are around 300 WiFi hotspots located in the valley, the mountain stations, the huts and the restaurants on the slopes. The WiFi hotspots are also great for planning your ski route for the day. With the Ski Amadé ski pass you can ski in all five areas and use the public transport system to get from one area to another.
Where can I stay with Sunweb?
Skiing in Salzburg Sports World | Skiing in Ski Amadé
The ski resorts of Flachau, Wagrain, St. Johann im Pongau, Radstadt, Altenmarkt-Zauchensee, Kleinarl, Eben and Filzmoos together, from the Salzburger Sportwelt. There is approximately 350km of runs and over 90 ski lifts which makes skiing in Ski Amadé varied and accessible. If you are an avid skier, then this is the perfect destination for you as there is so much to be discovered in this beautiful area.
The variety of the pistes ensure that beginners and intermediate skiers can enjoy the entire ski area when skiing in Ski Amadé. Although, there are also a number of challenging black runs, particularly Zauchensee, which is accessible via Flachauwinkl.
Please note that the ski resort of Filzmoos is not directly connected to the other ski areas.
Skiing in Hochkönig Witerreich | Skiing in Ski Amadé
This hospitable and quaint ski area at the foot of the Hochkönig is a dream for skiers, snowboarders, cross-country skiers, hikers and families with children. In short, skiing in Ski Amadé's Hochkönig Witerreich is ideal for everyone.
From the picturesque villages Mühlbach and Maria Alm you can enjoy a beautiful day on the snowy slopes. Snow canons make sure that both resorts are snow-sure and the gondola from Maria Alm brings you directly to the 2000m high Aberg top; the starting point for some of the most spectacular runs in Ski Amadé.
Hochkönig Witerreich offers lots of variety. There is approximately 150km of runs and 31 ski lifts and Maria Alm and Mühlbach are connected by a ski bus. For cross-country skiers, there is approximately 47km of trails to explore with the longest trail being 12km located in Maria Alm. The trail is also lit during the evening offering stunning views.
Skiing in Schladming-Dachstein | Skiing in Ski Amadé
The World Championships were held in the ski area of Schladming-Dachstein in February 2013 making it world-famous and now one of the best-prepared ski areas in the Ski Amadé region. The ski area also hosts an annual night-slalom, which attracts many skiers and snowboarders not only from the region but from around all of Europe.
This modern ski area consists of nine mountains with 3 of them reaching over 2000m high and 4 are interconnected by various ski lifts and gondolas. The 4 mountains that are interconnected are Hauser Kaibling, Planai, Hochwurzen and Reiteralm making the area perfect for day trips and tours. If you wish to have a quieter day away from the slopes then the villages of Haus im Ennstal, Mandling, Pichl, Rohmoos bei Schladming and Schladming are all picturesque and welcoming.
Schladming-Dachstein has lots to offer for advanced skiers. For example, the Planai has very steep and fast slopes and the Reiteralm has, among other things, a black mogul field. For those, who are very competitive, you can even have your speeds measured for free while doing the run. You'll be able to post you're action shot online and show your skills off to your friends and family back at home.
Practical information
Capital:
The capital is Vienna.
Language:
The official language is German but English is widely spoken as well.
Time:
There is one hour time difference with the UK (GMT+1).
Money:
The official currency is the Euro.
Tipping:
It is customary in Austria to tip between 5% and 10% in bars and restaurants.
Food & Drink:
Austria is known for its Vienna Schnitzels and Glühwein. Tap water is safe for drinking.
Opening times shops:
Shops are usually open from Monday until Friday from 09.00 AM to 18.00 PM (some shops close during the afternoon). Most shops are closed on Sunday.
Travelling by car:
Snow chains are obligatory in the Alps. You need a toll permit for the motorways in Austria. You can buy the permit at the AA in the UK or in Austria at the major border crossings. The European Commission advises you to wear a safety reflector jacket in the event of a break down or accident. This vest can be purchased from the AA in the UK as well.
Voltage:
The voltage is 230 volt.
Mobile telephone:
UK mobile phones work in Austria as well.
Travel documents:
You need to be in the possession of a valid passport to travel to Austria.
Flight information
Sunweb offers flights and transfers packages to this resort. You can select which airport you wish to travel from in the PRICES AND BOOKING tab above. It is possible to select different flight departure and arrival times in Step 2 of the booking process.
All Sunweb flights are booked with EasyJet. Hold luggage and ski equipment as luggage are NOT included in your package price. This can be added as an extra in Step 2 of the booking process. The price of luggage varies, as per Easyjets policies. All flight bookings include one cabin bag per person (maximum size of 56 x 45 x 25cm; including handles and wheels).
Please read more about the luggage rules and regulations on EasyJet's website. When making a flights booking with Sunweb, you are also agreeing to EasyJet's Terms and Conditions.
Transfers:
Return airport transfers are included in your package price when booking a flight package with Sunweb. These however can be removed in Step 2 of the booking steps if you would like to add in a hire car or seek an alternative travel arrangement. All transfers are shared transfers to and from your accommodation and the airport.
Due to the nature of shared transfers, there may be a wait time at the airport before your departure. This can be up to 1.5 hours. Please note that there will NOT be a Sunweb rep waiting for you at the airport as the transfer is managed by a partner. All information regarding the transfer (meeting point, departure times etc) will be explained on your travel documents that are sent to you 14 days before departure. The transfer will drop you off in the resort area; you may have not be dropped exactly outside your accommodation.
Departure from the UK:
Please ensure that you are not late and have checked in online before arriving at the airport. In addition to checking in online, you will have to enter your passport information. This is called API (advanced passenger information) and you will receive instructions from Sunweb after you have booked the holiday.
Arrival on Resort:
If you are planning on checking in late on your arrival day, it is almost always possible to get into your hotel or apartment. However, it is very important that this is arranged in advance. You will receive your travel documents two weeks before your departure, and this will include instructions on how to arrange your late arrival and collection of the key.
Please Note:
Once you agree to Sunweb's Term's and Conditions you are legally obliged to pay for the holiday and any cancellation fees that may apply.
Lift pass, lessons and material
A Ski Amadé lift pass is included in the package.
3-day trip including 2-day lift pass
4-day trip including 2-day lift pass
5-day trip including 3-day lift pass
6-day trip including 4-day lift pass
7-day trip including 5-day lift pass
8-day trip including 6-day lift pass
In step 1 of the booking process, it is indicated which days the lift pass is valid for (eg Sunday to Friday). If you would like the ski pass to start on a different day than shown in the booking steps, you must contact our contact centre by telephone. The booking can then be adjusted.
On destination, it is not possible to change the lift pass start date to another day. An extension of the lift pass can often be booked for an extra surcharge; the price for this can be found in step 1 of the booking process. The discount for "no ski pass" can also be found in the booking process.
Discounts:
Children born on or after 1/1/2014 are entitled to a free ski pass if at least one parent also buys a ski pass for the same number of days. The discount applies from a 6-day ski pass on presentation of your proof of identity.
Children born after 1/1/2001 receive a discount on the ski pass. You will find these discounts in the calculation of your travel sum.
The above surcharges and discounts are only valid when booking. Different rates are applied on site.
A Ski Amadé lift pass is included in the package.
3-day trip including 2-day lift pass
4-day trip including 2-day lift pass
5-day trip including 3-day lift pass
6-day trip including 4-day lift pass
7-day trip including 5-day lift pass
8-day trip including 6-day lift pass
The lessons cannot be booked in advance. You can arrange this yourself on location.
You can reserve your ski and snowboard rental at the same time as booking your holiday.
The following materials can be booked:
Bronze
This material is ideal for beginners and intermediate skiers and snowboarders. This material is particularly agile, so it makes turning and breaking easy. Parallel skiing is also possible with these skis.
Silver
This is ideal material for intermediate skiers and snowboarders. The material is agile, but also suitable to cut corners sharp. Even at high speeds these skis provide great performance.
Gold
These skis and snowboards are made of high quality material, and are perfect for experienced skiers. This comfortable material is suitable on all track types and snow conditions.
Diamond
These are high performance skis and snowboards with the latest technology, and are suitable for the most experienced skiers.
TIP:
Tell our rental partner your exact requirements (eg off piste skiing) so they can help you select the right material.
NOTE:
A helmet is only included in this package for children up to 11 years old. If you are older, you can choose to bring your own, or rent one locally if available.